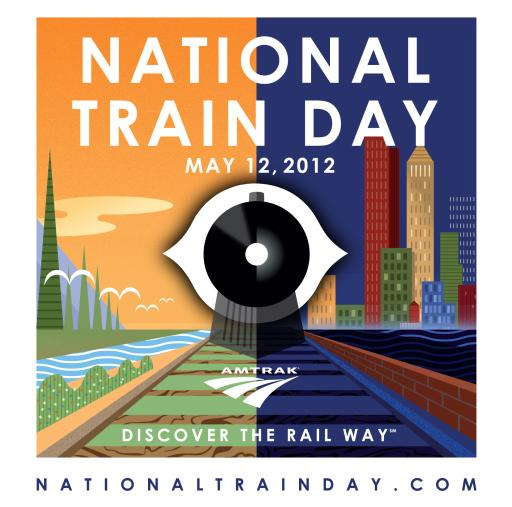 National Train Day is back to celebrate train travel and the ways trains touch the lives of people across America. Saturday, May 12, 2012, will be the day where train stations and other venues across the country, host activities and exhibits that highlight the past, present and future of trains and travel. Amtrak will host major events in New York, Philadelphia, Chicago and Los Angeles with free live entertainment and activities for both children and adults: interactive and educational exhibits, model train displays and tours of Amtrak equipment, and notable private railroad cars.
National Train Day marks the 143rd anniversary of the creation of the nation's first transcontinental railroad. On May 10, 1869, in Promontory Summit, Utah, the 'golden spike' was driven into the final tie that joined 1,776 miles of the Central Pacific and Union Pacific railways, forever transforming the face and character of America.        
Here's a listing of events in Michigan on May 12th:
Kalamazoo Model Railroad Historical Society
The society will operate a 20 x 40 foot HO Scale Layout in display. Vintage Boyne City, Gaylord & Alpena caboose is open for tours. Refreshments, free parking, free admission. 
 9336 N. Riverview Parchment, MI 49004
10 a.m. to 2 p.m.
The Railroad Café —Bangor
The Mayor of Bangor will read a proclamation to the crew of Amtrak's Grand Rapids – to – Chicago Pere Marquette train upon arrival of the train at 9:02 a.m. followed by family-friendly events including live music, an HO scale model railroad layout, refreshments, and the Grand Opening of the ice cream shop at The Railroad Cafe.
555 Railroad Street Bangor, MI 49013
8:30 a.m. to 2 p.m.
Fernwood Botanical Garden & Nature Preserve —Niles
Celebrate National Train Day with a visit to Fernwood Botanical Garden and Nature Preserve, and see the popular Railway Garden, designed by landscape architect and naturalist, Paul Busse. This is the fourth season for this family attraction, which features bridges, tunnels, waterfalls, and four train tracks at varying levels. Buildings are replicas of five local attractions, including Buchanan's Pears Mill, the St. Joseph Lighthouse, Notre Dame's Golden Dome, the Niles Train Depot, and new this year, the historic Niles City Hall, all made with natural materials. See www.fernwoodbotanical.org for more details and ticket prices.
13988 Range Line Road Niles, MI 49120
10 a.m. – 6 p.m.
National Association of Railway Business Women- Saginaw-Great Lakes Chapter #68 — Flint
Activities include Operation Lifesaver, NARBW Display, refreshments, model train exhibit, and more.  
1407 S Dort Hwy (M-54) Flint, MI 95340
6 a.m. – 11 a.m.