From the Detroit Free Press: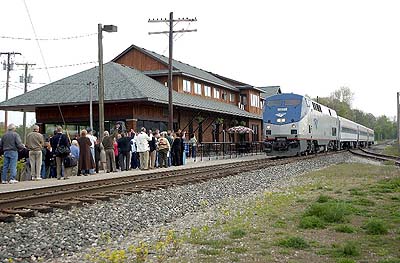 If the train has seemed crowded lately, you are right.
Amtrak's U.S. ridership soared to a record 31.6 million passengers between Oct. 1, 2012, and Sept. 30, 2013. Its Michigan trains also did well, with 804,697 passengers on the Wolverine, Blue Water and Pere Marquette lines.
The popular Wolverine line between Pontiac and Chicago (stopping in Detroit, Dearborn, Ann Arbor and other southern Michigan cities) had 509,100 riders, up 5.2%. Its ticket revenue rose 9.2%.
The Blue Water Line from Port Huron to Chicago (stopping in East Lansing and other points) rose to 191,106 riders, up 1%. The smaller Pere Marquette line from Grand Rapids to Chicago saw ridership fall to 104,491, down 4.4%.
Ridership on Amtrak has soared about 41% in the past decade.
Source: http://www.freep.com/apps/pbcs.dll/article?AID=/201311100300/FEATURES07/311100008