From Crain's Detroit Business: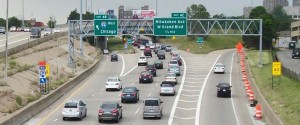 Rather than asking Congress for a project-specific lump sum, the Michigan Department of Transportation will rely on its regular annual federal transportation funding to pay for a $3 billion widening and repair of I-94 through Detroit.
That's why the project, slated to see freeway construction work begin in 2019, isn't expected to be finished until September 2036.
Work would stretch 6.7 miles from the I-94/96 interchange to east of Conner Avenue, and it will include expansion and repair of the highway along with replacement or repair of 67 aging bridges and six railroad overpasses.
"It's beyond its service life," MDOT senior communications specialist Rob Morosi said of the project area.
MDOT, which briefed local media today (June 8, 2015) about the project's status, said the plan includes removing the grass slopes along I-94 and replacing them with vertical retaining walls so that another lane can be added in each direction without actually widening the highway.
However, the state said it will listening to public opinion at upcoming meetings, and continue to analyze traffic data to decide if additional lanes are actually necessary. A new lane would expand the freeway to four lanes from the current three in each direction.
Adding or extending continuous service drives along I-94 in the project footprint could affect up to 300 parcels of land that include 16 homes and 18 commercial properties, MDOT said.
The agency cautioned that it will work with the public and property owners to ensure the project is built with the least harmful impact.
"The last thing we want to do is cut a swath through Detroit," Morosi said.
Ten bridges, all built in the 1950s and categorized in poor or critical condition, will be replaced first beginning in 2016 and work on them will run through 2018.
Freeway design will begin in 2018, and construction the following year, according to MDOT's timeline.
Interchange ramps will be modernized, and left-hand exits and entrances to I-94 will be eliminated because they are dangerous. All ramps will have full acceleration lanes, something lacking today that contributes to five elevated traffic crash areas along the 6.7 mile stretch, the state said.
The project has been on the drawing board since an environment study began in 1994, meaning it will have taken 42 years to complete — if it ends on time. Federal environmental approval occurred in 2005.
The highway was built between 1947 and 1959.
Project organizers estimate federal funding would cover 81.5 percent of the total cost of the upgrades, and state money would cover 18.5 percent.
Of that state cost, 12.5 percent must come from the city of Detroit.
MDOT said it is still looking at ways to increase the federal portion, which would reduce the state and city expense.
The state estimates the project's cost (in 2013 dollars) at $1.9 billion, but projects it out to $2.9 billion based on an assumption of 3 percent annual inflation.
The Detroit office of Kansas City-based civil engineering consulting and construction management firm HNTB Corp. was hired as MDOT's owners representative on the project.
I-94 Modernization Project public meetings
The Michigan Department of Transportation's next two meeting to discuss the I-94 project are:
July 14: 9-11 a.m. and 5:30-7:30 p.m., Cathedral Church of St. Paul (Barth Hall), 4800 Woodward Ave., Detroit
July 16: 2-4 p.m. and 6-8 p.m., Wayne County Community College District (East Campus), 5901 Conner Road, Detroit
First bridge work
MDOT said the following bridges over I-94 must be replaced because they're in poor condition. Trumbell is in critical condition. This is a list of when the spans will be reconstructed in the 6.7 mile I-94 project zone.
Trumbell (built in 1954): 2016
Gratiot Ave. (1958): 2017
Mt. Elliott St. (1955): 2017
Second Ave. (1954): 2017
Cass Ave. (1955): 2017
Chene St. (1956): 2017
Cadillac Ave. (1957): 2018
Brush St. (1955): 2018
French Road (1957): 2018
Concord Ave. (1958): 2018
Source: http://www.crainsdetroit.com/article/20150608/NEWS/150609857/mdot-i-94-expansion-will-cost-3-billion-through-2036