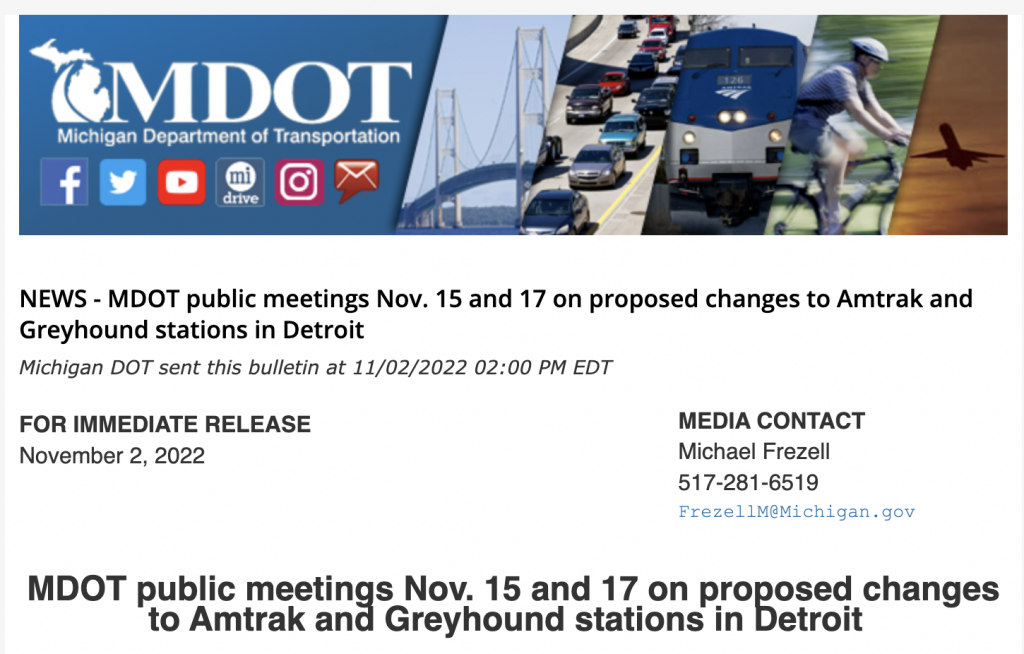 Detroit, Mich. – The Michigan Department of Transportation (MDOT) is hosting a second round of virtual and in-person open houses on the upcoming Detroit New Center Intermodal Facility (DNCIF) project that will combine an intercity bus station (serving companies like Greyhound and Indian Trails) with the Amtrak train station at Woodward Avenue and Baltimore Street in the New Center neighborhood of Detroit.
Who:
Interested residents
Commuters Community leaders
Local businesses
MDOT staff and consultants
Virtual open house:
Tuesday, Nov. 15, 2022
5:30 – 7 p.m.
Zoom Virtual Meeting
Meeting ID: 868 3215 3703
Passcode: 237380
Join by phone: 312-626-6799
In-person open house:
Thursday, Nov. 17, 2022
Anytime between 12:30 and 4 p.m.
College for Creative Studies – Taubman Center Main Lobby
460 W. Baltimore St.
Detroit, MI 48202
Visitor parking: The Taubman Center parking structure is located on Baltimore Street between Cass Avenue and 2nd Avenue.
Transit: DDOT Route 16 Dexter stops at Cass Avenue and Baltimore Street in front of the Taubman Center. DDOT Route 4 Woodward, SMART 461/462 FAST Woodward, and the QLine stop at Woodward Avenue and Baltimore Street one block away from the Taubman Center.
Accessibility:
Accommodations can be made for persons who require mobility, visual, hearing, written, or other assistance for participation. Large print materials, auxiliary aids or the services of interpreters, signers, or readers are available upon request. Please contact Orlando Curry at 517-241-7462 or complete Form 2658 for American Sign Language (ASL) located on the Title VI webpage: https://www.Michigan.gov/MDOT/Programs/Title-VI. Requests should be made at least five days prior to the meeting date. Reasonable efforts will be made to provide the requested accommodation or an effective alternative, but accommodations may not be guaranteed.
Project information:
The DNCIF will establish a regional transportation hub that provides multimodal access and convenient connectivity between all modes of transportation, including passenger rail, intercity bus, and local transit. It will provide high-quality amenities and public space improvements to enhance the customer and pedestrian experience. These open houses will provide attendees with an update on potential environmental and community impacts of the DNCIF project, as well as the placement and design of the DNCIF buildings.
Public input:
MDOT is currently seeking public input to understand how the DNCIF can best serve the community. In addition to the virtual meeting and public open house, a virtual presentation, survey and online comment form  are available on the project website. Public comment may also be submitted to:
Monica Monsma, MonsmaM@Michigan.gov
MDOT Environmental Services Section
425 West Ottawa St.
P.O. Box 30050
Lansing, MI 48909
517-335-4381