501 E. Michigan Avenue
Jackson, MI 49201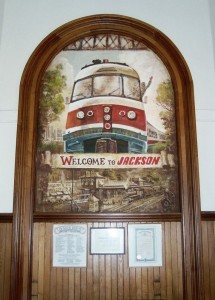 One of the oldest continuously operating passenger stations in the nation, the staffed Jackson station was built in 1876 and is nothing short of an architectural gem. The interior of the station was restored for the country's Bicentennial, and removal of layers of old paint revealed gorgeous woodwork underneath, which was restored. Note the etched glass at the ticket window; it's original, as are the wooden benches.
The depot's location near the very center of town makes it easy to access from all directions. There are about 15 free parking spaces in front of the station. If this lot is full, more parking is available in the lot on the east side of the building. Although the station is staffed by an agent, he goes off duty at 4:00PM, and the waiting room is locked after that time. Still, the Jackson station is one of the few in the state that has a canopy over the boarding platform, which saves riders from having to drag their luggage through the slush and snow of Michigan winters. In nice weather, the platform can be a pleasant place to wait for an arriving train.
Jackson was up until recently a major railroad town, and still is home to an important railroad yard today. In the summer, railroad retirees often sit out on the platform to watch the trains roll past. They are usually excellent encyclopedias of railroad facts and lore and can be very pleasant conversationalists.
There is a soft drink vending machine in the station, and if anything more substantial is required, a decent coney island (short order restaurant) is located just next door. The area is served by the Jackson Transportation Authority; their buses operate along Michigan Avenue. Taxi phone numbers posted inside the station.
Amtrak station page:
http://www.amtrak.com/servlet/ContentServer?c=am2Station&pagename=am%2Fam2Station%2FStation_Page&cid=1229726270087