541 Railroad Street
Bangor, MI 49013

Local officials and passengers greet the arrival of Amtrak's Pere Marquette during a rededication ceremony for the newly renovated and expanded train station in Bangor, Michigan on May 6, 2005. (Photo by J.R. Valderas.)
The unstaffed Bangor station was built in 1926 and completely refurbished in a year long project that was completed in 2005, which has brought new life to this historic Pere Marquette Railway structure. It is an excellent example of partnership between private business and local, state, and federal governments.
Today, the building houses the Bangor Railroad Café, an Amtrak waiting room, offices for Beacon Specialized Living Services, and the Ed Foster Trophy Collection. The south portion of the building is the enclosed waiting room for Amtrak. Passengers will find the waiting room kept spotless by coffee shop employees, and open during the hours of the café. A caretaker also opens the waiting room for the evening arrival of the Pere Marquette. The Bangor waiting room includes racks which are kept full of useful Amtrak information by MARP volunteers. Those who travel west on the morning Pere Marquette may want to purchase food from the Railroad Café before boarding the train, as dining options on board are very limited at the present time.
Cars can be parked for extended periods without worry along Railroad Street or in the parking lot across the road. Van Buren Public Transit provides limited public transportation in Bangor, call (800) 828-2105 for information.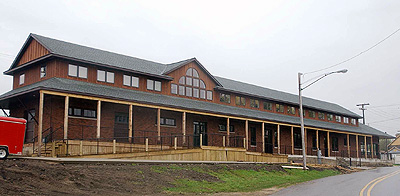 The Bangor Station from the street side. (Photos by J.R. Valderas)
Amtrak station page:
http://www.amtrak.com/servlet/ContentServer?c=am2Station&pagename=am%2Fam2Station%2FStation_Page&cid=1229726268282