410 1/2 Vine Street
St. Joseph, MI 49085
The Amtrak platform is adjacent to the former station which has been converted into a restaurant. (Photo by J.R. Valderas)
The unstaffed 1913-built Saint Joseph station is a bit tricky to get to, but what other station in Michigan has a view of Lake Michigan? Be sure to access the station from Vine Street. The station facility is today primarily occupied by the Silver Beach Pizza restaurant. Specific parking for Amtrak passengers is indicated on parking lot signs behind the depot. In the spring of 2011, a new waiting room for Amtrak passengers was added at the north end of the building along the track side. This waiting room features wide windows looking out toward the lake and contains 12 seats along with a Quik-Trak ticketing machine. Be sure to access the Amtrak waiting room directly from the platform; there is no internal link between the restaurant and the waiting area. The area is safe, and cars can be left for days without worry. Food service is very limited on the Pere Marquette at the present time, so consider bringing some food along for your journey.
The former Pere Marquette station and train tracks are literally within sight of Lake Michigan and directly beside Silver Beach County Park. If the weather is nice, it's worth it to come a few hours early to enjoy some time beside the lake. Downtown Saint Joseph is full of interesting and unique shops and restaurants. The community is delightful and features many activities and festivals, especially during the summer months.
Local transportation is provided by Twin Cities Area Transportation Authority. Days and hours of operation vary, so check ahead: (269) 927-2268.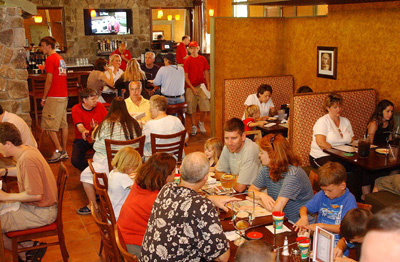 The restaurant inside the Saint Joseph station. (Photo by J.R. Valderas)
Amtrak station page:
http://www.amtrak.com/servlet/ContentServer?c=am2Station&pagename=am%2Fam2Station%2FStation_Page&cid=1229726269604