From MLive.com: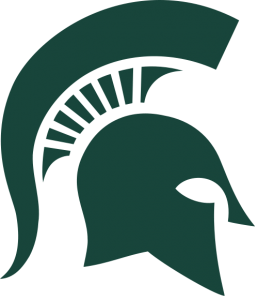 More than 25,000 Michigan State University alumni live in the Chicago area.
Now, MSU is partnering with several Greater Lansing organizations to bring them back for sporting events and special occasions.
Beginning the weekend of Nov. 16, the newly-created Spartan Line will bring MSU alumni from the Chicago area back to East Lansing via the Amtrak "Blue Water Line," officials with the East Lansing-based Prima Civitas foundation announced Wednesday.
One train car, graphically wrapped in green and white, will be reserved for Spartan Line riders.
"This is something that Prima Civitas, along with MSU, the Greater Lansing Convention & Visitors Bureau and the Lansing Economic Area Partnership have been thinking about for a while," said Tremaine Phillips of Prima Civitas.
He said the Spartan Line initiative addresses many goals of the group, including enhancing tourism to the Greater Lansing region and bringing back the Chicago-based alumni to see the new economic and cultural development the region has to offer.
Increasing Amtrak ridership is an added bonus, Phillips said.
Coordinating travel through the Spartan Line initiative should help showcase the demand for Amtrak's services and demonstrate that the train is still a viable means of transportation, he said.
With time, that could translate into more frequent departures from Chicago to East Lansing, and spur more investment in the line.
East Lansing's Amtrak station recently won a $6.2 million federal grant to improve parking, provide better access and build a commuter platform, among other improvements.
Early offerings on the Spartan line will focus on packaging tickets to football and basketball games with train transit, simply because that's where the most immediate demand exists, he said.
Purchasing a ticket for the inaugural voyage of the Spartan Line guarantees the ticket-holder a seat on the green-and-white emblazoned train car with other Spartan Line riders; a ticket to the MSU v. Northwestern game on Saturday, Nov. 16; and a pass to an exclusive after-hours tour and reception for the dedication of the Eli and Edythe Broad Art Museum.
Spartan Line ticket holders will also receive special travel arrangements and discounts to local restaurants and hotels.
"The MSU Alumni Association is thrilled to welcome so many Spartans back to campus at such an exciting time for the Greater Lansing area," MSU Alumni Association Executive Director Scott Westerman said in a statement. "We're hopeful that this will be the first of many trips Chicago-area Spartans make back to town to enjoy what the area has to offer."
Spartan Line partners are currently planning a second event for the weekend of Dec. 21 that will center on the Dec. 22 men's basketball game between MSU and the University of Texas.
To purchase tickets for the Nov.16 trip, visit SpartanLine.com, please visit SpartanLine.com or contact Tremaine Phillips at t.phillips@primacivitas.org. Tickets are on sale now through November 5th.
Source: http://www.mlive.com/lansing-news/index.ssf/2012/10/spartan_line_train_to_carry_mi.html#incart_river_default