Troy Transit Center
1201 Doyle Drive  Troy, MI 48084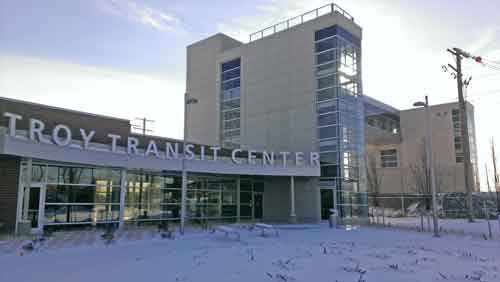 This station replaced the Birmingham Amtrak station (BRM) in October 2014.
This modern facility is located at the elbow curve of Doyle Drive which runs from W Maple Rd to Coolidge Highway in Troy. If approaching from W Maple, Doyle Drive is located one quarter mile west of Coolidge and east of the railroad tracks. If approaching from Coolidge, Doyle Drive is the boulevard driveway entering the shopping center.
The station is located behind the shopping center between the gap in the complex separating Krogers from Kohls (current retailers as of June 2015.) There is a parking lot designated for the station across the street on Doyle Drive where it is safe for travelers to leave their cars overnight.
There is a taxi stand and taxis around train times. There are three Smart bus routes along Maple Road approximately one quarter mile north. Future plans include bringing a Smart bus stop in front of the station as well as intercity bus service.
There is a climate-controlled waiting room on the Doyle Drive side of the tracks. It is recommended that you arrive for your train with enough time to cross over the elevated walkway to the passenger platform on the opposite side of the tracks. There are two elevators and the station is completely handicap accessible. The station is unstaffed but it is opened at least a half an hour before scheduled trains. There is no checked baggage and no Quik-Trak ticket machine. There are modern bathrooms.
The city of Troy is near the center of one of the wealthiest counties in the U.S. Many corporations have located their national and regional headquarters in the city.  Somerset Collection, which is located 1.5 miles north of the station, is home to many top-tier and exclusive retailers. Downtown Birmingham is less than 2 miles from the station and considered the top shopping shopping districts in the Metro Detroit region. Both shopping districts can be accessed by Smart Bus or a short taxi drive. Adjacent to the station is a more traditional strip mall that has many quality retailers as well as affordable places to eat.
Visit the Troy station page at Amtrak:
http://www.amtrak.com/servlet/ContentServer?pagename=am/am2Station/Station_Page&code=TRM