459 North Burdick Street
Kalamazoo, MI 49007


The Amtrak station in Kalamazoo has a long history dating back to the Michigan Central Railroad. (Photo by J.R. Valderas)
The staffed station in Kalamazoo underwent a year long renovation which was completed in the summer of 2006. Today, it is a fine example of historic preservation efforts, and is Michigan's second busiest Amtrak station. It is located on the north edge of downtown, between Rose Street on the west side and Burdick Street on the east side. The large sandstone building (built in 1887) is the intermodal transit hub of Kalamazoo, and includes not only Amtrak, but Greyhound and Indian Trails bus lines, and city bus operator Kalamazoo Transportation Authority.
Metered parking is available along Burdick and Rose streets, and another metered lot is located across Rose from the station. A long term parking deck is located across Kalamazoo Street in front of the station building. Taxis are always present for train arrivals; the cab stand is located on the Rose Street side of the station.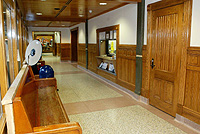 The renovation work restored the station to much of its original grandeur. The confusing waiting room created during a 1970s renovation was restored to a more open setting, with a new wrought-iron and wood Amtrak ticket window installed at the center of the building. The bay window was restored, and original and duplicate wooden benches now grace the waiting room. A sundry and snack shop is open at the Rose Street (west) end of the building for passengers to make purchases. There is also a McDonald's across Rose, and several other excellent but inexpensive restaurants within a short walk of the station.
The station's only downfall is its close proximity to a local rescue mission, whose clients often drop into the station for brief periods of time. The Kalamazoo Police Department regularly has patrols through the station to keep the situation under control. Although the waiting room is much larger than just a few years ago, it can be a very busy place, and crowds often get quite large for popular trains. Station stops are often longer than normal due to the high passenger count here.
Downtown Kalamazoo has been revitalized over the past years and is full of interesting shops, restaurants, and parks. It is the home of Western Michigan University, and has such attractions as the Kalamazoo Institute of Arts and Kalamazoo Pedestrian Mall. It is rich in history and preservation, and this is mirrored by the city's consistent effort to maintain the beautiful station building.
Amtrak station page:
http://www.amtrak.com/servlet/ContentServer?c=am2Station&pagename=am%2Fam2Station%2FStation_Page&cid=1229726267833