51000 Woodward Avenue
Pontiac, MI 48342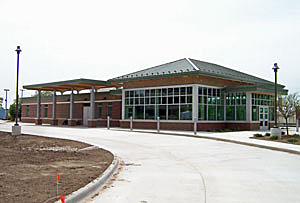 The new Pontiac Transporation Center opened on Aug. 8, 2011 replacing a grossly inadequate station. The new 4,500-square-foot station has a passenger lobby, bathrooms, seating and canopies at the bus loading area and the train platform. There is passenger parking and security lighting. Inside, facilities are provided for an Amtrak crew headquarters, which acts as a terminal for crews starting or ending their shifts. There are no Amtrak ticketing facilities. The street side of the location is also a SMART bus stop for the Woodward bus routes. One or two taxis will usually show up for incoming trains. SMART bus service does not operate at train times.
The Pontiac station also is home to Greyhound, with two buses daily and up to eight buses on the weekends. A Greyhound ticket agent will be available 10-12 hours a day on weekdays to assist passengers.
We recommend that passengers use Dearborn as a departure point. The fare is cheaper, and you will avoid a lot of excruciatingly slow running. A reasonable healthy person on a ten-speed bike can make it from Pontiac to Dearborn faster than the train. When returning from points west, by getting off at Dearborn, you can be back home and in your bed an hour before the train gets to Pontiac.
The City of Pontiac had long been a gritty industrial town, but redevelopment of the city's center and the opening of the Phoenix Center have led to a rebirth of the downtown shopping district. Quite a few open-air concerts are held in the summer, and the downtown area has developed a vibrant nightlife. It's really a pity that faster travel times between Detroit and Pontiac aren't available, because this station has real potential.
Amtrak station page:
http://www.amtrak.com/servlet/ContentServer?c=am2Station&pagename=am%2Fam2Station%2FStation_Page&cid=1229726270198