From The Ann Arbor News:
The Ann Arbor Area Transportation Authority has announced the start of a new technical study to determine the feasibility of WALLY commuter rail between Howell and Ann Arbor.
WALLY is short for the "Washtenaw and Livingston Line," a proposed 27-mile rail service that would use existing freight tracks to carry passengers from Howell into Ann Arbor for work in the morning, and back out to Howell at the end of the work day.
North-south commuter rail is a long-range project being considered as an alternative to ease traffic congestion along US-23.
The new technical study follows an earlier feasibility study that consulting firm RL Banks and Associates conducted in 2008.
The new study is expected to be a more in-depth process looking at model-based ridership estimates, more detailed cost estimates, station locations, train storage and maintenance facility locations, and governance and funding feasibility considerations.
The scope of work also includes a review of possible alternatives, such as express bus service and high-occupancy vehicle lanes on US-23.
The study, which AAATA officials indicated in early January would be starting this year, is being funded by a $650,000 federal grant.
While the grant requires a 20 percent match, funds were collected in advance by the AAATA in partnership with local contributors. AAATA officials said no funds from a new transit tax that voters approved in May are being used for the study.
The study will be led by Smith Group JJR and is expected to take 18 months to complete. It will be managed in cooperation with the Michigan Department of Transportation and will include a large public involvement effort, with plans for general public meetings and focused discussions with local elected officials, businesses, environmental groups, and other interest groups.
AAATA officials said new conditions now exist that were not available for the previous study six years ago, including recently upgraded track north of Ann Arbor, a fleet of 23 refurbished commuter railcars, support from the Friends of WALLY community group, and a change of railroad ownership in the city of Ann Arbor.
The Ann Arbor Railroad, now owned by Watco, has expressed a willingness to consider passenger service on their rail line through the city.
"We are very excited about this next step forward," Michael Lamb, a Howell resident and Friends of Wally organizer, said in a statement.
"It is nice to see that local governments, both in Livingston and Washtenaw counties, have been working together to obtain the grant that helped make this possible. We look forward to the two counties taking the next steps to make north-south commuter rail a reality — a reality that is needed and wanted by the commuters using US-23."
In addition to north-south commuter rail, the AAATA has been in talks with MDOT about launching AAATA express bus service along US-23 north of Ann Arbor.
The AAATA previously indicated it planned to meet with the University of Michigan, Ann Arbor Downtown Development Authority, city of Ann Arbor, MDOT and Livingston County to talk about possibilities for funding such a service.
MDOT has indicated it would be willing to purchase land for the AAATA to develop a 250-space park-and-ride lot for US-23 bus service, possibly near 8 Mile Road, which could fit in with a WALLY station for future commuter rail service.
Source: http://www.mlive.com/news/ann-arbor/index.ssf/2014/10/aaata_announces_start_of_18-mo.html
Celebrate the grand opening of the Grand Rapid's Vernon J. Ehlers Amtrak Station at 10 a.m. on Monday, Oct. 27, 2014.
Located at 440 Century SW,  it is adjacent to Rapid Central Station and will integrate bus and rail transportation, offer more passenger amenities and streamline train operations.
The special guest speaker is U.S. Senator Carl Levin.
Light refreshments will be served following the ceremony.
Please RSVP to Ronda Frazer at rfrazer@ridetherapid.org or 616-774-1185.
For bus route information, visit www.ridetherapid.org. Parking is also available at the station.
From The Detroit News:
More than 200 people witnessed the ribbon-cutting for the new Troy Transit Center Tuesday, including Brian Smiatacz, 36, who had two kids in tow.
Four-year-old Adam, and Grace, 2, came outfitted with train engineer hats.
"They've been waiting for a year for this to open," Smiatacz said. "We were watching it get built. It took a long time for this to happen."
The $6.3 million facility took 14 years to complete. It replaces a much smaller stop about a quarter mile down the tracks. Located at the southwest corner of Maple and Coolidge, the station provides shelter from the elements, as well as free complimentary short- and long-term parking.
"This is a big day for Troy, and a big day for Oakland County," Oakland County Executive L. Brooks Patterson said.
Sarah Wodtke, 36, of Rochester, has waited a long time for the center to open. She travels to Chicago every other week for her job.
"It's the availability and the safe parking," Wodtke said of the new station. "It's faster for me to get here — much faster than going downtown."
The center is a major improvement for the railroad company's service, which includes six daily trains between Pontiac and Chicago via Troy, Detroit, Dearborn and Ann Arbor, Amtrak officials say.
Amtrak spokesman Marc Magliari said the Troy Transit Center is the first of three new stations opening in Michigan this year. Stations in Grand Rapids and Dearborn will open over the next six weeks. A fourth station is under construction in East Lansing, and talks are underway about new stations proposed for Ann Arbor and Port Huron, Magliari said.
"(The Troy Transit Center) is built for growth, because in the state of Michigan we have plans over the long term to add service," Magliari said. "We know there's demand."
The project overcame numerous hurdles since 2000, when the city initially partnered with the neighboring community of Birmingham to build the center. At that time, real estate developer Grand Sakwa Properties donated the land with the condition that funding for the transit center be secured by 2010. Birmingham backed out a year later.
Troy secured an $8.4 million federal grant, but Grand Sakwa said the money wasn't acquired before the deadline, meaning the property ownership reverted to the company. The city took the developer to court and offered to pay the company $550,000, based on a 2010 appraisal.
The City Council approved a scaled-down version of the transit center in January 2012. Construction of the 2,000-square-foot center was completed last fall. But Amtrak officials said the company couldn't sign a lease until the city had title to the property.
In May 2013, an appeals court granted the reversion of the parcel. Troy initiated a condemnation case, allowing the city to buy the site, officials said. Then in February 2014, an Oakland County circuit judge dismissed the city's lawsuit, affirming Grand Sakwa's ownership of the land.
Two months ago, an Oakland County circuit judge issued an order transferring title to the property to Troy, on condition that the city pay Grand Sakwa $1.05 million.
Nick Fiorvento, of Shelby Township, came prepared to board the train Tuesday. He was headed back to Albion College, where he's a junior, carrying a duffel bag, lunch box, umbrella and ample reading materials.
"It's going to make it a lot easier for me to get home."
Source: http://www.detroitnews.com/story/news/local/oakland-county/2014/10/14/troy-transit-center-opens/17242603/
Click here to save this file or to view it as a PDF in full screen.

In this issue:
a report on MARP's 41st Annual Meeting held at Durand Union Station
John Guidinger's notes on the 2nd Michigan Rail Conference where you'll find out what a bogie is
a South-of-the-Lake route update and information on upcoming public hearings – PLEASE PLAN TO ATTEND
how to let the STB and your representatives in D.C. know that you want action to improve train on-time-performance
recognition for 30 years of service by an Amtrak engineer on the Pere Marquette
We hope you enjoy the issue and that you will let us hear your comments and suggestions. If you would like to write a story or suggest an item to be covered, email us at marprail@yahoo.com
For those without a PDF reader, click on the images below to view them full screen.
Page 1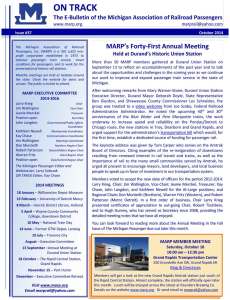 Page 2
Page 3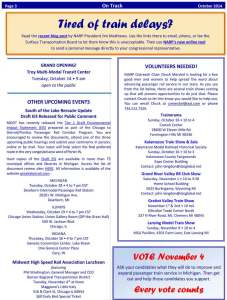 Page 4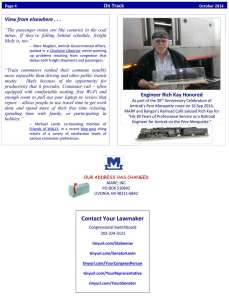 From The Toledo Blade:
MARP MEMBER MEETING
Saturday, October 18, 2014
10 a.m. – 12:30 p.m.
Rapid Central Station
Grand Rapids Transportation Center
250 Grandville Ave SW
Grand Rapids MI 49503
Map & Directions
MARP's October 18, 2014 meeting will be in the Conference Room on the 2nd floor of the Grand Rapids Transportation Center, beginning at 10 a.m.
Opened on June 14, 2004, the Transportation Center was the first LEED-certified transit facility in the country. Built with a number of green features and strategies, Rapid Central Station combines cutting-edge technology with solid design to provide a passenger facility that is both functionally sound and environmentally responsible. When MARP last met at Rapid Central Station, our guest speaker was Seth Horton, a member of the architectural firm Progressive AE that designed Rapid Central Station and was also part of the design team for the new Grand Rapids Amtrak Station We will have an opportunity to get a close look at the new station which is located just south of the transit facility and slated to open later this month.
The other exciting development in Grand Rapids is the opening of The Silver Line, a 9.6 Bus Rapid Transit (BRT) line that connects downtown with the southern suburbs. The Silver Line began boarding passengers on August 25. Supporters hope that the line will replicate the success of Cleveland's bus rapid transit system, which has stimulated about $6 million in development since 2008. We have invited a speaker to provide us with details on the BRT operation and plans for expansion.
You might want to plan to catch The Silver Line at some point on its route from the Park-and-Ride at 54th St SE, northward along Division Street to the Rapid Central Station. Be sure to take note of the Rapid's newest feature, The Living Wall before you enter the building.
Following the meeting, we will enjoy lunch (no host) across the street at Founders Brewing, one of several venues that are part of the transformation of downtown Grand Rapids into a thriving destination spot.
Michigan Association of Railroad Passengers
Some Links to Help You Plan Your Visit
Frederik Meijer Gardens & Sculpture Park
Grand Rapids Model Railroad Historical Society
From Trains Magazine:
The grand opening for the Troy Multi-Modal Transit Center is scheduled for Oct. 14, 2014. Construction work on the transit center was completed in last fall, but a property dispute held up its opening. In late September, a settlement by Troy to acquire the land and lease the site to Amtrak was reached.
This week the Troy city council approved a 20-year lease agreement with Amtrak that will cover all costs to operate the center. Amtrak's Wolverine Service trains will use the new facility.
In 2000, a nearby property owner gave the city of Troy title land on which to build a new station, with the provision that funding for a transit center was secured within 10 years. In 2011, the cities of Birmingham and Troy were awarded a federal grant to assist in replacing the station with a new, multimodal transit center across the tracks in Troy.
However, the mayor of Troy rejected the funding on ideological grounds, thus terminating the project. The project was resurrected by a subsequent Troy city administration, and broke ground on Nov. 27, 2012, and was completed in October 2013. The legal dispute over title to the land under kept the center from opening.
The $6.6 million construction cost for the project was provided by grants from the Federal Railroad Administration.
From Trains Magazine:
Time has caught up with the famed "BO" tower in Kalamazoo this week. On Tuesday morning, signal crews working on Amtrak's Michigan Line upgrades retired the 44-lever Saxby & Farmer interlocking machine, marking the end of the tower era in western Michigan.
For the time being, operators still work around the clock at BO, operating signals from a control panel in the tower. The signals will eventually be remote-controlled, once responsibility for MDOT's Kalamazoo-Dearborn route is handed from Norfolk Southern's dispatchers in Dearborn, Michigan to Amtrak's train directors in Chicago.
The installation of the interlocking by Michigan Central, a New York Central affiliate, was approved by the Michigan Railroad Commission in January 1915, leaving BO's original interlocking machine to end its service life just four months short of its centennial celebration.
The tower once controlled lines affiliated with the Grand Trunk Western, New York Central, and Pennsylvania, along with an interurban. Both of the lines remaining today were conveyed to Penn Central in 1968 and then split between Amtrak and Conrail in 1976. Norfolk Southern acquired both remaining Conrail routes in 1999, and then spun off the north-south alignment, the former Pennsylvania route, to Watco-owned Grand Elk Railroad in 2009. The state acquired the former New York Central route east of the tower in 2013 with NS retaining freight rights.
Amtrak and the state of Michigan are in the process of upgrading the Kalamazoo-Dearborn corridor for 110 mph speeds, which includes major track upgrades along with a complete replacement of the signal system to modern hardware that provides positive train control.
From The Grand Rapids Press:
It's light at the end of the tunnel: the vacant, yet new, Amtrak station finally is set to connect to the rest of the region in the coming month.
City crews are slated to shut down Century Avenue SW at 8 a.m. Monday, Sept. 29, 2014, while CSX Corp. reconstructs its railroad crossing. It's one of the last steps necessary to finally set a guaranteed grand opening of the adjacent Vernon J. Ehlers Amtrak Station, said Peter Varga, CEO of The Rapid.
The station has been mired by delays; it originally was scheduled to open in 2013. Setbacks pushed the opening to either spring or summer 2014. The end of September was considered, too, though work on the crossing likely won't be completed until 5 p.m. Friday, Oct. 10.
Fall 2014 is the safest time frame at this point as the rail itself will have to be examined before opening, officials say.
"The track work has to be inspected by CSX, that's a separate agreement, as we own the railroad spur," Varga said.
Work began to relocate an underground sewer line below Buchanan Avenue SW earlier this summer as it would not be strong enough to hold the weight of the spur. Officials relied on the conclusion of that project, although an analysis was conducted in 2012, before moving ahead with CSX's portion.
Rapid officials tout the convenient location of the new station as Central Station, which serves all of the six-city bus system's busiest routes and the new Silver Line bus rapid transit system, is just down the street.
The $5.2 million station, named after the former West Michigan congressman, will replace the old hub on Wealthy Street serving Amtrak's Pere Marquette route. It travels two and from Grand Rapids and Chicago, with three stops each day.
More: Grand Rapids' new Amtrak station proves costlier than expected
An additional, daily trip between the two cities could launch upon the station's completion.
Source: http://www.mlive.com/news/grand-rapids/index.ssf/2014/09/crews_set_to_reconstruct_rail.html
From M-Live.com:
Forty years after debuting service in Michigan, the Amtrak Blue Water line isn't what it used to be.
Recently Amtrak has added features like wireless internet and bicycle racks to its Blue Water train cars. Train speeds have increased to 110 miles per hour on one portion of the line, and ridership in 2013 hit a record high of 191,106.
On Oct. 1, the train line will celebrate with an extra café car, commemorative gift bags for passengers and discounted tickets. You'll need to act fast for the ticket deal, which kicks in when a customer purchases one ticket – that allows them to purchase a companion ticket for 40 percent off. It's valid on tickets purchased through today, Sept. 30, and rides through tomorrow, Oct. 1.
"It'll be festive," said Amtrak spokesperson Marc Magliari.
The train line debuted in Michigan in 1974 as the Blue Water, but in 1982 was changed to be the International Limited, which ran between Chicago and Toronto. In 2004, it was converted back to the Blue Water.
It's been much more successful as a Michigan train than as a Toronto train, particularly after 9/11 because there were significant delays at the border crossing," Magliari said.
The route currently serves stops from Port Huron to Chicago. It stops in Lapeer, Flint, Durand, East Lansing, Battle Creek, Kalamazoo, Dowagiac, Niles and New Buffalo.
Today's route is oriented to get Michiganders from one side of the state to the other and back in the same day, Magliari said.
Amtrak operates in Michigan with a subsidy and support from the Michigan Department of Transportation.
Source: http://www.mlive.com/lansing-news/index.ssf/2014/09/amtrak_plans_40th_anniversary.html
The Amtrak Blue Water service between Port Huron and Chicago will celebrate 40 years on Oct. 1. Amtrak will promote the 40th anniversary event onboard the train with an extra café car, offering more table seating, commemorative gift bags, refreshments, and celebrations. Volunteer hosts will be available in each car to hand out gifts and answer passenger questions.
To commemorate the occasion, companion tickets are discounted 40 percent now through Oct. 1 for all stops on the Blue Water route. Go to www.amtrak.com for ticket details.
Port Huron: 6:20 a.m.
Lapeer: 7:06 a.m.
Flint: 7:32 a.m.
Durand: 8:04 a.m.
East Lansing: 8:45 a.m.
Battle Creek: 9:52 a.m.
Kalamazoo: 10:25 a.m.
Dowagiac: 10:50 a.m.
Niles: 11:03 a.m.
New Buffalo: 11:24 a.m.
Recent improvements to the service include free Wi-Fi service and bicycle racks in the café car. A new station in East Lansing is expected to open next year, offering more waiting room space and parking.
Annual ridership has been steady with more than 150,000 passengers each year. Currently, ridership is expected to be below last year's record total of 191,106 due to the recent harsh winter and steady-to-lower gas prices.
The Blue Water 40th anniversary event is sponsored by the Blue Water Coalition/Shore to Shore, Amtrak and the Michigan Department of Transportation (MDOT), which sponsors the route. Photos of the event will be posted on MDOT's Facebook page: www.facebook.com/MichiganDOT.
- A Tier 1 Draft Environmental Impact Statement (EIS) has been prepared for proposed passenger rail improvements.
- To view the Tier 1 Draft EIS, go to

www.greatlakesrail.org

.
- Comments must be received by Dec. 19, 2014, and can be submitted in multiple ways.
- Public hearings are scheduled for October in Michigan, Indiana, and Illinois.
The Federal Railroad Administration (FRA), in partnership with the Michigan Department of Transportation (MDOT), Indiana Department of Transportation (INDOT), and the Illinois Department of Transportation (IDOT), have prepared a Tier 1 Draft Environmental Impact Statement (EIS) to evaluate passenger rail improvements for the Chicago-Detroit/Pontiac corridor.
The Tier 1 Draft EIS presents the proposed project's purpose and need, identifies reasonable route alternatives, describes the affected environment, and analyzes the potential environmental impacts of the alternatives considered, including the no-build alternative.
Documents are available for viewing on the program website. Go to www.greatlakesrail.org and then select "public hearings." The Tier 1 Draft EIS also is available on CD and/or hard copy, by Sept. 26, 2014, at locations such as libraries and municipal offices. To find the nearest location, click on "document review sites" on the "public hearings" page.
A public comment period is under way to collect feedback on the Tier 1 Draft EIS. All comments must be submitted by Dec. 19, 2014, for the public record. Comments may be submitted as follows:
– Provide written or oral comments at a public hearing
– Use the online comment form at www.greatlakesrail.org
– E-mail: mdot-hsr-detroit-pontiac-chicago@michigan.gov
– Call toll-free: 877- 351-0853
– Mail your written comments to:
Robert Parsons
Public Hearings Officer
Michigan Department of Transportation
P.O. Box 30050
Lansing, MI 48909
After considering all public input, a Final EIS will be prepared and released for public review. The Final EIS will identify a preferred route alternative and level of service.
Public hearings for the Tier 1 Draft EIS will be held three times in October 2014, with the Draft EIS exhibits and other reference materials on display. Presentations will be made and program staff will be available to answer questions. Opportunities to provide written and oral comments will be available at these public hearings. All hearings will be open to the public from 4 to 7 p.m. local time. Participants will be able to view hearing materials and talk with program staff between 4 and 5:30 p.m. A presentation will be given at 5:30 p.m., with the public testimony session to follow at about 6 p.m.
Hearing Dates and Times:
Michigan
Tuesday, Oct. 28, 2014
4 to 7 p.m. EST
Dearborn Intermodal Passenger Rail Station
20201 W. Michigan Ave.
Dearborn, MI 48124
Illinois
Wednesday, Oct. 29, 2014
4 to 7 p.m. CST
Chicago Union Station
Union Gallery Room (Off the Great Hall)
500 W. Jackson Blvd.
Chicago, IL 60661
Indiana
Thursday, Oct. 30, 2014
4 to 7 p.m. CST
Genesis Convention Center Lake Room
One Genesis Center Plaza
Gary, IN 46402
With an advance notice of seven days, MDOT can make accommodations for persons with disabilities and/or limited English-speaking ability, and persons needing auxiliary aids or services of interpreters, signers, readers, or large print. For special accommodations, call the program's toll-free number at 877-351-0853.
This video was produced by the Michigan Department of Transportation:
September 16, 2014 – The Amtrak Pere Marquette service celebrated 30 years of service between Grand Rapids and Chicago. The Pere Marquette is a vital link and economic development tool for west Michigan communities. Sponsored by the Westrain coalition, Amtrak, and MDOT, riders had an opportunity to ride in a special "theater car" at the rear of the train for better viewing, win free round-trip tickets at stations, and received commemorative gift bags and refreshments.

Joe Szabo of the Federal Railroad Administration sent this address to the Michigan Association of Railroad Passengers for its 41st Annual Meeting held in Durand, Michigan on September 13, 2014.
From M-Live:
Michigan Flyer users are riled up after Detroit Metro Airport announced plans to relocate the popular bus service's stop at McNamara Terminal from curbside to one 500 feet away where passengers must brave the elements.
Michigan Flyer officials say they worry the new stop could hurt their 98 percent on-time record because they can't load or unload passengers if they can't find a parking slot at the new stop, located at the Ground Transportation Center. The current stop is located just outside a waiting room for International Arrivals.
The move takes place Monday and affects all Michigan Flyer customers taking flights to or from McNamara Terminal, which serves Delta and Air France passengers.
TRANS4M, an advocacy group for public transportation in Michigan, is also taking a stand against the switch, saying it will hinder seniors and those with disabilities.
Michigan Flyer officials say in an email, "We're urging DTW to reconsider the move, or at least make it easier on passengers."
Wayne County Airport Authority officials say the move will increase safety and ease congestion, according to TRANS4M. Michigan Flyer argues it has an "impeccable safety record" at the current location.
MLive is seeking a response from the authority about the new location.
Frequent users of the bus say they haven't witnessed congestion at the current stop.
"When using the service I have not experienced or seen congestion," wrote Liz Boyd, political consultant and former spokeswoman for Gov. Jennifer Granholm. "Also, it's also my understanding the other buses – including the employee bus service – that use the drop-off location 168 times a day — are not being relocated."
Michigan Flyer in an email lobbied its users to write the Detroit airport to complain about the switch:
Your opinion matters. If you're so inclined, you can share it in one email to several key people involved in this decision: Thomas Naughton, CEO of the Wayne County Airport Authority; Michael Ford, CEO of the Ann Arbor Area Transportation Authority; Gordon Mackay, CEO of Michigan Flyer; Michigan Governor Rick Snyder; Senator Debbie Stabenow and the Michigan Department of Transportation.Just put "DTW relocation of Michigan Flyer-AirRide" in the subject line of your email, express your thoughts, then copy and paste all of the following addresses into the "To" area and hit Send: thomas.naughton@wcaa.us; airride@theride.org; info@michiganflyer.com ; rick.snyder@michigan.gov; senator@stabenow.senate.gov; mdot-oca@Michigan.gov
From The Detroit News:
The tracks have been cleared for the state to develop faster, cushier Amtrak service between Detroit and Chicago now that the Michigan Senate has ended its probe of a state passenger rail car purchase.
State transportation officials want to buy two sets of cars and engines, built in the United States by an affiliate of Spanish train maker Talgo Inc., as part of an Amtrak upgrade. The updates would allow trains to reach 110 miles an hour and, in a few years, get passengers from one city to another two hours faster than they can today.
Officials also hope to improve Amtrak's on-time service, which ranged from as low as 6.5 percent to as high as 52.3 percent among the Detroit-Chicago trains in July. Amtrak's website reports on-time rates on the route have ranged from 21.5 percent to 39 percent in the last 12 months.
Lawmakers who questioned a one-bid contract awarded to a Spanish firm for "next-generation" passenger cars now are willing to let the deal proceed, said Senate Transportation Committee Chairman John Pappageorge, R-Troy.
The $58 million for Michigan's two train sets is to come from $200 million in federal funds for Amtrak improvements in Michigan and other states, mostly in the Midwest. The move to the faster trains is expected to give a boost to the Detroit-Chicago route, where ridership steadily has been building back toward a 20-year peak of nearly 504,000 passengers in 2010.
Down the road, the state will use additional federal money for more "next-generation" passenger car and engine sets, said Michigan Department of Transportation railroad chief Tim Hoeffner. The state will own the cars and the Michigan rails on the Detroit-Chicago route for now.
Hoeffner said the Talgo car purchase isn't finalized. An evaluation of the equipment's suitability for Michigan's needs is taking longer than expected, so the cars won't be in service next month as originally proposed, he said.
Bid controversy
The two Talgo sets will replace 30- to 40-year-old Amtrak cars on two of the three daily Detroit-Chicago runs on the route Amtrak calls The Wolverine. Older cars will continue on the other run until the state buys newer equipment in a couple of years.
"The difference between them is like the difference between the car I learned to drive in the 1970s and the cars my kids learn to drive now," Hoeffner said. Michigan's passenger trains, he said, gradually will become more like the sleek, modern trains that run in Europe and Asia.
Current aluminum coaches on the route lack modern amenities and are deteriorating because Amtrak has no budget to overhaul them, according to MDOT. They have institutional decor, lack carpeting, contain harsh lighting and lack hot water in restrooms, the department says.
Pappageorge said what "raised red signals" was that Talgo was the sole bidder to supply the cars. The company happened to have newly built train sets sitting at an Amtrak facility in Beech Grove, Indiana, and Michigan needed to act quickly because federal funds were available.
"It was appropriate to look into it because that didn't look right," Pappageorge said. "Digging into it, we came to the conclusion that Talgo was the right answer — not a perfect one but adequate."
In a statement on behalf of her company, U.S. public affairs vice president Nora Friend said Talgo officials "are very pleased that the Senate committee is being respectful of the (bid) process and is allowing the deal to go forward."
The train sets were built for Wisconsin's Amtrak routes, before Gov. Scott Walker canceled the deal. They are sitting idle in Indiana while the company and that state battle in court over money Talgo claims Wisconsin still owes it.
The Senate's inquiry, which lasted through the summer, resulted from a challenge by a competing firm, Chicago-based Corridor Capital, which didn't bid but claimed the process seemed to favor Talgo. The state's bid specifications were so narrow only one company could meet them, Corridor Capital said.
The criticism, aired at Senate committee hearings, also came from former U.S. Rep. Joe Schwarz of Battle Creek, a train buff and volunteer adviser to Gov. Rick Snyder on rail issues. He questioned whether Talgo's equipment can meet Michigan's needs — a criticism Corridor Capital continues to press.
"They didn't meet the minimum requirements," charged Lansing public relations specialist John Truscott, who represents Corridor Capital. "If they did qualify, this would have been an easy decision. We (still) feel it would be just as easy for MDOT to do the right thing and open this back up (for rebidding)."
'Incremental' improvements
But Pappageorge said members of the Senate's Transportation and Appropriations committees found the bid process was handled properly. They also concluded Talgo's equipment is adequate, based on hours of testimony about train car specifications, he said.
A problem for Corridor Capital was that the company didn't have train sets ready to go, Hoeffner said. The firm sought a state contract under which it would take over the entire state rail service, not just supply rail cars. It is working on a similar deal with Indiana.
State transportation department analysts believe an "incremental approach" is more prudent for Michigan right now, Hoeffner said. The goal is to continue building ridership on the Detroit-Chicago route, the busiest of its three passenger corridors, through faster service and nicer cars.
"All customers want to know is: When do I leave, when do I arrive and is it convenient?" Hoeffner said.
The trip now takes about 6½ hours most days, but Hoeffner said MDOT's goal is to reduce the time to 4 hours — about the same amount of time needed to drive the route in a car. The state has purchased the in-state portion of the route and is in the midst of upgrades that should be completed in late 2017 or in 2018.
From The Chicago Tribune:
For many of the 120,000 rail passengers who pass through each day, Union Station is either a mystifying maze of ramps and escalators, or a perplexing funnel that forces them to navigate perilously narrow platforms.
Commuting challenges include dodging water from leaky roofs and trying not to breathe diesel fumes too deeply.
Officials from the Chicago Department of Transportation, Amtrak, Metra and other agencies have been working since 2010 on a master plan to improve the station and make commuting easier.
In an update Wednesday, officials provided a glimpse of both short-term fixes, mainly better access to CTA buses, and proposals for long-term enhancements. Planners are studying ways to reconfigure the building last remodeled in 1992 by its owner, Amtrak, to accommodate more trains and passengers and improve the flow of foot traffic.
The station is like a "warren of obscure passageways with no natural light," said Marc Magliari, Amtrak's manager of media relations.
Jeffrey Sriver, planning director for the Chicago Department of Transportation, said work will be underway in 2015 on two projects that will produce an immediate benefit for commuters.
The first is the addition of dedicated lanes on Canal St. to improve access to CTA buses.
The second will be the construction of an off-street bus terminal on Jackson Blvd. between Canal and Clinton streets. to provide direct, weather-protected connections between the station and CTA buses while also relieving congestion on nearby streets.
Longer-term improvements include converting unused platforms so they can be used by commuters and Amtrak. Tracks would be realigned to accommodate wider platforms and new stairways so passengers can exit without using the concourse.
No major changes are planned for the historic Great Hall, which dates to 1925 and is the site of the iconic stairway scene in the 1987 movie "The Untouchables."
Amtrak predicts growth in ridership, most immediately from additional trips serving Downstate and the Rockford-Quad Cities area, and from the development of high-speed rail, said Joe Shacter, director of public and intermodal transportation for the Illinois Department of Transportation.
David Kralik, Metra's head of long-range planning, acknowledged the congestion caused by service disruptions, particularly involving BNSF trains that use the station's south concourse. The BNSF is the busiest of Metra's 11 lines.
BNSF commuters experienced another jam-packed evening rush hour Tuesday when signal problems forced Metra to cancel two trains. Crowds extended up the escalators and into the station's food court level.
To ease the pressure, Metra has tried to encourage passengers to wait in the Great Hall during delays. "There's just not enough space for everyone," Kralik said.
As he caught a BNSF train Wednesday afternoon, longtime rider Mark O'Brien, 62, said any changes that would mean wider platforms and eased congestion in the concourse would be a welcome relief.
"When they have train delays, it's actually dangerous in there," O'Brien said.
Source: http://www.chicagotribune.com/news/local/breaking/chi-union-station-improvements-20140910-story.html
From The Grand Rapids Press:
From the second-floor of The Rapid's headquarters in downtown Grand Rapids, Conrad Venema looks out at U.S. 131 cutting through the heart of the city.
The view offers a stark contrast of travel of old — mammoth concrete corridors designed for personal vehicles — against what transportation planners like Venema see as the future with shared rides that reduce potential gridlock and speed movement.
And just as highways helped spur the region's growth for years, West Michigan leaders are confident this week's launch of the $40 million Silver Line Bus Rapid Transit system — the first of its kind in Michigan — will play a central role in the next wave of economic, housing and transportation development.
The 9.6-mile line that connects the center city and the Medical Mile with its southern suburbs of Wyoming and Kentwood, supporters say, offers an efficient alternative by cutting a typical 45-minute drive to a 27-minute commute.
"We've designed this to attract the choice rider," Venema said of people who can select their method of moving around the area. "We finally have a transportation mode that's competing with the car.
"This is part of Grand Rapids growing up. It's a bigger city, and it's a bigger project."
Some aren't as optimistic and say the route isn't nearly as transformational as advocates claim.
In fact, Jeff Steinport from the Kent County Taxpayer's Alliance alleges the Silver Line is a spending boondoggle that duplicates public transportation routes already available through The Rapid's traditional bus system. He also claims it is unlikely to speed traffic for those on the bus or for those still driving, particularly along Division Avenue, the main corridor of the line.
"A quarter of existing routes are faster…it's not really that big of an improvement," Steinport said.
The experiment starts Monday, Aug. 25, with a week's worth of free rides to entice people to give the Silver Line a try, but the test of the system's necessity and its ability will be over years, not months.
According to the National Transit Database, The Rapid's passenger trips for 2012 climbed to 11.9 million, up from 10.8 million rides in 2011 and 9.7 million in 2010. Venema sees those numbers growing with Silver Line serving as an addition and complement to current service, but he admits some of those riders might choose to move within the system.
Steinport doubts Silver Line will make the splash its supporters claim.
"The Rapid's busiest Route 1 already serves Division, and ridership numbers rose by about 5 percent from September 2011 to 2012 then fell by the same amount the following year. It's unrealistic, at best, a new bus along an existing route would add development," Steinport said.
"It seems they're reaching the point of saturation. You're going to run into the limit where the route covers."
Rapid officials insist the service eventually can serve at least 5,000 riders each weekday. According to the agency's latest figures, April 2014 saw about 2,900 daily passengers on Route 1.
A FUTURE INVESTMENT
Grand Rapids' system hopes to replicate the success the BRT has in Cleveland, which served as a model and stimulated about $5.8 billion in development since 2008. Officials are certain there will be growth because of the Silver Line, but they note the size of the boon in West Michigan remains uncertain.
"It's a well-informed bet based off of other bus rapid transit systems across the country and the economic development that has spurred," said Suzanne Schultz, Grand Rapids' planning director, pointing to Cleveland's Euclid Avenue Health Line.
"Cleveland now is a poster child…you have a high concentration of employment and education," said Schultz, referencing similarities between the cities medical schools and hospitals. "It really serves as the anchor to draw people into the transit system."
The Silver Line equates to roughly $3.5 million to $4 million per mile of investment, Venema said. Grand Rapids' Downtown Market, Van Andel Arena, DeVos Place, Grand Rapids Community College and many more housing developments and eateries lie on the route's northern end and the hope is that the growth spreads southward.
Jerry DeGood, vice president of the Division Avenue Business Association admits there's more to be desired along the route outside a scattering of fast food restaurants, car lots and thrift stores. He knows the area well, having been an owner of a used car dealership on that stretch for more than 25 years.
He sees the Silver Line as a worthwhile gamble, a bet the community can afford to take.
"The perception is that they've done this in other communities, and the positives have outweighed the negatives," DeGood said. "Businesses have gone up; property values went up; apartment and condos go under construction.
"History has shown in the majority of other BRT projects across the country, it's worked. We're just hoping it falls in line, here, and we have our turn at it."
About $32 million sourced from the federal government — the largest piece of Silver Line funding — in October 2012 turned the project from concept in 2003 to reality more than a decade later.
That amount rests atop about $7.9 million from the state and $15.3 million generated annually from a May 2011 millage, with one-third helping to pay for Silver Line operational costs, including driver salaries and diesel fuel when the buses' electric motors begin to switch over past 25 mph. That millage was passed by a slim 136-vote margin. At the time, critics complained the tax would be collected from property owners in six cities, but the Silver Line would pass through only three municipalities.
The Rapid CEO Peter Varga said the project's $40 million total cost is roughly 10 percent under budget, though final calculations still are being determined.
GET THERE FROM HERE
The route begins at the system's Central Station along Grandville Avenue, weaves its way through downtown's main corridors of Monroe Avenue and Michigan Street before intersecting Fulton and Wealthy streets. The line will pass down Division Avenue and turn around at 60th Street.
A bus rapid transit service boils down the time of the trip when compared with a traditional bus system and allows riders to be productive while on the go, Venema said. The buses have technology that keeps traffic lights green, enabling the driver and passengers to cruise through intersections. Riders can use Wi-Fi capability — a function that won't be immediately available due to a vendor snafu — while moving.
Imagine a commute, Varga says, without the worry of being caught in traffic or having to find a parking space. The trip gets faster when rush hour bus-only lanes take traditional traffic out of bus drivers' sight. The right lanes in some portions of the route will be only for buses, which will stop at each station every 10 minutes. Riders can monitor the system with real-time arrival and departure times.
"When you start putting all these layers on top, that totally separates it from your regular bus," Venema said. "That's when you start having that competitive edge."
A ride on the Silver Line will cost $1.50, the same as a regular bus trip, with options to buy passes for two weeks or a month at a time. Rather than paying a driver or at the central station, passengers will be on an honor system and able to pay for fares at kiosks resembling an ATM at any of the stops.
While the Rapid will have spot fare checks, leaders are confident most will pay. Research by Transit Cooperative Research Program that found nine out of 10 passengers pay when bus drivers aren't collecting fares upon boarding.
And fare-jumping won't be cheap with $65 fines for the first offense and higher penalties for additional offenses that quickly climb above $200.
There also are consequences for vehicle drivers who don't follow the bus-only lane regulations, with a ticket costing a minimum of $110 and adding two points on an operator's license.
THE FUTURE
The Silver Line, supporters say, is positioned to move people along its route and benefit the communities it serves, though only time will tell how successful it becomes.
While this project is Michigan's first such BRT line, a 12-mile "Laker Line" between Grand Valley State University and downtown Grand Rapids on Lake Michigan Drive could be its second. Transit officials currently are conducting a $600,000 grant-funded study to determine how much the project would cost and what it ultimately might look like upon completion.
That project combined with the Silver Line could create additional opportunities for the region and help offset a potential traffic crunch, Schultz said.
"Given that Grand Rapids is a regional employer, we have about 50,000 people who are either employees or visitors within a square mile," she said. "Having everyone drive their own vehicle is not going to be the answer if we're going to have economic development.
"If we did not do some sort of improvement for transit, bikes and pedestrians, everything comes to a stop."
Source: http://www.mlive.com/news/grand-rapids/index.ssf/2014/08/striking_gold_with_silver_line.html
More coverage in The Grand Rapids Press/M-Live.com:
http://topics.mlive.com/tag/silver-line/posts.html
Click here to save this file or to view it as a PDF in full screen.

We hope you enjoy the issue and that you will let us hear your comments and suggestions. If you would like to write a story or suggest an item to be covered, email us at marprail@yahoo.com
For those without a PDF reader, click on the images below to view them full screen.
Page 1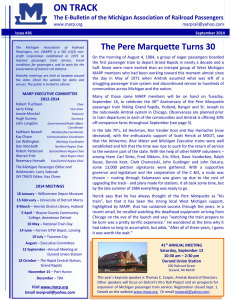 Page 2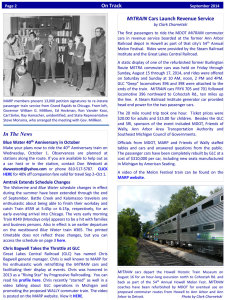 Page 3
Page 4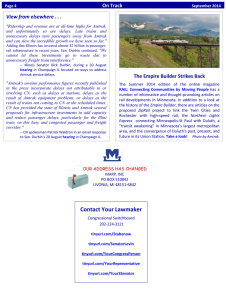 From an Michigan Department of Transportation press release:
The public is invited to celebrate 30 years of the Pere Marquette Amtrak service between Grand Rapids and Chicago, with stops in Holland, Bangor and St. Joseph/Benton Harbor. The Westrain coalition and Amtrak will promote the 30th anniversary event with a double-decker Superliner train, including a special "theater car" at the rear of the train for better viewing; an opportunity to win free round-trip tickets at stations; and commemorative gift bags and refreshments. The event is sponsored by the Westrain coalition, Amtrak and the Michigan Department of Transportation (MDOT), which provides state support for the route.
Approximately one-half hour prior to regularly scheduled train departure, 30th anniversary ceremonies at each city are slated to include local mayors and other city leaders, as well as MDOT and Amtrak officials.
To commemorate the occasion, tickets will be discounted 30 percent for the month of September for all stops on the Pere Marquette route. Go to www.amtrak.com for ticket details.
WHEN:
Tuesday, Sept. 16, 2014
Grand Rapids: 7:00 a.m. event (7:40 a.m. departure)
Holland: 7:50 a.m. event (8:26 a.m. departure)
Bangor: 8:30 a.m. event (9:07 a.m. departure)
St. Joseph/Benton Harbor: 9:10 a.m. event (9:44 a.m. departure)
WHERE:
Grand Rapids Amtrak Station
431 Wealthy St., SW
Grand Rapids
Holland Amtrak Station
1717 Lincoln Ave.
Holland
Bangor Amtrak Station
541 Railroad St.
Bangor
St. Joseph/Benton Harbor Amtrak Station
410 1/2 Vine St.
St. Joseph
BACKGROUND:
The Pere Marquette serves Grand Rapids, Holland, Bangor, and St. Joseph/Benton Harbor, with daily passenger service to and from Chicago. This is one of three state-sponsored routes. Michigan is among 15 states, including Illinois, Missouri and Wisconsin, that sponsors Amtrak for services. Improvements to the service include free Wi-Fi service added last year and a new station location scheduled to open in Grand Rapids next month.
Since 2006, annual ridership has been steady at more than 100,000 each year. Currently, ridership is expected to be about 3 percent below last year's total of 104,491 due to the recent harsh winter and steady-to-lower gas prices.
Westrain coalition members include the Grand Valley Metropolitan Council, Macatawa Area Coordinating Council, the city of Bangor, Cornerstone Chamber of Commerce, and the Southwest Michigan Planning Commission, and are supported by the Michigan Association of Railroad Passengers.