Click here to save this file or to view it as a PDF in full screen.

We hope you enjoy the issue and that you will let us hear your comments and suggestions. If you would like to write a story or suggest an item to be covered, email us at marprail@yahoo.com
For those without a PDF reader, click on the images below to view them full screen.
Page 1
Page 2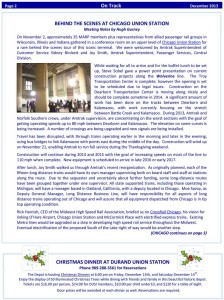 Page 3
Page 4
From NBC News:
The question is one you may have asked yourself while standing in line at the  airport or when trying not to scream in frustration while sitting on the tarmac  waiting to take off: If airlines know there will be a surge of passengers during  the holidays, why don't they add capacity in the form of extra flights?
While it makes sense in theory, the reality is far more complicated.
Despite mergers in recent years and the retiring of older, less-efficient  planes, carriers have nowhere to turn for a dozen planes the week before  Thanksgiving.
That's not how the commercial airline business was set up to operate,  industry experts said.
"It's not realistic to think airlines could add planes for a few days," said  Josh Marks, CEO of airline consulting firm masFlight. "The airlines would love  to have the flexibility to add capacity, but the system is not set up for it."
There's no Hertz for airlines looking to add a Boeing 737 for a week or  two—leasing companies don't operate that way. And because airlines have  transformed themselves to be as lean as possible, they don't keep "extra" planes  sitting around.
Even if the airlines could get their hands on, say, a dozen planes, who would  fly them or serve passengers? Carriers are already fully staffed and have crews  tightly scheduled. Most airlines have recalled all the pilots they furloughed  before the recession.
Even if some idle pilots were available for temporary hire, existing pilots  would be up in arms that "rental crews" were brought in to handle a particular  route.
System stretched to the max
On top of that, airport takeoff and landing slots are already jammed at many  of the busiest airports.
Take LaGuardia Airport in New York. Even if an airline wanted to add three or  four more flights out of the airport on the Tuesday before Thanksgiving, when  would they take off? LaGuardia is already slot-controlled, meaning the Federal  Aviation Administration limits the number of takeoffs and landings per hour, as  is Washington's Reagan National Airport.
If one airline wanted to add three flights on that Tuesday, its competitors  would want to match it and add flights. Soon, the most congested airspace in the  U.S. would be even more so. You get the picture: Gridlock, raised to a whole new  level.
Increased air travel would mean more users of facilities whose infrastructure  is already threadbare.
"Our airports are so clogged up that we're going to face Thanksgiving almost  every day in a few years in every airport," Roger Dow, president and CEO of the  U.S. Travel Association, said recently.
Tighter capacity, higher fares
The argument for adding more planes also ignores one crucial factor to  airlines: profitability.
Keeping  capacity in check in recent years has allowed carriers to turn a profit. They  now fly fewer planes with a higher percentage of passengers. While we may not  like that there are few choices or discounted fares, that's exactly what the  airlines want.
On the busiest days of the year, like the Sunday after Thanksgiving, airlines  will run their fleets faster and add as many flights as possible. According to  masFlights, Delta Air Lines will run 10.5 percent more flights on Sunday, Dec.  1, than it did on Sunday, Nov. 14.
"When it's busy, the airlines are at capacity," Marks said. "There's no  wiggle room to add more."
Source: http://www.nbcnews.com/travel/why-dont-airlines-just-add-more-flights-holidays-2D11663461
From Crain's Detroit Business: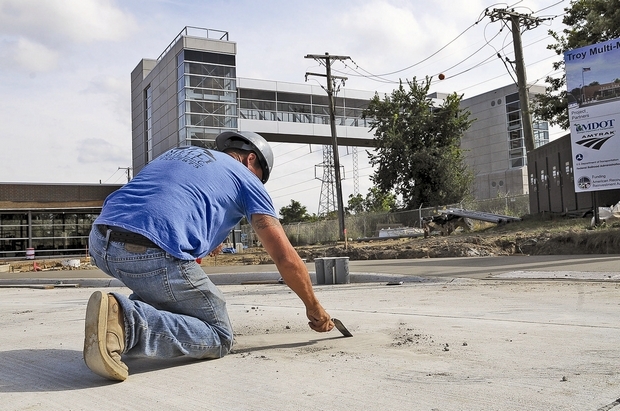 Troy officials expect to present an offer today to reacquire the city's transit center site from Farmington Hills-based Grand/Sakwa Properties LLC for $550,000 after the Michigan Supreme Court turned away its latest appeal in the long-running land dispute.
The high court this week denied Troy's application for leave to appeal a May decision that the 2.7 acres of the transit center property had reverted from city ownership to Grand/Sakwa.
Monday night, the Troy City Council authorized City Attorney Lori Grigg Bluhm to offer $550,000 after obtaining appraisals on the site — and to pursue condemnation should the developer reject that offer. Bluhm said today the city expects to present the offer today, but the company would likely need some time to review and respond to it.
Gary Sakwa, co-founder and managing partner of Grand/Sakwa, did not immediately return phone calls seeking comment. Alan Greene, partner at Dykema Gossett PLLC and attorney for Grand/Sakwa, also could not be immediately reached.
At issue is an agreement for Grand/Sakwa to transfer title in 2001 on 2.7 acres near Maple Road and Coolidge Highway, where most of the transit center construction has been taking place.
The terms of that sale called for the land to revert to Grand/Sakwa in 10 years if the city hadn't funded a transit center project by then; the city and company had conflicting definitions in court of what that term meant once the deadline came.
Bluhm said the city obtained permission from the Federal Transit Administration earlier today to add the acquisition cost to its budget for the transit center. The FTA previously authorized $1.6 million in funding toward the transit center cost.
"We're about ready to go forward (with the offer). As of just a few minutes ago, today, we've got permission to go ahead with submitting that expense, since all federal funding for the project comes on a reimbursement basis," she said.
The city hopes to get a response from Grand/Sakwa by early December, Bluhm said. Grand/Sakwa agreed to sell a portion of its 77-acre development for $1 more than a decade ago to develop the transit center, which broke ground last November.
Troy and neighboring Birmingham had secured several funding commitments from federal and other sources for the center, with a preliminary estimated cost of about $8.5 million, which the City Council reduced in 2012 to about $6.4 million.
Birmingham withdrew from the project in 2011. Grand/Sakwa contended that the project didn't reach full funding in time, as the consent judgment requires, and sought to revert the property.
A three-judge appellate panel overturned the Circuit Court and ruled in Grand/Sakwa's favor last May, prompting Troy to ask the Supreme Court to review it, but the high court is not legally obligated to hear the case.
Mark Miller, director of economic and community development for Troy, and Bluhm both said the transit center construction was substantially completed earlier this year except for a minor "punch list" of modifications. But the city is still finalizing a lease agreement for the National Railroad Passenger Corp., or Amtrak, to service the transit center.
Source: http://www.crainsdetroit.com/article/20131126/NEWS/131129894/state-supreme-court-denies-troy-transit-center-appeal-city-to-offer
From the Detroit Free Press:
The Michigan Supreme Court apparently put an end to the City of Troy's fight against having to pay for the land under its new Troy Transit Center.
The ruling, issued Monday but not made public until today, means the city's multiyear legal battle with a shopping center developer has probably ended, Troy City Attorney Lori Grigg Bluhm said.
"We could ask (the high court) for reconsideration — I'm not sure we'll do that," Grigg Bluhm said. Instead, the city is poised to buy the land. On Monday, the Troy City Council voted to submit a purchase offer of $550,000 for the land, its appraised value, Grigg Bluhm said.
Troy officials have said for a dozen years that the city owned the land. But in May, a unanimous state Court of Appeals decision ruled that Troy failed to abide by the provisions of a court-ordered consent agreement, which let Grand/Sakwa Properties start building the $100-million shopping and condo complex that surrounds the center while giving Troy 10 years to fund its project. The court ruled that Troy missed the deadline.
The final price of the plot of land could be driven higher than $550,000 in negotiations with the development firm, or if a judge picks a higher value in an eminent-domain court case the city might file, according to parties on both sides. If so, Troy is ready with $1.8-million cash in the form of federal grant money left from the construction of the project, and approved for the purpose by Monday's council votes, according to city documents.
This week's developments are the latest in 12 years of efforts to plan, fund and build the transit hub, praised by Gov. Rick Snyder but the focus of a recall in 2012 against former Troy Mayor Janice Daniels, who vowed to block the project because she said it was a waste of federal tax dollars. No city funds have been directly spent on the project, although city staff have expended numerous hours on it. The center's star-crossed history has made it a prime example of the contentious path that mass transit often takes in southeast Michigan.
City officials said they hope that Amtrak will be willing to sign a lease agreement with Troy, now that the city has the wherewithal to buy the land. Amtrak officials could not be reached for comment today. The center's construction is done and "it's ready to go," Troy Mayor Dane Slater said Monday, after the council voted.
In the consent agreement, a plot of land behind the center's stores and adjacent to Amtrak tracks was transferred by Grand/Sakwa Properties to Troy in 2001 for a token $1 for construction of a transit hub, according to the opinion. But the deal contained a key condition: Troy had exactly one decade to fund the center or lose the land.
"They had to do it by June 2010 (and) they didn't," Grand/Sakwa Properties attorney Alan Greene said in an August interview. Greene could not be reached today.
Greene said then that Grand/Sakwa Properties sought not only compensation for the land but also money to cover the shopping center's anticipated costs of wear by transit riders on the access drives through the center's property, use of its parking spaces by travelers and the added need for security, all linked to the future Amtrak station that borders Birmingham. Shopping center magnate Gary Sakwa is unlikely to give the city a bargain after it forced a court fight in 1999 when he asked to build the Midtown Square shopping center.
City officials have declined to comment on whether Troy is responsible for costs above the purchase price of the land. City Councilman Dave Henderson joined other councilmembers Monday night in emphasizing that no local tax dollars would be spent, only federal grant money administered by the Michigan Department of Transportation, to buy the land.
Source: http://www.freep.com/article/20131126/NEWS03/311260135/Troy-Janice-Daniels-transit-Amtrak-Michigan-Supreme-Court
From Trains News Wire:
CSX  Transportation has filed with the Federal Railroad Administration to deactivate  the signals on its Saginaw Subdivision in eastern Michigan. The former Pere  Marquette line runs between Mount Morris, just north of Flint, and Plymouth, a  distance of about 55 miles.
The railroad seeks to remove 67  dispatcher-controlled signals, 20 automatic signals. In addition, 28  power-operated track switches will be converted to hand throw operation. It will  install new approach signals at MP CC-27.9, CC-32.9, CC-35.0, CC-49.1, CC-51.5,  and CC-74.9.
Two locations will remain dispatcher-controlled, with  signals remaining in operation. Those locations are at CP South Kearsley, MP  CC-33.54, and at CP Holly, CC-50.42. Both locations are at-grade crossings with  Canadian National rail lines.
In its filing, CSX states that the signal  system "is no longer needed for present-day operations." If the signal  discontinuance is approved, CSX will operate the line with track warrant  control.
The line once supplied CSX with lucrative automotive and  chemical traffic from Flint and Midland. Now it is operated north of Mount  Morris by Lake States Railway. Lake State has operated that portion since  2005.
Trains News Wire is awaiting comment from CSX.
MARP.ORG editor note: The route described here is one potential route to reestablish passenger service to the Bay City/Saginaw/Flint area and it could be costly to restore the signals necessary for passenger trains once they are deactivated or removed.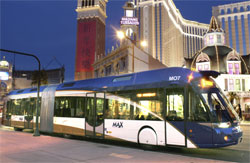 SEMCOG, the Southeast Michigan Council of Governments, announces a series of community meetings to provide information and answer questions about Bus Rapid Transit (BRT) and its possible future as the next generation mode of choice for cruising Woodward Avenue. Six meetings will be held in several Woodward Avenue communities during the first two weeks in December.
Tuesday, December 3, 6-8 p.m.
Beaumont Hospital Administration Building, 3711 W. 13 Mile Road, Royal Oak, MI 48073
(Free parking in South Deck Parking, enter from Coolidge Highway.)
Thursday, December 5, 5:30-7:30 p.m.
Berkley Community Center, 2400 Robina Avenue, Berkley, MI, 48070
Saturday, December 7, 11 a.m.-1 p.m.
St. Joseph's Hospital, Anthony M. Franco Communications Center Auditorium, 44555 Woodward Avenue, Pontiac, MI, 48341
Monday, December 9, 6-8 p.m.
Michigan State University Event Center, 3408 Woodward Avenue, Detroit, MI 48201
Tuesday, December 10, 6-8 p.m.
NextEnergy, 461 Burroughs Street, Detroit, MI 48202
Wednesday, December 11, 6-8 p.m.
Coolidge Intermediate School, 2521 Bermuda Street, Ferndale, MI 48220
"We have had three sets of community meetings about this project, the first in December 2012, the second in April and May of this year," said Carmine Palombo, SEMCOG's Director for Transportation Programs. "A lot of work has been done since then and we now have answers to many of the questions that the public asked at earlier meetings. For example, we now have projected ridership data and travel times and a variety of alignment options. We don't want anyone to miss the opportunity to participate in this important conversation."
Here are some of the important questions that will be answered. What roads will Bus Rapid Transit (BRT) travel on? How does it function? How long will it take to travel between downtown Detroit and Pontiac? How will BRT operate with existing DDOT and SMART service and future M1Rail? How many riders are projected to use BRT? What are the next steps for moving BRT forward as a Locally Preferred Alternative for premium transit on Woodward?
Each meeting will include displays, a presentation, opportunities for one-on-one discussion with the project team, and group discussion following the presentation. Area residents; current and potential transit riders; the nonmotorized (walking and biking) community; business owners; and community, agency, and government leaders are all encouraged to participate in any, or all, of the meetings.
SEMCOG is managing the $2 million federal transportation grant that is funding the Woodward Avenue AA. Building upon previous planning efforts, such as those for the Woodward Avenue Light Rail Project, and the Regional Transit Coordinating Council Regional Plan, the study will create a set of alternatives to be reviewed and screened with the goal of selecting the most feasible rapid transit alternative. This transit alternative, also known as the "Locally Preferred Alternative," will move forward for detailed analysis and a draft environmental review. The alternatives will be evaluated using a set of criteria that closely reflects the study's purpose and need. The alternatives analysis phase will be completed in early 2014.
For more information about the community meetings or the Woodward Avenue Alternatives Analysis, visit the project Web site at http://www.woodwardanalysis.com/. All meetings locations are handicapped accessible.
From an Amtrak press release:
Thanksgiving is the busiest travel period of the year for Amtrak and it is prepared to accommodate additional passengers with extra capacity and trains scheduled in the Northeast Corridor, the Chicago hub, the Pacific Northwest and in California. Other than Thanksgiving Day, morning trains typically have more available seats than those in the afternoon and evening.
New this holiday season is the Track a Train system on Amtrak.com. It provides near real-time train status of more than 300 daily trains, estimates of arrival times and station information – all in the context of the Amtrak national system map. This travel resource is an excellent tool for those planning the arrival or departure of family and friends. Users can search for information by train number or name, city name and station name or code.
Amtrak also is working to make the holiday travel experience as pleasant as possible and is offering passengers the following holiday travel and safety tips to help ensure a smooth trip:
Avoid the Rush: The busiest Amtrak travel days are the Wednesday before and Sunday after Thanksgiving.
Purchasing Tickets: eTicketing is enabled on every train route throughout the nation. Booking a trip, making reservation changes and boarding the train are more convenient than ever with eTickets. Print your eTicket whenever and wherever, or simply present the eTicket on your smartphone/tablet screen to the conductor. Travelers may purchase tickets early using Amtrak.com, Quik-Trak or ticket windows at staffed stations (where available), or the Amtrak iPhone app or Android app or by calling 800-USA-RAIL.
Arrive at the Station Early: Allow plenty of time at stations prior to departure – at least 45 minutes before if tickets need to be picked up. Arrange for pre-boarding if you need extra time or assistance and use Amtrak Red Cap agents to help you with your baggage.
Carry photo ID: Passengers are required to show valid photo identification when purchasing tickets. Make sure to carry valid photo ID at all times, as it may be requested aboard trains.
Be Safe: Be aware of your surroundings, stand back from the edge of the platform, do not leave your bags unattended, and watch your step when boarding and leaving the train or when walking between cars while the train is in motion.
Listen Carefully for Boarding Announcements: Be sure the train you are boarding will stop at your destination. Extra trains added for the Thanksgiving holiday may not go to all stations. If you are in doubt, check with the conductor before you step onto the train.
Help with Baggage and Directions: Amtrak Red Caps are available to help with baggage. Customer Service reps will be around in stations to assist passengers with questions on gate assistance, train schedules and directions.
Set a Meeting Place: If you are planning to meet someone at the train station, inform your party not only of your expected arrival time, but also the train number. Set a meeting place away from the immediate gate area to avoid congestion with passengers going to and from the platforms.
Security Matters: If you see something suspicious or unusual, say something and call Amtrak Police at (800) 331-0008. Passengers may also report suspected criminal or suspicious activity by sending a text to APD11 from a smartphone or to 27311 from a standard cell phone. Amtrak will have a heightened security presence in our stations and on board trains.
Visit blog.amtrak.com for more Thanksgiving holiday travel trips.
From an Amtrak press release:
In further anticipation of its busiest travel season, Amtrak is adding another round-trip to and from Holland, Mich., on the Sunday after Thanksgiving.
The holiday is the busiest travel week of the year, and to accommodate the expected surge of riders, Amtrak will operate every available passenger rail car in its fleet and is scheduling extra trains and adding capacity on other routes.
The attached schedule provides information on these extra trains that will operate in addition to the Amtrak Pere Marquette trains sponsored by the Michigan Department of Transportation, with slight changes in schedules to Trains 370 & 371 to accommodate the additional round-trip, Trains 372 & 373.
Amtrak carried a record 737,537 passengers during the 2012 Thanksgiving travel period, up 1.9 percent over the previous year and the prior record set in 2011.
In anticipation of its busiest travel week of the year, Amtrak is adding 18 additional trains to operate to and from Michigan during the Thanksgiving holiday season.
The holiday is the busiest travel week of the year, and to accommodate the expected surge of riders, Amtrak will operate every available passenger rail car in its fleet and is scheduling extra trains and adding capacity on other routes.
The busiest travel days are the Tuesday and Wednesday before Thanksgiving and the Sunday after the holiday. Other than Thanksgiving Day, morning trains typically have more available seats than those in the afternoon and evening.
The attached schedule (also on Amtrak.com) provides information on these extra trains that will operate in addition to the Amtrak Wolverine Service, Blue Water and Pere Marquette trains sponsored by the Michigan Department of Transportation.
Amtrak carried a record 737,537 passengers during the 2012 Thanksgiving travel period, up 1.9 percent over the previous year and the prior record set in 2011.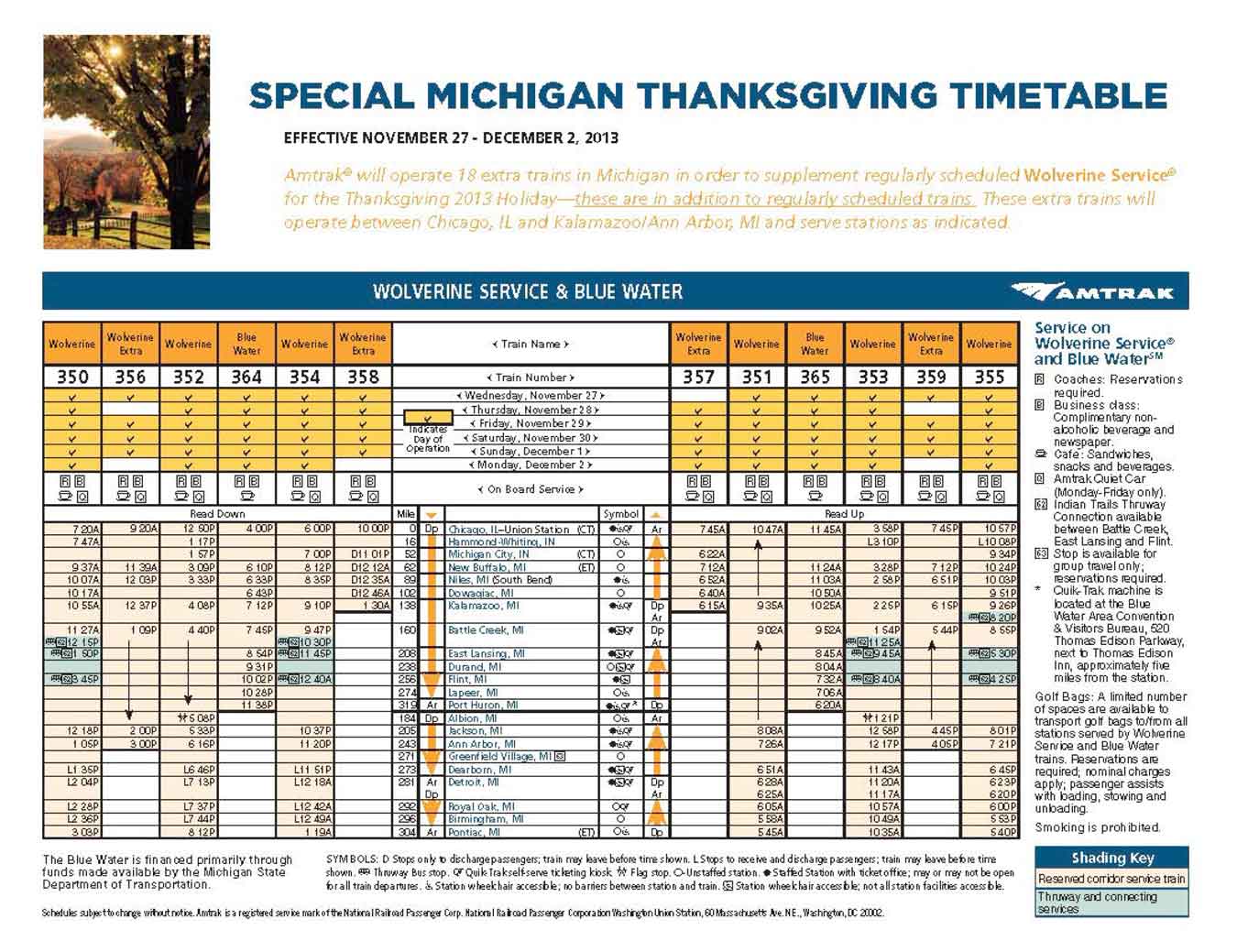 From WXYZ-TV: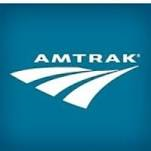 More than 100 people riding an Amtrak train were stranded near the Indiana-Michigan border after the train stalled out Wednesday night.
Officials tell us the 354 Wolverine train, which departed from Chicago Union Station last night, was stuck on the tracks for more than 5 hours.
The train apparently suffered a mechanical problem around 8:30 p.m., near the station in Michigan City, Indiana.
It wasn't until 2:00 a.m. on Thursday morning that another locomotive came to help out — allowing the train to move forward on its way to Detroit.
We're told the train didn't lose power during the majority of the lengthy delay, but it did temporarily lose power and heat during a locomotive exchange.
The train is expected to arrive in Detroit around 6:30 a.m.
Just to note, Amtrak tells us this is the same train that suffered a similar problem on it's way to Detroit this past Monday.
It was reported the 354 Wolverine train was stopped for six hours after it left Chicago because of an equipment problem.
We asked an Amtrak official if the two problems are related, and we were told they are not.
Read more: http://www.wxyz.com/dpp/news/amtrak-train-stalls-out-near-michigan-indiana-border#ixzz2lLGaNFDw
The following two press releases were issued the week of Nov. 19, 2013 about the cancellation of the Agawa Canyon Snow Train in Ontario:
CN announces cancelation of Agawa Canyon Snow Train
CN – today announced that it is terminating operation of the Agawa Canyon Snow Train because the seasonal excursion service is incurring rising operating losses as a result of stagnating passenger demand.
CN said it will focus its attention now on continued operation of its successful summer and fall Agawa Canyon excursion trains.
The Snow Train typically operated six Saturday excursions each winter north of Sault Ste. Marie Ontario to the Agawa Canyon.
Despite CN's efforts to promote the service, passenger counts have failed to grow, remaining at approximately 1,500 per season.
John Orr, CN vice-president, Eastern Region, said: "Since 2011 when we launched our new train, we have actively promoted the Snow Train and its newly refurbished equipment. Unfortunately, ridership has stagnated and the service is not economically sustainable. CN remains committed to Sault tourism and will focus its resources on promoting and growing ridership on the summer and fall tours where we have seen success."
In the summer and fall, passengers can disembark from the train and tour the Agawa Canyon for about 90 minutes before it returns to The Sault.
This service operates seven days a week over a 17 to 18 week-long season.
The canyon tour, along with the newly- refurbished train cars offering a higher level of enjoyment and passenger satisfaction, has attracted an increasing number of passengers. In the last two years, ridership on the summer and fall excursions has increased by more than 10 percent.
"CN is very pleased by the success of the summer and fall excursion trains," said Orr. "Working with our partner Tourism Sault Ste Marie, we will continue to invest in the promotion and delivery of this featured excursion train service".
Source: http://www.wawa-news.com/index.php?option=com_content&view=article&id=19292:cn-cancels-agawa-canyon-snow-train-as-a-result-of-low-passenger-demand&catid=41:news&Itemid=201
Tourism Sault Ste. Marie disappointed in loss of snow train
Tourism Sault Ste. Marie and its industry partners are very disappointed at the announcement by CN Rail that it will cancel the Snow Train.
This key attraction has been attracting visitors from across Ontario and the U.S. for decades and by not running it will have a significant economic impact on the city and region.
On average 1,500 visitors take the Snow Train each winter, with the majority staying two nights and spending money in restaurants, bars and retail outlets in the community. Not having these visitors will mean a decrease in spending of almost a half million dollars.
Tourism Sault Ste. Marie has invested significant marketing dollars to help promote both the Snow Train and the Agawa Canyon Tour train over the years.
TSSM was also instrumental in working with the CN Rail, the Provincial and Federal Governments to secure the $11.2 million for the purchase of upgraded coach equipment and the onboard audio/video technology.
Since the re-launch of the upgraded tour train, the rider levels have increased at a steady rate, including increased passengers on the Snow Train.
"That is why it is so disappointing to hear of the cancellation", said Tourism Sault Ste. Marie Executive Director Ian McMillan. "It just seemed we were making inroads in growing the passenger levels, and thought collectively we were in for the long haul, in restoring these tour trains to the historic levels of passengers they experienced as recently as 2002".
Kevin Wyer, Chairman of Tourism Sault Ste. Marie and the General Manager of the Delta Waterfront Hotel and Convention Centre echoed the sentiments, saying "the Sault Ste. Marie accommodation sector experienced a very challenging year in 2013, and the cancellation of the Snow Train is going to hit us hard when we don't have those visitor levels on the weekends for the balance of the winter".
While TSSM looks as this as a definite set back, the organization is determined to work with CN Rail to look at alternatives to operating a winter train, so that consideration will be given to bringing the Snow Train back in 2015.
There is also going to be a strong push by the tourism industry to have CN Rail look at extending the operating season of the summer/fall Agawa Canyon Tour, as well as looking into possibilities of utilizing additional coach equipment to maximize rider levels in the peak fall season.
Says TSSM Executive Director McMillan, "The tourism industry is an incredibly resilient group. These private sector operators have been hit with a number of challenges over the past several years, but have banded together to develop new products that have attracted new visitors to our city and region, and we will continue to do so moving forward.
Source: http://www.sootoday.com/content/news/details.asp?c=64417
From Trains Magazine:
Watco  Transportation Services has reached an agreement to make a "preferred equity  investment" in Federated Capital Holdings, owner of the 400-mile Great Lakes  Central Railroad. The deal has the possibility of reuniting the old Ann Arbor  Railroad main line, which has not operated as a single railroad in more than 30  years. It also includes Federated Railcars, owner of a fleet of refurbished  passenger cars.
"This partnership between two entrepreneurial companies  will help insure the long-term success of local rail service in Michigan and  also provides a mechanism for the continual growth and improvement of our  transportation assets to help grow Michigan's manufacturing and agricultural  interests," Federated Capital President Louis Ferris says. "We also believe that  this partnership provides significant benefits to the Michigan Department of  Transportation's passenger efforts."
The Great Lakes Central stretches  from Ann Arbor north to Cadillac on the former Ann Arbor main line with branches  to Thompsonville, Traverse City, and Petoskey. The primary commodities hauled  include grain, sand, and plastic. The railroad interchanges with Canadian  National and Huron Eastern in Durand, CSX Transportation at Anne Pere and  Howell, the Watco-owned Ann Arbor Railroad at Ann Arbor, and the Mid-Michigan  Railroad at Alma.
Federated Railcars, through the railroad's shops in  Owosso, rehabs and upgrades its passenger car fleet to be used for the Michigan  Department of Transportation's proposed "Wally" Ann Arbor commuter  service.
"The Watco team is extremely proud and honored to enter into a  long-term strategic partnership with the excellent team at Federated Capital  Holdings," Watco CEO Rick Webb says. "We look forward to the opportunity to work  with Federated Capital Holdingsto create extraordinary value for rail shippers  in Michigan."
Watco acquired the "new" Ann Arbor Railroad in late 2012.  In 1977, the state of Michigan contracted with the newly formed Michigan  Interstate Railway to operate the bankrupt "old" Ann Arbor. Michigan Interstate  ceased operation north of Ann Arbor in 1982, forcing the state to split the  lease of the line with the Tuscola & Saginaw Bay, which later became Great  Lakes Central. Michigan Interstate filed for bankruptcy in 1983, and from that  corporation the modern, independent Ann Arbor Railroad was formed in 1987.
From WZZM:
Passengers say their trip on Amtrak from Chicago to Grand Rapids has been delayed by storm damage — several times.
A viewer on the train called the WZZM 13 Information Center around 3 a.m. Monday, to report the train was stopped on the tracks one mile south of the Holland Amtrak station at 8th Street and Lincoln Avenue.  Laura Roys says a tree across the tracks is keeping the train from moving.
Roys says the train stopped in Holland around 12:30 a.m.  Monday, and has been unable to reach the station.
Ottawa County dispatchers say Holland Police are ferrying some passengers to the Holland station where they will be picked up by family or friends.
Roys says an Amtrak conductor told passengers the train service is arranging alternate transportation for the Grand Rapids-bound passengers, but that the buses likely would not arrive before 4:15 a.m.
Many passengers are sleeping while waiting for their ride, while others are talking.
Roys says the train left Chicago around 4:55 p.m. Sunday.  Later in the evening, the train was stopped by debris in northern Indiana, delaying the trip by up to two hours.
She says the train concession ran out of food around 11 p.m. Sunday.  The conductor has been going from car-to-car handing out bottles of water.
Roys says she is in the last car of the train, where the PA system is apparently malfunctioning.  She says the conductor had been keeping the other cars updated on delays, but did not realize the last car had no working audio.
WZZM 13 News has called an Amtrak for information, but a spokesperson has not returned our messages.
We have a crew headed to the scene, and will have updates online and on the WZZM 13 Morning News beginning at 5 a.m.
UPDATE 4:30 am: 93 passengers on the stranded Amtrak train in Holland have now been moved to busses, and are heading to the Holland Amtrak station.
The train was heading from Chicago to Holland and was delayed due to debris on the tracks. It was moved to a nearby train yard.
According to an Amtrak spokesperson, two area train trips are canceled for Monday; the 371 (Grand Rapids to Chicago) and the 351 (Pontiac to Chicago). Alternate transportation is being provided for those who had tickets.
Source: http://www.wzzm13.com/news/article/273742/2/Storm-damage-strands-Holland-Amtrak-riders
From the Chicago Sun-Times:
An Amtrak train on its way from Chicago to Detroit was delayed for more than six hours because of a flat wheel Sunday night.
Wolverine Line train No. 354, carrying 254 passengers, was scheduled to depart Chicago at 6 p.m. and left about 30 minutes late, according to Amtrak spokesman Steve Kulm.
About 10 miles outside of Chicago, the train stopped and the crew found a "flat spot" on a coach car, which is similar to a flat tire, Kulm said.
Instead of continuing on to Detroit, the train returned to Chicago at 10:25 p.m. and went to the maintenance yard to replace the car.
About 12:30 a.m., the train returned to the station to allow any passengers who wanted to get off the train to do so, Kulm said. As of 1:30 a.m., the train was en route to Detroit.
During the delay, the train maintained power and staff passed out free water and food, Kulm said.
Source: http://www.suntimes.com/news/metro/23834338-418/amtrak-train-with-flat-wheel-delayed-six-hours.html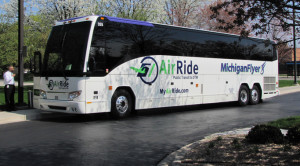 Starting Nov. 15, 2013, the Michigan Flyer -AirRide shuttle expands service on its route between East Lansing, Ann Arbor and Detroit Metro Airport (DTW)—just in time to accommodate holiday season travelers.
The new schedule will increase the frequency of service from eight to 12 trips a day on the segment between East Lansing and Ann Arbor.
On the segment between Ann Arbor and DTW, reliability and convenience of service will be improved by providing both earlier and later runs to and from DTW, increasing the number of daily round trips from 12 to 13, and discontinuing the stop at the U-M Central Campus Transit Center at a savings of about $407,000 in operating costs.
The new Michigan Flyer-AirRide schedule is available online at www.MichiganFlyer.com; a PDF version can be downloaded here: http://bit.ly/1dyvmn1.
Overall, the new schedule will make it easier for passengers to:
 Connect with approximately 700 daily nonstop flights between DTW and top domestic and international destinations
 Access about 150 more DTW arrivals and departures than before
 Commute between East Lansing and Ann Arbor for business or pleasure
 Enjoy much shorter waits between buses
The expanded schedule is a big plus for the Greater Lansing and Ann Arbor economies, noted Indian Trails and Michigan Flyer President Gordon Mackay. "One-third of Michigan Flyer-AirRide passengers—about 30,000 a year—come from out of state and spend millions locally," he said. "Also, for many passengers who either don't or can't drive, this is a critical improvement in public transportation."
According to Michael Ford, CEO of the Ann Arbor Area Transportation Authority, "The improved schedule makes public transportation a more attractive option for travel."
The Steam Railroading Institute announced the return of the historic Pere Marquette 1225 Locomotive to the rails in time for the Holiday Season for its North Pole Express service.
The Steam Railroad Institute takes passengers from Owosso to the village of Ashley's Country Christmas, a late 1940's Christmas village, offering live entertainment, music, food, games, shopping, elves, reindeer, horse drawn wagon rides and of course an appearance by Santa who will give away the first present of Christmas (just like in the movie).
This Famous Steam engines image and sounds were used to create the train which appears in the Warner Brothers Christmas classic, The Polar Express.
The 1225 has been undergoing her 15 year federally mandated rebuild since the end of 2009. This rebuild, paid for by donations from all over the world, has taken 4 years.
The Pere Marquette 1225 is a 4-8-2 Berkshire locomotive built by the Lima Corporation for the Pere Marquette Railroad in 1941. She stands 16 feet tall and is 101 feet long with a combined engine and tender, and weighs 400 tons. The locomotive produces 3000 horsepower and has pulled as many as 60 freight cars between Michigan factories and northern Indiana steel mills to support the war effort.
The 1225 was retired in 1951 and was saved from the scrap heap by Michigan State University who was seeking a static display piece as a tribute to the steam-era. In 1969 engineering students from MSU set out to restore the locomotive to operating condition. The 1225's restoration was completed in 1988, making it the largest operating steam locomotive in Michigan. Now the Pere Marquette 1225 resides at the Steam Railroading Institute in Owosso Michigan.
Anyone interested in knowing more about the 1225 or the Steam Railroading Institute, its museum, excursions or programs can call 989-725-9464 between 10am and 4pm Wednesday through Sunday, or visit michigansteamtrain.com for more information.
From Bloomberg. Please visit http://www.bloomberg.com/news/2013-11-14/amtrak-serving-free-wine-to-steak-loses-millions-on-food.html to comment on this story.
Amtrak, the U.S. taxpayer-supported passenger railroad, is losing tens of millions of dollars a year on food and beverage service even after years of cost cutting, its inspector general said.
Almost all of last year's $72 million in food-service losses were from providing meals on long-distance trains, Inspector General Ted Alves said in testimony at a House Oversight and Government Reform Committee hearing today. Contracting out some functions has the greatest potential to stem losses, he said.
"Amtrak's operating losses on food and beverage services have been a long-standing issue, and they contribute directly to the need for federal subsidies to support operations," Alves said.
The hearing highlights the interest of the Government Operations Subcommittee's chairman, Florida Republican John Mica, in exposing what he says are wasteful practices at Amtrak.
Alves in his testimony outlined a number of ways for the railroad to reduce waste and cut costs, from contracting out operations to reducing theft and food spoilage.
Amtrak's Auto Train from Virginia to Florida offers passengers complimentary wine and cheese, and three long-distance routes provide complimentary wine and champagne to sleeper-car passengers, Alves said, costing Amtrak $428,000 in 2012.
Amtrak employees traveling on free passes consumed about $260,000 in complimentary meals on the Auto Train, Alves said.
Break Even
"Somehow some of this has to be revised," Mica said.
The railroad is continuing to make improvements and expects to break even on food service within the next five years, Thomas Hall, the railroad's customer service chief, said in his prepared testimony.
Changes have included cashless sales, staffing reductions and supply-chain improvements. Losses have been reduced by 30 percent since 2006, he said. The railroad has found that it would lose more revenue from ticket sales than it would save if it reduced food service on its high-speed Acela trains, he said.
The report's conclusions are of "dubious value," Representative Gerald Connolly, a Virginia Democrat, said at the hearing.
Most of the losses are on long-distance trains that Congress requires Amtrak to operate, Connolly said. The café cars on Amtrak's Northeast corridor between Washington and Boston break even or make money, he said.
Rice Pilaf
The latest audit shows Amtrak's reported improvements in food and beverage finances are the result of transferring a portion of increased ticket revenue to food service accounts, Mica said in a statement.
"The Amtrak Inspector General has confirmed that Amtrak cooked the books to cover up food service losses that now approach $1 billion," Mica said.
Amtrak's long-distance passengers have full menus on their dining cars for trips that can last several days. On the 43-hour Chicago-Los Angeles Southwest Chief, travelers can enjoy a $23.25 Mahi-Mahi dinner with a vegetable medley and three-grain rice pilaf.
Trains run by states in Maine and Alaska using private contractors have significantly lower labor costs than Amtrak does with its dining service employees, Alves said. The states pay $7.75 to $13 an hour with no benefits, compared with $41.19 including benefits for an on-board Amtrak employee.
Paul Worley, director of North Carolina's rail division, said the state switched from money-losing café cars to snacks and vending machines to reduce unsustainable losses on its intrastate Piedmont service. Even so, vending machines wouldn't be suitable for long-distance trains, he said.
An Amtrak food service worker, Dwayne Bateman, testified it was unfair to compare his salary to the wages paid to those serving food on state-run trains, some of whom are part-time workers.
Source: http://www.bloomberg.com/news/2013-11-14/amtrak-serving-free-wine-to-steak-loses-millions-on-food.html
Please visit the link above and leave a comment at the end of the story.
From the Detroit Free Press: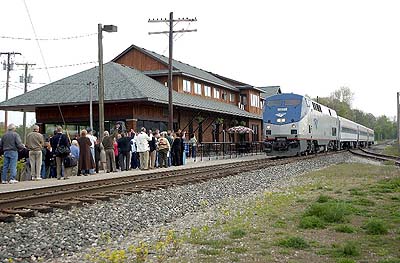 If the train has seemed crowded lately, you are right.
Amtrak's U.S. ridership soared to a record 31.6 million passengers between Oct. 1, 2012, and Sept. 30, 2013. Its Michigan trains also did well, with 804,697 passengers on the Wolverine, Blue Water and Pere Marquette lines.
The popular Wolverine line between Pontiac and Chicago (stopping in Detroit, Dearborn, Ann Arbor and other southern Michigan cities) had 509,100 riders, up 5.2%. Its ticket revenue rose 9.2%.
The Blue Water Line from Port Huron to Chicago (stopping in East Lansing and other points) rose to 191,106 riders, up 1%. The smaller Pere Marquette line from Grand Rapids to Chicago saw ridership fall to 104,491, down 4.4%.
Ridership on Amtrak has soared about 41% in the past decade.
Source: http://www.freep.com/apps/pbcs.dll/article?AID=/201311100300/FEATURES07/311100008
Ride with the Durand Union Station Travel Committee aboard Amtrak when the travelers make trips to the Four Winds Casino Resort in New Buffalo Nov. 7, Dec. 5, Jan. 9 and Feb. 6.
The train will leave the Durand station at 8:04 a.m. and arrive in New Buffalo at 11:24 a.m. A shuttle will take travelers to the casino and return them to the train station in time for reboarding the train at 6:10 p.m. Amtrak will arrive back in Durand at 9:30 p.m.
From The New York Times:
When Hurricane Sandy swept across railroad beds in the Northeast last year, Amtrak went quiet. Officials at the nation's railroad scrambled to repair the damage that stretched the length of the huge storm. Amtrak in the region was out for a week. And disruptions continued along the popular Boston to Washington corridor for almost a month.
For all that, Amtrak had one of its best years ever. Amtrak officers boasted this week about carrying 31.6 million passengers this year, up from 31.2 million last year. And ridership increased even in the Northeast Corridor where Sandy did her worst. As a result, the railroad will ask for less federal help. That old story about how Amtrak is a transportation money pit has, once again, been proven false.
Tony Coscia, chairman of the Amtrak board of directors, said in a telephone interview Tuesday that he sees three main reasons why Amtrak is gaining financial strength and more customers. One: The company has worked hard to modernize the business. Did you notice, for example, that rush hour tickets finally cost more than off-peak tickets — which makes good financial sense — and that Amtrak has at least added wifi even if it doesn't always work?
Two: The company seems to be benefiting from the sorry state of other forms of travel in the U.S. It only takes so many traffic jams or hours in a musty airport lounge before a wise passenger decides that a train makes more sense.
The third reason is perhaps most cheering. Mr. Coscia believes that young urbanites have finally discovered the pleasures of traveling by rail. The average age of passengers is getting younger, he said. And as people move back into cities, they're learning that it's convenient to take trains from one urban center to another. Driving is time spent away from the computer, the cell phone, the afternoon nap. Why not let the conductor take over?
This good news should remind Washington how far behind America is when it comes to passenger rails. Unlike France or Spain or China, the U.S. government doesn't invest enough in rail beds and bridges and all the underpinnings that can allow a train to go at speeds of more than 150 miles per hour. Congress still favors cars and airplanes, but at some point, all those fresh-faced passengers (and voters) will start wondering why their trains are so slow.
Amtrak is working to make its passengers comfortable with wifi and quiet cars, and to make planning rail travel easier with etickets. But it will take real money from Washington to pay for the big, expensive fundamentals that make a fast, modern railroad work.
Source: http://takingnote.blogs.nytimes.com/2013/10/16/amtrak-not-a-money-pit-after-all/?_r=1