The March 8 general membership meeting will take place at the Herrick District Library in Holland MI. This large, modern public library serves as a center of community activities. The MARP meeting will take place in the Hazel Hayes Auditorium on the lower level of the Library.
Our usual no-host lunch will be at New Holland Brewing. After lunch, plan to spend some time browsing the interesting array of shops in downtown Holland or spend an hour or two exploring Holland's history. Follow the links below.
If you would like to find a fellow member to carpool with, please reply to this email.
See You in Holland!
Michigan Association of Railroad Passengers
#   #   #   #   #
Just two blocks north of Herrick District Library and open 10-5 on Saturday. Currently exhibiting "Dutch Folklore: The Linocuts of Cornelia Van Geuns".
Cornelia Van Geuns (1893-1959) was an artist, musician and singer who traveled to several West Michigan cities in 1941 to help raise money for Netherlands war relief. A series of linoleum prints was created by Miss Van Geuns to help raise money for the cause. Fifteen prints, representing Dutch songs, stories and customs will be on exhibit.
Near the Museum are the Cappon House and Settler's House.
Holland's first mayor and tannery owner, Isaac Cappon, built the Italianate mansion which remained in the family's ownership from 1873 until 1980 and is furnished with one of the country's largest collections of early Grand Rapids furniture. The tiny cottage known as the Settler's House was built by ship's carpenter and Irish Canadian immigrant Thomas Morrissey. It survived the Holland Fire of 1871 and is a window into the hardships faced by early settlers.
From Soo Today: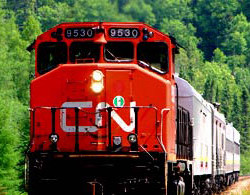 A nationally-recognized accounting firm will help assess the economic impact of CN's Algoma Central Rail passenger service between Sault Ste. Marie and Hearst.
With the transportation link set to cease operating on April 29, the Working Group that is attempting to save the line has retained the services of BDO Canada LLP, one of the country's largest accounting and advisory firms.
"We don't fully understand the extent of the economic benefit and precise impact of the ACR passenger line, and this preliminary economic impact assessment from BDO will help us in formulating our business case," said Joe Fratesi, Chair of the ACR Passenger Service Working Group. "It's critical that the Federal Government and all parties understand the impact that cancelling of the line will have on Northern Ontario. The ACR is a key transportation link for our region."
In early-2014, the Government of Canada announced that it would be cutting its $2.2-million investment in the Sault-to-Hearst passenger line.
Without this investment, CN Rail, the owner and operator of the ACR, has indicated that it will be cancelling the run on April 29.
The line not only provides a crucial passenger service to remote communities, First Nations and municipalities in Northern Ontario, it also provides remote access to a broad range of stakeholders, including tourism resorts, lodges, small businesses, camp and property owners, as well as those who hunt, fish, trap and generally enjoy the rugged landscape made famous by Canada's renowned Group of Seven artists.
In light of the cancellation and the severe impact it will have on people, businesses and communities serviced by the line, the ACR Passenger Service Working Group was established.
The goal: preserve this crucial transportation infrastructure by keeping the run operating in the short-term while a longer-term solution is found.
The upcoming economic impact assessment from BDO Canada LLP will help make the case to the Federal Government that the line is worth investing in.
The costs of this accounting service, along with other endeavours that will be undertaken by the Working Committee, are being shared by the stakeholders.
The ACR Passenger Service Working Group, which represents a larger group of concerned stakeholders, consists of individuals from the:
City of Sault Ste. Marie;
Sault Ste. Marie Economic Development Corporation;
Municipality of Wawa;
Town of Hearst;
Area First Nations;
Township of Dubreuilville;
Tourism Sault Ste. Marie (representing local tourism operators);
Algoma Kinniwabi Travel Association (representing regional tourism operators);
Coalition for Algoma Passenger Trains (CAPT); and
Land and cottage owners serviced by the ACR passenger line.
From M-Live.com:
A group that's restarting talk about an electric streetcar line in Grand Rapids is fine-tuning the concept and is weighing whether routes should already run where people already are or where the city is developing.
The role pits the streetcars as a catalyst for new investment with being a connector between what already exists, but leaders believe there's room to fill each objective.
"We have to go where the people are now, but we have to look to the future, too," said the Rev. Mark Przybysz, a Catholic priest who's part of a committee refining a 2008 streetcar study.
Initially, however, Grand Rapids may have to choose just one emphasis. A streetcar line will cost tens of millions of dollars and consultants advise settling on the shortest route that can attract federal funding and at the same time meet the community's goals.
The committee has identified a few possible routes:
Monroe Avenue NW from Sixth Street to Fulton Street, where the road turns into Market Avenue SW. The street car route would continue south of Fulton to Bartlett Street, then turn east to Rapid Central Station.
Monroe Avenue NW from Sixth Street to Monroe Center, then southeast on Monroe Center to Ionia Avenue where the route would head south on Ionia to the Downtown Market at Logan Street SW.
There's also some desire to have a route on the west side of the Grand River, on Mount Vernon and Turner avenues between Sixth and Fulton streets.
RELATED: $80 million streetcar plan for Grand Rapids back in play
Committee members were divided at a meeting earlier this week. Consultants plan next month to give the committee a closer look at various land uses along the proposed routes.
The Monroe-Market route was identified in a 2008 study. Advocates of a streetcar line think that route might spur new development along the river. But most downtown visitors would prefer a streetcar route down Ionia, said George Aquino, vice president and managing director of the Amway Hotel Collection.
"You're going to have too many naysayers (on the Market route) saying 'Why do you want to go here when we really want to go here (to Ionia)?'" he said.
"It's what you have versus what you would like to have," said Jerry Kooiman, an assistant dean at Michigan State University's College of Human Medicine. "If Grand Rapids has a main street, it's Monroe Center, and why wouldn't you want to have this down your main street?"
The committee also is looking into funding prospects, which could include a mix of local, federal and private sources. Consultants said streetcar lines elsewhere are often funded partially with federal grants, with local sources including assessments on properties within a few blocks of the line, sales tax within a certain area and parking surcharges.
"If we want to chase federal funds, we could be chasing it for the better part of 10 years," said John Logie, a former Grand Rapids mayor who is chairing the committee. "It may not be as hard as we think to raise all of it here."
Source: http://www.mlive.com/news/grand-rapids/index.ssf/2014/02/3_streetcar_routes_in_grand_ra.html
The National Association of Railroad Passengers (NARP) announced this week that Ross Capon will be moving on from his 39-year career with the organization. Larry Scott will take over as acting president.
Capon joined NARP in 1975 and became its executive director in 1976.
"During Ross's time at NARP, the association's recognition and influence significantly increased. That's reflected not only in the recognition he has received in the industry, but in the growth of passenger rail across the nation," said NARP Chairman Bob Stewart in a press release.
For his longstanding support of trains, Capon was recognized with the Robert K. Pattison Partnership Award from the Intermodal Passenger Institute in 2000. He had received NARPs Golden Spike Award in 1985.
"I will be working closely with Acting President Larry Scott, and I'm pleased to be able to assist Larry in ensuring the smoothest possible transition in leadership and the continued growth of NARP," Capon said.
From Soo Today:
Committed cottagers, land and business owners, and municipal and tourism representatives from across the Algoma district gathered at City Hall last week for the inaugural meeting of the Algoma Central Railway Passenger Service Stakeholder Committee.
The purpose of the meeting was to form a Working Committee that will work toward an agreement with CN and the federal government which would postpone for one year the termination of passenger rail service between Sault Ste. Marie and Hearst.
On Friday, January 24, it was revealed that federal funding for passenger rail service from Sault Ste. Marie to Hearst was cut and CN would discontinue passenger service as a result.
With a number of remote locations, businesses and private cottages situated along this stretch of rail, its cancelation would have a devastating impact on the area's tourism and recreation sector.
Matt Yukich, whose family owns and operates Ontario North Fishing Adventures in Oba, told SooToday.com that 75 percent of his seasonal visitors reach this destination by train.
Although it is accessible by other means, he said it's more than eight hours to drive there from Sault Ste. Marie, the last two hours via dirt road.
He expressed frustration over the announcement as he's unable to book any visitors and he fears many of his regulars will decide to go elsewhere for their vacation.
The original termination date set for Monday, March 31, 2014 by CN has since been extended to Tuesday, April 29, 2014.
The newly formed Working Committee includes, but is not limited to:
Joe Fratesi, City of Sault Ste. Marie, Chair
Tom Dodds, SSM Economic Development Corporation
Linda Nowicki, Representative for Wawa
Sylvie Fontaine, Representative for Hearst
Councillor Bev Nantel (alternate: Louise Perrier), Representative for Dubreuiville
Chief Joe Buckell, Representative for First Nations (tentative)
Ian McMillan, Tourism Representative for Sault Ste. Marie
Carol Caputo, Tourism Representative for Algoma Region
Al Errington, Representative for CAPT
Dennis Henderson, Representative for Cottage Owners
The Sault-to-Hearst stretch is the only passenger rail line operated by CN, doing so on the basis that the federal government would subsidize its operation due to the remoteness of certain destinations along the line, Sault Ste. Marie CAO Joe Fratesi told SooToday.com
The government definition of 'remote' for the purpose of this funding has changed recently, and if said destination is accessible by road, it no longer qualifies for funding.
"[CN] is a private corporation, and their obligation is not to the taxpayers, they're obligation is to their shareholders. They will stay in this and lose a little bit of money, but they can't stay in this and lose a lot of money without their shareholders raising concern about them being involved," said Fratesi. "I'm confident after having met with them if the subsidy is put back on the table, CN is quite content to operate this piece of passenger rail."
"It appears to us that Transport Canada made the decision without the benefit of public consultation, without the benefit of an economic impact assessment, on a very specific and narrow view," said Tom Dodds, CEO of the SSM Economic Development Corporation. "It was all about defining what was going to receive financial support for remote passenger service. I have a definition they've provided to me and it seems to me there are communities that fit that definition."
Linda Savory-Gordon, Coalition for Algoma Passenger Trains (CAPT) board member, explained that many of these 'roads' cited as accessibility points by the federal government are often not much more than trails or logging roads, many of them located on private property.
These 'roads' may be illegal for the public to access and can be dangerous to traverse due to flooding, downed trees, and the lack of cellular service in the area.
"This is not first time that eligibility according to that program has been called into question, but in the past there were opportunities for the various stakeholders to make a case for why they should still be considered a remote location," she told us. "Transport Canada did not do their due diligence in our opinion because they didn't actually come and see the situation as far as alternative forms of transportation into that area. They based their assumptions on very faulty information."
Should the one-year extension be granted, Fratesi stressed that a permanent solution must be developed and implemented prior to the new deadline.
This could include funding from other sources, an increase in passenger usage fees, and/or demonstrating to the federal government that the passenger rail line is a vital service to the area.
At tonight's meeting of City Council, it was agreed that up to $50,000 from the City's Economic Development Fund will be made available to the Algoma Central Railway Working Committee for its quest to obtain this one-year extension.
CAPT invites the public to attend upcoming Town Hall Meetings hosted in Sault Ste. Marie on February 19 at 7:30 p.m. at City Hall, in Wawa on February 20 at 10 a.m. in the Michipicoten Memorial Community Centre, and in Hearst at 8 p.m. in the Companion Hotel.
Harry Gow, president of Transport Action Canada, will be a guest speaker and a short film presentation hosted by Michael Burch, and Joanie and Gary McGuffin will take place.
For additional information about these meetings and other CAPT initiatives, please click here.
Additional SooToday.com coverage of this story
Source: http://www.sootoday.com/content/news/details.asp?c=68609
From Sault Online:
On February 19th, 2014 the Russ Ramsay board room at the Sault Ste. Marie Civic Centre was filled with people in support of maintaining passenger rail service along the Algoma Central Railway. The evening's meeting was the first of three town hall meetings hosted by the Coalition for Algoma Passenger Trains, (CAPT).  This highly anticipated meeting brought together many individuals whose livelihoods and history will be destroyed if this train service is discontinued as anticipated at the end of April.
The meeting began with introductions followed by an explanation of the current situation from Al Errington, a local tourist business owner and CAPT member. He went into detail about how Transport Canada has modified their criteria for remote service and how the ACR no longer meets the Federal Government's criteria for funding. Al also listed the members of the new committee that has been formed to help find a solution for the passenger railway issue.
The meeting continued with a presentation from Harry Gow, Founder of Transport Action Canada, whose mandate is to develop rail passenger services across Canada. The presentation covered many aspects of VIA rail and similarities were drawn between the current ACR situation and the VIA Rail situation. Mr. Gow was very knowledgeable and supportive of our rail service and he related well to his audience. He closed with a motivational, "Be organized. Stay organized and make a lot of noise!".
The presentation that followed Harry Gow had a way of emphasizing the historical significance of the railway and really depicted a piece of what will be lost if the ACR passenger service is gone. The presentation was about an upcoming documentary along the ACR and the famous Group of Seven. Michael Burtch, Joanie McGuffin and Garry McGuffin have been working on their film for some time and have been on a "treasure hunt" of sorts in the hopes of photographing every location where the Group of Seven painted. It is an amazing project and the room was quite pleased to watch the trailer for their film. Unfortunately their filming is due to continue into the spring and fall of 2014, long after CN Rail's new deadline of April 30th.
Linda Savory Gordon followed up with a note of support from the Canadian Federation of Students and read a letter to Lisa Raitt from the famous Canadian artist Robert Bateman. His support for passenger railway in the north was clear and the impact of losing such a historical artistic part of our heritage was emphasized further.
Finally, open discussion began and many stories were shared. Among the speakers was Rex Beatty, President of the Teamsters Canada Rail Conference, who speaks on behalf of the union representing CN Rail employees across Canada. He expressed his concern and support of maintaining this service and was shocked to find out that this was happening. CN employees will also be affected by this cut and their union was not informed ahead of time as would be expected in a situation like this. His words clarified that this train cancellation will affect all of Algoma, not only the tourist operators or cottage owners.
Cindy Lebrun of Tatnall Camp on Oba Lake also spoke to the group. Her business has been growing steadily and bringing people to our community for some time and if the train were to stop, her entire investment in her future and community would disappear.
It is hard to picture an entire 300 mile section of Canada suddenly closing its doors. Tourism and recreation are seldom promoted in Northwestern Ontario and yet there is a force of will in the north that seemed to be present at this meeting. For an area that is seldom promoted, there are an awful lot of supporters and this railway is a part of so many lives. It is understandable that the world changes as time passes and most communities need to adapt.
The question remains, how can a community adapt when almost half a province is closed to business, history, heritage and family?
Source: http://saultonline.com/community/a-busy-week-for-passenger-rail-in-algoma
From the Detroit Free Press:
A court ruling Friday added a fresh setback to 13 years of contentious efforts by Troy officials to open a regional transit center.
Oakland County Circuit Judge Leo Bowman denied the city's request to be awarded immediate possession of the land that sits under the transit center.
Bowman's ruling states that the land, which is surrounded by a shopping center at the southwest corner of Coolidge and Maple, is still owned by the shopping center's developer. Now the city must file a new lawsuit, or negotiate directly, to gain ownership of the 2.7 acres from developer Gary Sakwa and his firm, Grand/Sakwa Properties, attorneys on both sides said.
"Everybody wants this center open — everybody I talk to," Troy Mayor Dane Slater said after hearing of the ruling.
"I wish Mr. Sakwa would work with us in everybody's best interest. His development there has been a very positive thing, and this transit center is only going to help that," Slater said. The project was endorsed by Oakland County Executive L. Brooks Patterson and Gov. Rick Snyder, he said.
The center was finished by late fall, but Amtrak won't sign a lease with Troy until the city owns the land, Troy officials said.
Since 2000, city officials have said that Troy owned the land. But in May, an appeals court unanimously ruled that Troy failed to abide by a court-ordered agreement signed in June 2000 that let Grand/Sakwa Properties build its $100-million shopping and condo complex while giving Troy exactly 10 years to fund its transit project. The court ruled that Troy missed the deadline.
In the lawsuit that Bowman dismissed Friday, the city offered to pay the developer $550,000, a figure arrived at through a 2010 appraisal conducted before the transit center was built, city attorney Lori Grigg Bluhm said. The judge's ruling requires that the city get a current appraisal before returning to court, Bluhm said.
"I expect that is the course we will take," she said Friday.
Still, if the city were to make a purchase offer that the developer accepted, the litigation would go away, she said. The Troy City Commission voted in November to set aside $1.8 million in federal grant money, left from the construction of the project, for possible purchase of the land, according to city documents.
Gary Sakwa has declined to comment on the issue for years. But in a 104-page legal response to the city's lawsuit seeking ownership of the land, the developer's lawyers at Dykema Gossett contended that the city must pay the developer for providing access drives through the shopping center. They ridiculed the city's 2010 land appraisal as having been "coincidentally determined during a time of global real estate recession."
"The city is going to have to go back and do it right — that is, make a good-faith offer," said Alan Greene, attorney for Grand/Sakwa Properties.
Had the city gained immediate possession of the land on which the $7-million center sits, the center would have soon opened and Amtrak passengers would have been sheltered from the cold while waiting for trains inside the new building, Troy officials said.
For now, and perhaps months to come, Amtrak riders must continue to use a crude bus shelter, largely open to the elements, built on a concrete pad on the Birmingham side of the tracks.
Source: http://www.freep.com/article/20140223/NEWS03/302230053/
Or renew your current membership.
(It expires at the beginning of every year.)
Join people that support a balanced approach to transportation in Michigan by clicking on the image/coupon below. Print it out, fill it out and return the application to MARP.
The Michigan Association of Railroad Passengers, Inc. (MARP) was established in 1973 as a consumer advocacy group to:
improve intercity rail and bus passenger service,
improve local transit service,
and encourage the preservation of historic railroad stations.
MARP members meet once a month to discuss theses issues and organize efforts to improve intercity rail and bus service. Check the calendar page for details.
Follow us on Facebook and Twitter too.
From The Ann Arbor News:
By a 2-to-1 margin, residents in Ann Arbor, Ypsilanti and Ypsilanti Township say they'd likely approve a tax increase to fund expanded public transit services.
That's according to a new survey conducted by CJI Research on behalf of the Ann Arbor Area Transportation Authority.
The survey found 63 percent of voters in the three communities either probably would or definitely would vote in favor of a new tax of less than 1 mill.
About 31 percent said they probably would or definitely would vote no, while 6 percent were undecided.
Hugh Clark, president of CJI Research, analyzed the results and said they show evidence of "a decidedly optimistic community that supports the goals of public transportation" and there's "a really solid consensus."
AAATA officials have talked about putting a 0.7-mill, five-year tax on the ballot in May to raise $4.4 million in additional annual revenue for expanded services.
There could be a decision at the next regular meeting of the AAATA board at 6:30 p.m. Feb. 20 at the downtown library, 343 S. Fifth Ave.
The board recently adopted a new five-year plan that calls for more than 90,000 hours of additional transit services per year, mostly along local fixed bus routes, representing a 44 percent increase in services.
The tax to pay for those new services would cost the owner of a home with a market value of $100,000 (and a taxable value of $50,000) about $35 per year.
The AAATA would use the additional funding for more direct service with redesigned bus routes, extended hours on weekdays and nights, extended weekend service on fixed routes (earlier start times and much later end times), improved bus stops, increased service frequency on many routes, and expanded dial-a-ride/paratransit services for seniors and people with disabilities.
AAATA officials say the proposal comes in response to what they've been hearing from local government leaders and citizens. The plan includes stated goals of helping workers connect to jobs, spurring economic activity, supporting seniors and the disabled, easing parking congestion and promoting a cleaner environment.
The AAATA commissioned CJI Research to conduct a random survey of 841 registered voters in the three communities between October and December. The results reflect a combination of telephone interview responses and email surveys with online responses to ensure representation of cell-only households.
The survey showed the AAATA is highly regarded by voters in the three urban core communities. About 57 percent said they or someone in their family have used AAATA services, which compares with 25-30 percent rates in comparable communities.
About 90 percent of respondents who were familiar with AAATA operations had a somewhat favorable or very favorable opinion of the agency.
The survey found the most compelling reasons to support a transit expansion are to help retain and attract jobs, generate economic activity by taking customers and workers to businesses, and to improve service for seniors and the disabled.
Among the reasons why some might oppose the expansion, according to the survey, are general opposition to new taxes and concerns about the economy.
The margin of error for the survey is no more than 3.4 percent with a 95 percent confidence level.
The AAATA estimates the economic impact from public transit in the Ann Arbor/Ypsilanti area would increase from $62.5 million annually to at least $96 million annually if voters approve the millage. The AAATA also estimates it would create at least 250 additional jobs, ease traffic congestion and free up as many as 1,000 parking spaces daily in downtown Ann Arbor alone.
Two nonprofit advocacy organizations — Washtenaw Regional Organizing Coalition (WeROC) and Partners For Transit — have indicated they plan to launch grassroots campaigns in 2014 to promote the new millage. The coalitions' members include business leaders, clergy, organized labor representatives, advocates for the elderly, local professionals, students and environmental activists.
Source: http://www.mlive.com/news/ann-arbor/index.ssf/2014/02/survey_says_voters_support_tax.html
 From an Amtrak Press Release:
AmtrakConnect® cellular-based Wi-Fi service is now available on Amtrak trains in the Midwest, with eight corridors offering this free amenity to Amtrak passengers, effective today. Collectively, these routes carried nearly 3.3 million passengers in the last year (Amtrak FY2013, Oct. 2012-Sept. 2013) and account for about 10 percent of Amtrak ridership.
"We continually look for ways to improve the customer experience on board our trains. The availability of a free Wi-Fi service that delivers the speeds and connectivity passengers are looking for is yet one more way to achieve this goal and maintain a competitive position among transportation providers," said Matt Hardison, Amtrak Chief Marketing and Sales Officer.
AmtrakConnect utilizes multiple cellular carriers to provide the best mobile experience possible, taking advantage of 4G technologies where available. Amtrak installed the equipment under contracts with the states of Illinois, Michigan, Missouri and Wisconsin as part of their sponsorship of Amtrak service. This brings the Wi-Fi coverage to about 85 percent of passengers across the national network.
Hardison explained that AmtrakConnect is provided at no cost to passengers and has proven very popular – as evidenced by the fact that it routinely supports between 30 and 50 percent of passengers on a given train.
"Amtrak trains in Illinois are faster, thanks to our joint commitment to high speed rail," said Illinois Governor Pat Quinn. "Now, Wi-Fi access on those same trains will make each trip more productive and enjoyable. Faster, better and more efficient – now there are even more reasons to take the train in Illinois."
"The traveling public has come to expect easy access to the Internet, so we're very pleased to be offering free Wi-Fi on the Hiawatha Service between Milwaukee and Chicago," said Mark Gottlieb, Secretary of the Wisconsin Department of Transportation. "This Wi-Fi addition is going to be especially appealing for our many business travelers, who can now make even better use of their time on the tracks." 
"Wi-Fi is an important additional amenity for passengers on Michigan and other Midwest corridor services. Michigan looks forward to travelers enjoying Wi-Fi and other service improvements as we continue to implement our Accelerated Rail program," said Tim Hoeffner, Rail Director, Michigan Department of Transportation "We are excited to partner with Amtrak and our sister state DOTs on Wi-Fi service as we look for more and creative ways to make train travel a more attractive option in Michigan and throughout the Midwest."
"The Missouri River Runner is a popular travel option in our state," said Michelle Teel, Multimodal Operations Director, Missouri Department of Transportation. "Adding Wi-Fi service for passenger use makes an already attractive service even more customer-friendly."
Wi-Fi service is now provided on these Chicago Hub Services routes in addition to Amtrak trains on the East and West Coasts .
As the demand for on-board Wi-Fi continues to grow, and in order to ensure the best experience for everyone, data-intensive activities, such as streaming video and music, and large
file downloads that can slow everyone down, will be restricted. Doing so helps ensure that high-volume data users onboard the trains do not degrade the experience for others. More information is available on the attached document, which is available at stations and aboard the trains.
Passengers will also see specially dressed "AmtrakConnect Ambassadors" on some trains, distributing brochures and providing other assistance in celebration of the new service.
From WWMT-TV News Channel 9 and M-Live.com:
Passengers are finally home bound after being delayed hours on a disabled Amtrak train.
Train 364 which departed from Chicago and was heading to Port Huron became disabled in Niles, according to Amtrak Spokesman Craig Schulz.
There were 155 people on-board at the time. Nobody was injured.
Another train came to Niles around 11:30 p.m. On Tuesday to bring passengers to Battle Creek.
Passengers on-board told Newschannel 3 buses arrived at the Battle Creek Station around 3:30 a.m. Wednesday Morning.
The train was supposed to arrive at the Port Huron station at 11:38 p.m. Tuesday night, according to the Amtrak website.
Passengers say they became frustrated because of the lack of communication on the train at the time.
Schulz says alternate arrangements have been made for all passengers.
Apparently the delay was caused by the train striking a pedestrian.
M-Live.com reported that a Niles Township man is in critical condition after being struck by a train near Niles early Wednesday morning.
Michigan State Police troopers responded to the train-pedestrian accident at 1:20 a.m. near Bakertown Road in Buchanan Township. Troopers searched the area and found an 18-year-old man seriously injured near the train tracks.
The man told police that he had been in a rollover accident prior to being struck by the train, according to a news release. Police found the car in a corn field west of the tracks.
Investigators say the man lost control of his vehicle, left the roadway, and rolled several times. The man then walked away from the vehicle and was later struck by a westbound Amtrak train.
Alcohol appears to be a factor in the accident, police say. The man was taken to South Bend Memorial Hospital where he is in critical but stable condition.
Sources:
http://wwmt.com/shared/news/features/top-stories/stories/wwmt_amtrak-train-becomes-disabled-leaving-passengers-stranded-hours-18425.shtml#.UwVRhoXf0o
http://www.mlive.com/news/kalamazoo/index.ssf/2014/02/niles_man_struck_by_amtrak_tra.html
Click here to save this file or to view it as a PDF in full screen.

We hope you enjoy the issue and that you will let us hear your comments and suggestions. If you would like to write a story or suggest an item to be covered, email us at marprail@yahoo.com
For those without a PDF reader, click on the images below to view them full screen.
Page 1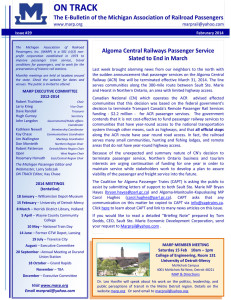 Page 2
Page 3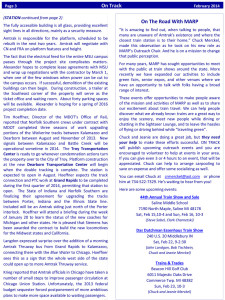 Page 4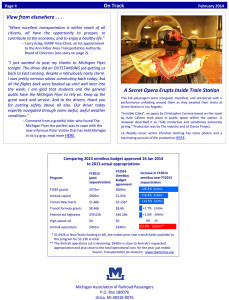 The Canadian government has decided to cut it's passenger service subsidy to Canadian National Railway (CN) for the section between Sault Ste. Marie and Hearst known as the Algoma Central Railway(ACR.) As a result CN will no longer run the passenger train along this historical and economic route beginning April 29, 2014.
An online petition has been started in hopes of changing CN and the Canadian government's decision.
It can be found at:
http://www.thepetitionsite.com/382/671/233/all-aboard-save-our-passenger-train/
The Coalition for Algoma Passenger Trains (CAPT) announces  All Aboard! To save ACR Passenger Train. This is a series of 3 Town Hall Meetings/ Media Events with a train trip on the ACR between the Wawa and Hearst meetings.
Guest speaker, Harry Gow, transportation expert and founding president of Transport Action Canada, will be able to enlighten us about efforts elsewhere in the country to stop rail cuts.
The three meeting event will take place as follows:
Sault Ste. Marie Town Hall Meeting: Wed. Feb. 19, 2014 at 7:30 pm in the Civic Centre
Wawa Town Hall Meeting:                 Thurs. Feb. 20 at 10:00 am in the Michipicoten Memorial Community Centre
Hearst Town Hall Meeting:                Thurs. Feb. 20 at 8:00 pm in the Companion Hotel
Following the Sault Ste. Marie meeting, the next morning (Thursday) the guest speaker and CAPT supporters will drive to Wawa.  Following the Wawa meeting a delegation will have lunch at the Big Bear Restaurant in Hawk Junction and board the train to Hearst for the 8:00 pm meeting there. On the morning of Friday, Feb. 21 the delegation will return by train.  All are invited to join us for any of the meetings and for the train trips on the 20th and 21st.  We extend a particular invitation to the media to be present for this series of meetings and train trips.
The town hall meetings will provide an opportunity for the public to express their concerns about the devastating effects that the announced termination of the ACR passenger train service will have on the region's tourism, on local businesses, on population retention, on the future of transportation in our region, on the environment, on people's access to regional health care and postsecondary institutions to name only a few.
All Aboard! To save the ACR Passenger Train provides a perfect opportunity for the media to hear the full extent of the impacts that this decision will have on our region and to hear the evidence that the decision was made with clearly false information about supposed alternative transportation to the areas serviced by the ACR.
For further information please contact:
Linda Savory Gordon               705 943 0971   linda.savory-gordon@algomau.ca
Al Errington                             705 946 2010  al@wildernessisland.com
Marie Price                             705 736 2365  cora-marieprice@gmail.com
Lori Johnson (Wawa)              705 856 2244 ext 2241  ljohnson@wawa.cc
Sylvie Fontaine (Hearst)          705 372 2837 sfontaine@hearst.ca
From The Northern Express:
Passenger trains could rumble through Traverse City for short hauls
A potential rail service from the depot at Eighth St. and Woodmere Ave. to Turtle Creek Casino in Williamsburg is a win-win for commuters and tourists alike, local organizers say.
The Michigan Land Use Institute, the Michigan Department of Transportation and the Great Lakes Central Railroad say they will study the prospect this spring.
"It's realistic that [Great Lakes Central] could run something a year from now," said James Bruckbauer, policy specialist at the MLUI. "But something that's functional for tourists and commuters is probably a couple years away."
TRAM OR TRAIN?
Regular passenger train connections in and out of Traverse City petered out in the 1960s. There's been on-and-off talk in the last decade about bringing something back.
Bruckbauer said the study this spring will be "preliminary" and will hopefully lead to a more nuts-and-bolts analysis.
According to Bruckbauer, a TC-Turtle Creek connection could take different forms,
such as a trolley modified to ride on train tracks or a passenger car hauled by an engine, with several stops along the way, or maybe just one in Acme.
"That's why we want to put this study together," Bruckbauer said, "because we want to answer those questions."
Another important question is how much it will cost.
"Is this going to cost $2 million or $200 million?" he said. "Let's figure that out so that we can have some data to move forward."
BREAK FOR COMMUTERS
Bruckbauer sees the route as something that could one day mean more for the region than a ride to the casino for tourists.
"There's a lot of traffic along US 31," he said. "It's heavily traveled."
On an ordinary day, the corridor between TC and Acme is congested. In 2015, MDOT plans to overhaul the stretch between Three Mile and Holiday Road with traffic reduced to one lane in each direction.
"Imagine if you're sitting there in a traffic jam on US 31 and you see this train roll by, right next to you," Bruckbauer said. "Even if it's going by at just 25 miles-perhour, it doesn't stop. And it's heading into town and you could be on that."
A TC-to-Turtle Creek line could also change the way the way the region looks.
"If you're looking at ways you could create some walkable development around the Acme area, as well as some walkable development around Eighth Street, that could be a good support system for that," Bruckbauer said.
SHARE WITH THE TRAIL
The TC-Turtle Creek connection would run parallel to the TART Trail for most of its route, until TART ends at Bunker Hill Road.
Bruckbauer doesn't expect a passenger train will be a problem for bicyclists or rollerbladers.
"There are communities where they have the existing passenger rail tracks next to a bike path that are operating trains," he said.
Julie Clark, TART's executive director, thinks a passenger train would be a fine companion for the trail.
"We're ahead of our time. A lot of communities that are investing in light rail or commuter lines include a multi-use path alongside," she said. "The TART trail is well positioned to provide this type of system."
DOWNSTATE CONNECTION
A TC-Turtle Creek line would run at the northern end of tracks that stretch to Ann Arbor.
Plans are already underway on the other end for a commuter rail line between Ann Arbor and Howell.
"These projects are sort of bookends and it's a matter of filling in the middle to establish service
from Ann Arbor to Traverse City," said Tim Fischer, deputy policy director at the Michigan Environmental Council.
The Ann Arbor-TC line needs work, however.
Fischer rode a train from Cadillac to Traverse City in 2010 with others interested in bringing rail to northern Michigan. The track is old and rickety and passenger trains cannot travel above 20 mph.
"It's actually quite a beautiful trip," Fischer said. "But even for an excursion, that's pretty slow. Any more than that and you'd have people hurling themselves off of the train."
Upgraded tracks could perhaps handle passenger rail cars traveling at up to 60 mph. It's just a matter of the state deciding it's enough of a priority to spend the money, Fischer said.
The tracks are owned by the state and leased to Great Lakes Central.
TC LINK: A PRIORITY
A rail link to Traverse City has already been identified as important by the state.
When the State Rail Plan Final Report of 2011 was developed by MDOT, a rail connection to Traverse City emerged as a top priority.
At 16 public forums around the state, including a crowded meeting at TC's Civic Center, people were asked to draw their dream rail connections on a map.
"Each map, at each forum, included connecting Traverse City to a southern part of the state in some fashion," the report said. "The southern connection points varied between Grand Rapids and the Ann Arbor area depending on where the forum was held."
The keen interest was also demonstrated by attendance at four open houses about passenger rail hosted by MDOT in September 2010.
Turnout in Traverse City was the strongest with more than 100 people. Negaunee had 23 people; Detroit, 25; and Grand Rapids, 39.
POLITICAL WILL (AND $350 MILLION)
Bruckbauer believes if TC is linked to downstate, it's most likely going to be through Ann Arbor.
"Starting from scratch, which is almost what you would have to do now between Grand Rapids and Traverse City, is usually cost prohibitive," he said. The tracks between Grand Rapids and Traverse City have been removed to make way for a bike trail.
Bruckbauer said track upgrades that would complete the Ann Arbor-Traverse City link are estimated to cost $350 million.
"It sounds like a lot, but when you compare that to widening a highway, for example, it can look pretty attractive," he said.
MDOT  recently estimated that to add one lane each way to US-23 over the  dozen miles between Ann Arbor and Brighton would cost $500 million.
"When  you look at upgrading the tracks along a 240-mile stretch, as opposed  to a 12- mile stretch, and that's only $350 million, you start looking  at those costs and it begins to look more attractive to invest in that  rail," Bruckbauer said.
It takes loud  popular support to make rail happen, however, said Richard Harnish,  executive director of the Midwest High Speed Rail Association in  Chicago.
"Just like local communities  would demand a highway and fight to get it, if Traverse City wants to  get a passenger train, they have to start fighting instead of just  saying, 'Well, maybe someday we'll get it,'" Harnish said.
Source: http://www.northernexpress.com/michigan/article-6226-mdot-others-gamble-on-casino-train.html
More articles:
From The Port Huron Times-Herald:
The Port Huron Amtrak station will possibly take the next train out of the city.
Preliminary discussions have begun between Amtrak, Michigan Department of Transportation, Canadian National Railway, the city of Port Huron and Port Huron Township Downtown Development Authority about moving the station to Port Huron Township.
"The current train station was built in the 1970s and is no longer up to code with the American Disabilities Act," said Paul Maxwell, Port Huron Township Downtown Development Authority director.
Maxwell reported that a decision will be released within the next 30 days.
"The benefit of moving, in addition to meeting ADA standards, would be a larger parking lot and being adjacent to the I-69 business loop," said Maxwell.
The proposed new location would be at 24th Street and Michigan Avenue off of Griswold in Port Huron Township.
"We have many Canadian residents that come across the bridge, park at the station and take the train to their destination," said Maxwell. "We need to be able to increase our parking capacity to meet the growing demand."
Hopes of including bus transit from the station also are in discussion.
"We want to make the Port Huron area a destination for visitors," said Maxwell. "That means we need to provide adequate transportation."
Maxwell commented that whether the train station stays in the city of Port Huron or moves to Port Huron Township, it will continue to be a business asset
.
In the 2013 fiscal year 194,766 passangers rode the Port Huron-Chicago train, up from 187,911 the previous year. In 2005 that number was 155,741.
Of those 194,766 passangers 29,461 boarded or got off the train in Port Huron in 2013. In 2012 that number was 26,696.
"The train leaves from Port Huron early in the morning and arrives late at night," said Maxwell. "This prompts people to spend the night in order to be able to catch the train. This allows visitors and those who are passing through to use local hotels and restaurants."
Marci Fogal, Port Huron Convention and Visitors Bureau president, said that Amtrak allows for Blue Water Area marketing opportunities.
"We have videos playing and visitors guides in every station along our railway connection centers," said Fogal. "Trains are a very economical way to travel
as well. There has been an increase in riders in the past few years."
If the Amtrak station is moved to Port Huron Township, Lindsay Wallace, St. Clair County transportation planner, hopes it will be a mixed-use development.
"Since the station will be in an industrial area, the same complex could accommodate commercial and manufacturing trains as well," she said.
Source: http://www.thetimesherald.com/article/20140126/NEWS01/301260020/Amtrak-looking-station-move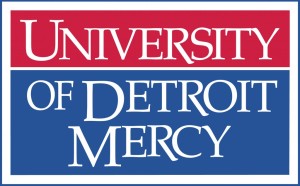 Are you enjoying this Michigan winter yet? It has, indeed, been one for the books.
MARP is planning to warm things up a bit with this interesting program on the campus of the University of Detroit-Mercy. See the end of this message for complete directions to the campus.
Our speaker will be Dr. Leo E. Hanifin, who recently retired after 21 years as Dean of the UDM College of Engineering and Science. He will speak on the topic of "Transit in Detroit".
Dr. Hanifin led the Michigan Ohio University Transportation Center (MIOH UTC), a coalition of five universities funded by federal and state DOTs and partner corporations. In this role, he brought together UDM engineering and architecture faculty to work with consultants from Deloitte to provide research, analysis and recommendations for the light rail system in Detroit.
He currently leads a team of regional transportation entities in a twenty-month study of the factors that enable and inhibit the development and operation of effective regional transit in SE Michigan: factors like public opinion, funding, social issues and politics. He expresses hope of creating a new understanding of the issues that have, over many decades, kept the region from developing an effective transit system.
Please plan to join us for our usual "no host" lunch following the meeting. We enjoy socializing and talking informally about the train issues that interest us.
If you are would like to join a carpool, please reply to this email. See below for directions to campus.
Michigan Association of Railroad Passengers
#  #  #  #  #
The University of Detroit-Mercy, McNichols Campus, is located in northwest Detroit, on the southeast corner of McNichols and Livernois, at 4001 West McNichols.  The campus is accessible from the Lodge (US 10), Chrysler (I-75) and Jeffries (I-96) freeways.
Or paste this URL into your browser tinyurl.com/marp00068 
Download and print a map of the UDM McNichols Campus Map
Or paste this URL into your browser tinyurl.com/marp00069
The MARP meeting is in the Engineering Building, Room 131. Enter campus at the Livernois gate and tell the attendant you are visiting Dr. Hanifin in Engineering. The Engineering Building is visible from this entrance. Turn right and park in guest parking.  Walk to west entrance of Engineering Bldg.  Proceed to Room 131.
 If you are traveling:
Northbound John C. Lodge Freeway (10): Exit at Livernois.  Turn right onto Livernois.  The University is north two lights on the right.
Southbound John C. Lodge Freeway (10): Exit at Livernois.  Turn left onto Livernois.  The University is north two lights on the right.
Northbound I-75: Exit at Davison Freeway.  Take Davison to northbound John C. Lodge Freeway (10).  Exit at Livernois.  Turn right onto Livernois.  The University is north two lights on the right.
Southbound I-75: Exit at Eight Mile.  Turn right onto Eight Mile Road.  Proceed west to Livernois.  Follow Livernois south to University.
 Westbound I-94 or Eastbound I-94: Exit John C. Lodge Freeway (10) North.  Exit at Livernois.  Turn right onto Livernois.  The University is north two lights on the right.
 Westbound I-696 to I-75 South: Exit at Eight Mile.  Turn right onto Eight Mile Road.  Proceed west to Livernois.  Follow Livernois south to University.
 Eastbound I-696 to John C. Lodge (10) South: Exit at Livernois.  Turn left onto Livernois.  The University is north two lights on the right.
 Eastbound Eight Mile: Turn right onto Livernois.  Proceed to McNichols.
 Westbound Eight Mile: Turn left onto Livernois.  Proceed to McNichols.
From M-Live.com:
Proponents of a downtown streetcar line are resurrecting a 6-year-old study and, by this summer, plan to revise the vision and pursue funding.
The Rapid public-transit system is paying HDR Inc. $293,895 to refine the 2008 study, updating what an electric streetcar line would cost and how the money could come together. An advisory committee started meeting last month.
"We're going to build on that (2008 study)," said John Logie, a former Grand Rapids mayor who is chairman of the committee. "We think the timing is right. The economy is coming back.
"What happens when a local government invests in putting rails in the street is entrepreneurs who are watching this know that the government is making a long-term commitment (and it leverages private investment)."
The original streetcar study envisioned a $79 million, 3-mile route mostly along Monroe Avenue between Rapid Central Station and the Sixth Street Bridge. Logie said "we will look at that (route) again with fresh eyes to see if that still makes sense."
Here's how Logie described a downtown streetcar line in a WGVU interview last month:
"The cities who are ahead of us, who have done this, have found that you don't want to look like that Coors Light ad with the guys in the mountains and the trains zooming by. No, it's going to have some history edge to it because people seem to like that, but it's pretty simple. It's a single wire of electricity that's going to be strung and, yes, some flush-with-the-pavement metal."That is a secret about the success of these because developers, when they watch a public agency like The Rapid spend the money to put those tracks in the ground and put that wire up, they're willing to invest and put up new buildings or refurbish old ones that are right next to or even within three or four blocks from either side of where it's going to go. It's that permanent commitment that's being made that attracts new investment."
RELATED: Check out the streetcars in these old photos on Monroe Center
Grand Rapids in the early 1900s had as many as 70 miles of streetcar lines, and Logie is more optimistic than ever that now is the time to bring streetcars back to Grand Rapids. The prime marketing demographic: "young people, some of whom don't own cars and don't want to," Logie said.
"I don't have any experience with it directly, but in other cities it seems to work," said Sam Cummings, a real estate developer who's part of the advisory committee. "There's no question that we have to try to skate to where the puck is going. By the same token, we should also make sure that we don't throw away the automobile because that's not going anywhere either."
Streetcar lines are identified along with the coming bus-rapid transit route as key tenets of The Rapid's long-range plan.
"People our age are moving back into the city and living an urban lifestyle," Rapid CEO Peter Varga said in the WGVU interview. "Young people want all these mobility options, want to live downtown and they are actually not getting driver's licenses. They're using public transit. they're walking and bicycling. A street car fits this new demographic change and that's why this is the right time to start talking about these things.
"Our purpose is to create something new and exciting in the downtown, something that's going to make it more walkable and livable, and hopefully attract enough private interest in it so we can do a really good public-private partnership on the project."
RELATED: 'You really don't want them driving,' Rapid CEO Peter Varga says about Millennials
A consultant in 2008 suggested a new local sales tax and a tax on nearby parking spaces to help build and operate a downtown streetcar system. Here's that report. But Varga said the project is dependent on getting financial commitments from private donors: "How fast that moves is how fast we'll go."
The committee's work in the coming months "will specifically examine models of public-private partnerships in streetcar system development, construction and operation," said Jennifer Kalczuk, spokeswoman for The Rapid. The committee also will "analyze potential routing, amenities and coordination with existing services," she said.
Source: http://www.mlive.com/news/grand-rapids/index.ssf/2014/02/streetcar_plan_for_grand_rapid.html
The following are resources for people concerned about the recent announcement of the cancellation of passenger service in Canada.
National Association of Railroad Passenger (NARP) Vice Chairman John DeLora has been monitoring news about the recently announced cancellation of passenger rail service between Sault Ste. Marie Ontario and Hearse Ontario. NARP had sent the Canadian ambassador a letter protesting the cancellation. Here's DeLora's round-up of related Canadian news:
Maritimes could lose all service
http://www.wawa-news.com/index.php?option=com_content&view=article&id=19722:via-cuts-could-see-quebec-maritimes-lose-all-passenger-rail-service&catid=41:news&Itemid=201
Canada MOT cuts threaten all of VIA. A poll has shown that Canadian passenger train service has shrunk so far that the public no longer supports VIA continuing as a Crown Corporation.
http://www.citynews.ca/2014/01/30/canadians-in-favour-of-privatizing-crown-corporations-poll/
Stakeholders organizing to fight Algoma Central cut
http://www.saultstar.com/2014/01/30/stakeholders-organizing-to-fight-government-cut-to-rail-line
Amtrak is offering a variety of discounts on select routes beginning January 2014:
Travel Michigan for 20% Off with the Midwest Winter Warm Up Sale
Book your travel now through March 30, 2014 for travel now through March 31, 2014 to save up to 20% off your ticket price.
Travel the following routes, including:
The Blue Water – which stops in Kalamazoo, Battle Creek and the maritime town of Port Huron
The Pere Marquette - offers a scenic ride that connects Chicago and Grand Rapids.
The Wolverine - travels east from Chicago all the way to Detroit.
Valid for Sale January 1 – March 30, 2014
Valid for Travel January 2 – March 31, 2014
More information at: http://www.amtrak.com/travel-to-michigan-and-save-20-percent-this-winter?WT.mc_t=WinterPromoMI_HP3_WSP&WT.mc_n=WinterPromoMIpage&WT.mc_r=365
Save 20% on Your Next Trip in the Midwest and Elsewhere
Save 30% Aboard the Blue Water and Wolverine