From the Sarnia Observer:
Transportation expert Greg Gormick wants people to use public transportation to show politicians there is a demand for improvements, including three daily round-trip trains in Sarnia.
Gormick unveiled an improvement plan for rail and bus service in southwestern Ontario during a presentation at Sarnia library on Saturday, Jan. 31, 2015.
Through the co-operation of municipal, provincial and federal politicians, Gormick wants to have 16 daily round trips on VIA's existing routes and 18 feeder bus lines serving 100 southwestern Ontario communities within five years.
He set the cost at an annual $60 million operating subsidy and $400 million in capital investment.
The cost shock was softened by Gormick saying there's a current $60-million operating subsidy to rail service. Moreover, $400 million is what will be spent in Toronto to build one kilometre of new subway line.
Gormick's Network Southwest plan was created for the Southwestern Ontario Transportation Alliance (SWOTA), a regional rail advocacy group.
Gormick said the automobile remains the "junk food of transportation", dominating the present transportation system. Yet the automobile comes with a big cost and yet has left the region with a mobility gap.
His assertion was supported by audience members who don't own an automobile who spoke of their own personal experiences, such as being unable to get to Chatham from Sarnia, and having to endure a 10-hour train ride to Ottawa at a cost of $400.
Improved bus service is part of the plan, but the service must be integrated into the regional transportation system, Gormick said.
An intercity bus terminal must connect with rail service and local transit. Mobility hubs that bring all services to one terminal are part of the plan.
Such hubs are part of a successful rail renewal plan in North Carolina, where after years of decline ridership has doubled on some of that state's rail lines, Gormick said.
Municipal transit systems have the operational expertise for intercity bus service but would need financial support from senior governments, said Gormick, citing it as an example of the need for co-operation among governments.
Local transit provides a person's first and last miles in an intercity trip, he said.
Beyond the personal hardships, the mobility gap reduces the region's appeal to new business, said Gormick.
Sarnia's transportation accessibility is a factor considered by businesses searching for new locations, said George Mallay, executive director of Sarnia- Lambton Economic Partnership, following the presentation.
Closing the mobility gap does not require a one-time giant step but multiple steps using existing facilities. Buses being sold by seniors levels of government could be given to municipal governments and rebuilt for intercity service.
Rather than jumping to high-speed rail service with trains traveling on specially created tracks at speeds of 240 kilometres per hour, high-performance trains with speeds of 160 kilometres per hour could be a starting point.
"That's the beauty of it (the plan). It can be done incrementally," said Gormick.
One of first steps is to get people talking about the plan.
Audience members were encouraged to sign provided postcards that will be sent to MPs and MPPs to promote the plan.
"Help sell this plan," said Gormick.
Source: http://www.theobserver.ca/2015/02/01/plan-unveiled-in-sarnia-for-regional-transportation-improvements
From the Chicago Sun Times:
Amtrak announced Thursday, January 28, 2015 a $12 million renovation project at Union Station that will include rehab of the marble stairway made famous in the movie "The Untouchables" as well as plans to commission a redesign of the often-congested concourse area where commuters board and de-board trains.
Improvements will also be made to the station's facade, and updates will be made to the sprinkler and temperature control systems.
More than 120,000 people make their way through the 90-year-old station every day, said Amtrak spokesman Marc Magliari.
"It's a disgrace compared to how smooth things are run at Ogilvie [Transportation Center]," said Ed Arnold after commuting into Union Station from Naperville Thursday morning. "I've missed trains because of congestion in the concourse. It's screwed me up big time," said Arnold, 61, a consultant.
The improvements are part of a multimillion-dollar master plan that is a collaboration by Amtrak, Metra and the Illinois and City Departments of Transportation.
"Amtrak and Metra ridership has grown significantly since the 1991 reconfiguration of the concourse level," Magliari said. "We've outgrown that design."
New doors will be added to help control the building's heat and prevent bursting pipes, which occurred twice this month to the sprinkler system.
Read more: http://chicago.suntimes.com/chicago-politics/7/71/328697/12-million-fixes-union-station-another-step-500-million-renovation?utm_source=Chicago+Sun-Times&utm_medium=email&utm_campaign=238216_Morning+Edition_01.29.15&utm_content=$LINK_KEYWORD$&dm_i=2JCP%2c53T4%2c2HTN15%2cAU71%2c1
From the Sault Star:
A third-party operator expected to run Algoma Central Railway's Agawa Canyon Tour Train and passenger service offers "a new beginning" for the rail line.
Al Errington, owner of Errington's Wilderness Island, calls Friday's announcement that will see the unnamed company with experience in passenger and tourism service "a sea change" for ACR.
"There's a lot more development that can happen from the basic passenger train," Errington said Saturday in a telephone interview from Detroit where he was attending Motor City's Ultimate Fishing Show. "I think it's going to be a big story over the next couple of years as far as development. A third-party operator really opens up a lot of development opportunities."
But owner Canadian National Railway, he adds, wasn't interested in pursuing those possibilities because of its emphasis on shipping freight.CN
bought Wisconsin Central
Transportation, owners of ACR, in 2001.
The not-named firm and CN signed a letter of intent for ACR operation.
"Now they're getting into the nitty gritty of the agreement," said Errington. It's a process the cochair of Coalition for Algoma Passenger Trains expects will take "weeks to maybe a month or more." The new player, he added, wants to make plans for the summer tourist season. Running rights on the CN-owned tracks need to be negotiated.
"They've got basically a broad agreement that they've agreed to . . . now they have to take care of all the finer details," Errington told The Sault Star.
His lodge, on Wabatongushi Lake in Chapleau Game Preserve, is only accessible by rail or float plane. Errington hopes the new operator will change the train schedule to encourage more ridership.
Three-day-a-week service between the Sault and Hearst -northbound on Saturday, Monday and Thursday, southbound on Friday, Sunday and Tuesday -is "not a great schedule."
"It really cuts down on the number of guests I can bring in," said Errington.
The executive director of Algoma Kinniwabi Travel Association and member of ACR Passenger Service Stakeholders Working Group calls Friday's announcement "a step in the right direction."
"We're very, very excited and very, very pleased," said Carol Caputo, also attending the Detroit tourism show.
About a dozen members of her group operate lodges along the ACR line. The train offers tourists another option to explore Algoma's wilderness.
"Passenger rail allows us to stand out from other areas in the province," she said. "It's diversification of product. We basically have something for everyone."
Tracks to Trails brings snowmobilers, and their sleds, from the Sault to Hawk Junction, Dubreuilville or Hearst. Travellers opting for ACR's Tour of the Line can take the entire 950-kilometre trip between the Sault and Hearst.
"There's a whole bunch of product lines with regards to the passenger rail," said Caputo. "It's more far reaching than just the businesses along the line because of all the experiences it offers. It gets people into areas that are inaccessible unless they go by train. It's getting people immersed in everything that's great about Algoma."
Linda Savory Gordon, also cochair of CAPT, wants to start work on a sustainability plan the working group will present to the federal government.
A third party was sought because CN announced in early 2014 it would cut passenger service between the Sault and Hearst because Ottawa chopped a $2.2-million annual subsidy. The working group is asking the Conservative government to offer $7 million over five years to help with service transition.
CAPT already has an "in-depth" draft sustainability plan, created over the last year with help from other players including the communities of Hearst, Dubreuilville and Searchmont and resorts along the rail line. It will be shared with chair Joe Fratesi and working group members "and see what everybody agrees on."
"We suspect that there will be a lot of agreement on most of it because these are things that we've been discussing with each other," she said. "It really shows the kinds of things that could be done on that train, could expand the ridership dramatically and also be quite a draw for both local people as well as farther away." Plan components include trips that bring travellers to Wawa to learn about the Group of Seven and Canadian pianist Glenn Gould. A Searchmont trek offers children a chance to see Santa Claus at the North Pole. The latter event, held Dec. 20 and 22, sold out in less than 30 minutes with a minimum of publicity and drew 180, said Savory-Gordon.
She's expecting further public interest in such excursions when the third-party operator promotes them in its existing "marketing and promotional networks."
"People who really like rail excursions, tourism and so on will want to try this out now," said the Algoma University associate professor.
The third party, to be named when the final operating agreement with CN is finalized, "want to make it work."
"They're just enthralled with our geography, our cultural mix up here," said Savory-Gordon. "They just see the potential, potential, potential, potential. They just couldn't get over it."
The working group met with three potential operators. Each company sent representatives to the Sault in November. Group members did their research too, said Errington, checking company websites and annual reports in addition to telephone calls and face-to-face meetings.
Source: http://www.saultstar.com/2015/01/17/tour-train-on-track-task-force-members
Click here to save this file or to view it as a PDF in full screen.

We welcome in the New Year with:
We hope you enjoy the issue and that you will let us hear your comments and suggestions. If you would like to write a story or suggest an item to be covered, email us at marprail@yahoo.com
From the Detroit Free Press:
The State of Michigan is paying $1.1 million a year to lease 23 passenger rail cars it can't use — and likely won't use for at least another two years — as the taxpayer tab for the troubled project approaches $12 million and counting.
The 1950s and '60s-era double-decker cars are sitting in a rail yard in Owosso, where they are expected to remain for the indefinite future.
The Michigan Department of Transportation started leasing the cars in 2010 for two commuter rail passenger services proposed between Detroit and Ann Arbor, and Howell and Ann Arbor.
But nearly five years later, none of the cars has logged a single commuter passenger mile. There still is no funding and no operator for either proposed commuter service, required environmental studies are not complete, and in the case of the Detroit-Ann Arbor service, even the tracks won't be ready for another two years.
So far, the state has paid the owner of the rail cars, Great Lakes Central Railroad, about $7.6 million to overhaul the cars and another $2.7 million in lease charges. But the per-car lease costs more than doubled in 2013 and 2014 as refurbishments were completed and the cars were certified as rail-worthy. Under the terms of the state's contract with the railroad, MDOT then had to start paying "in-service" rates that total about $3,000 a day, even though the cars are just sitting in a railway maintenance yard in Shiawassee County about 30 miles northeast of Lansing.
MDOT has paid another $1.1 million to its consultant on the rail car project, Pennsylvania-based Quandel.
The roughly $11.4 million spent as of Dec. 31 was mostly paid from Michigan's $300-million Comprehensive Transportation Fund, which is largely raised from fuel taxes and vehicle registration fees and is mainly used to pay for transit and rail.
Under state law, at least 10% of appropriations from the fund must be allocated for intercity passenger services, which includes rail projects. Michael Frezell, a spokesman for MDOT, said the project money came from that allocation and could not have been spent on roads, though it could have been spent on other eligible projects such as a bus service between two Michigan cities or another rail-related project.
The project costs continue to grow, but are still small change compared with the $1.2 billion Gov. Rick Snyder wants to raise for additional road repairs through a May 5 ballot proposal that would raise the sales tax to 7%. Still, lawmakers expressed strong concerns about the expenditures after learning about them from the Free Press.
"They're betting on something that might not even come to fruition," said Rep. Marilyn Lane, D-Fraser, who is minority vice-chair of the House Transportation and Infrastructure Committee.
"I'm mad," Lane said. "If we have these dollars to peel off, we should be fixing the roads. For MDOT to jump so far out front on this is concerning."
Tim Hoeffner, director of MDOT's Office of Rail, conceded the project is "costing us more money than we wished it would."
"I'm not going to try and spin this," Hoeffner said. "Would we have liked to have gotten the service up and running sooner? Absolutely. Would we have liked to have timed the lease and the overhaul of the equipment to better fit with the start of the services? Absolutely."
But Hoeffner said he doesn't think MDOT made a mistake. There's often a long lead time involved in securing equipment, so the department was right to tackle that issue before other needed items were in place, he said. He blamed a poor economy for the commuter rail services not getting up and running more quickly and said the project has been a boost to Michigan workers and businesses, with a large chunk of the renovation money spent in-state.
"Monday morning quarterbacking, hindsighting this, yes, we could have done a lot of things differently," Hoeffner said. "Based on the available information, and based on the estimated risks, we made sound decisions," and "time will tell … whether or not we have failed miserably or been great visionaries."
Sen. Goeff Hansen, R-Hart, chairman of the Senate Appropriations Subcommittee on Transportation, said he doesn't want to say much until he has more information on the contract. The deal was signed during the administration of former Gov. Jennifer Granholm, a Democrat, but amended four times during the administration of Snyder, a Republican — each time to increase the contract's maximum cost.
"Any lease that we're not using for something does concern me," Hansen said. "I need to find out at the end of the day, what are their plans, what is the time frame, when are the cars going to be used."
Under its deal with Great Lakes Central, MDOT could have leased and overhauled just 15 of the cars. Hoeffner agreed that in hindsight it would have made sense to go with a smaller number than 23, since he estimates only five cars, including a spare, would be allocated to a Howell-Ann Arbor commuter service — the one he said he feels has the best chance of going into operation first — and nine cars would be allocated to the Ann Arbor-Detroit service.
For now, MDOT has been putting the cars on display in places such as Ann Arbor and Dearborn to drum up interest in the commuter services. The state agency is also looking for temporary and short-term uses for some of the cars — which were part of Chicago's Metra fleet before their sale to Great Lakes Central — to help offset the hefty lease costs, Hoeffner said.
Possibilities include Amtrak using some of the cars on its Grand Rapids-Chicago service, Hoeffner said. That would require cars with handicapped-accessible restrooms. Initially, Hoeffner opted to refurbish the cars without restrooms but has since reconsidered. MDOT recently spent $300,000 to equip two of the cars with handicap restrooms and may pay to put similar restrooms in other cars, he said.
In the meantime, Michigan Auditor General Doug Ringler has also been looking into the expenditures and a report to the Legislature is expected soon.
Carmine Palombo, deputy executive director of the Southeast Michigan Council of Governments, has been working with local officials on developing the commuter rail services. He said there's enthusiasm for the projects all along the proposed lines, but the best bet for the Detroit-Ann Arbor service might be if the new Regional Transit Authority of Southeast Michigan decides to include the proposed service in a four-county transit-related ballot proposal planned for November 2016.
Rail upgrades are under way for the next two construction seasons on the rail line the Ann Arbor to Detroit service would use, and both Hoeffner and Palombo said they don't want to start that service during construction work that could cause delays.
"The real key on both of these services is that without a commitment from the local communities to provide funding to help cover the operating deficits of the service, they're not going to get moving," Palombo said.
Michael Cicchella, a former supervisor of Northfield Township in Washtenaw County, said he worked hard on promoting the commuter service in 2007 and 2008 before stepping aside in frustration. He cited resistance in Livingston County government for the project not proceeding when he thought it should have.
It's too bad, Cicchella said, because commuter rail service between Howell and Ann Arbor could save lives by taking thousands of commuters a day off heavily congested U.S.-23.
Hoeffner said it can cost $2 million to $3 million per car to purchase new cars, and $400,000 to $500,000 per car to purchase new equipment. On that basis, the cost of the project — which now approaches $500,000 per car when renovation costs are included — is not out of line, he said.
Still, "without having firm dates as to when these services are going to start and what all of that is, I believe that it is prudent to question what we've done," Hoeffner said.
Source: http://www.freep.com/story/news/politics/2015/01/31/mdot-costly-idle-rail-passenger-cars/22655363/
From The Ann Arbor News:
Could the castle-like building that houses the Gandy Dancer restaurant in Ann Arbor return to its former glory as a rail depot?
That's an idea the city and its consultants are now exploring at the request of the federal government.
Eli Cooper, the city's transportation program manager, said the Federal Railroad Administration has asked the city's project team to give further consideration to the historic Michigan Central Railroad Depot as a future train station option.
"They requested the same level of concept planning and cost estimation as the other sites remaining in the analysis," Cooper said, referencing the fact that the city still is studying a site on Fuller Road and the existing Amtrak site on Depot Street.
"Our team has been busy crafting those concepts, costs and evaluating the implications of this alternative," he said. "The work is ongoing."
The Romanesque-style depot, built in 1886 and opened in 1887, was converted into the upscale seafood restaurant known as the Gandy Dancer around 1970.
The city has been exploring options for building a new train station for several years, citing concerns about the ability of the existing Amtrak station on Depot Street, immediately to the west of the Gandy Dancer, to handle growing passenger volumes. A new Amtrak station would replace the Amtrak station that was built in 1983.
The city moved forward on a study of potential sites for a new station in 2014, narrowing the list to two: the existing Amtrak site, and a piece of Fuller Park in front of the University of Michigan Hospital along Fuller Road.
If the existing Amtrak site is redeveloped, the city's project team already is considering the possibility of using a portion of the old MichCon property that DTE Energy owns across the tracks as part of the new station's footprint.
But as the city and its consultants continue evaluating the existing Amtrak site and the Fuller Road site, the FRA is now requesting additional details in the evaluation of the potential use of the historic Michigan Central Railroad Depot building.
Cooper notes the project team already included study of the Gandy Dancer location as part of the environmental review process.
"We submitted materials to the FRA including information about the (Gandy Dancer) site," he said. "The FRA requested we continue to evaluate this location as part of the environmental review. They asked that we develop concept plans and costs associated with use of the (Gandy Dancer) as one of the alternatives."
The city has hired consultant URS Corp. for $824,875 to lead the new train station study. A little less than $165,000 is coming from funds the city previously budgeted, with the rest covered by a federal rail grant the city accepted in 2012.
The $2.8 million federal rail planning grant also is expected to cover some additional future expenses if the project moves forward.
Final design of a new Amtrak station is identified as a $2.6 million expense in 2016-17 in the city's Capital Improvement Plan. The actual construction of the new station is shown as a separate $44.5 million line item in 2017-18.
City officials expect 80 percent of the funding to come from the federal government with other local partners potentially contributing funds. Ann Arbor residents get to vote on the project before any construction happens.
Managers at the Gandy Dancer referred requests for comment to the restaurant's corporate owner, Landry's Inc., which did not respond.
City Council Member Sabra Briere, D-1st Ward, said she's fascinated by the idea of having the Gandy Dancer building become the city's train station again.
"I'm intrigued by it," she said. "I don't know what motivated the federal government to ask for this, but if this is the decision that gets made, if the owner of the property is willing to make the sale, I'd be OK with it. It's a fine building."
She said she's surprised by the idea, since the property is privately owned. She said it's not yet clear whether the city or the federal government would buy it.
"What I really like about using that building is it is a landmark," she said. "We talk about wanting a gateway building to the city. Well, there it is. It's already there."
When the new Michigan Central Railroad Depot opened in 1887, boosters described it as the finest on the line between Buffalo and Chicago.
The depot served as the gateway to Ann Arbor at a time when trains were the major means of intercity travel. More than a dozen trains a day brought freight, as well as crowds of visitors, business people, entertainers and students.
"The central building had ornate waiting rooms, an elaborate ticket booth, coffered wood ceilings, stained glass windows, and a large terra-cotta fireplace," reads a historic marker near the site, noting there was a garden with a fountain.
"Enthusiastic crowds came to see presidents, prominent politicians, and visiting dignitaries, some of whom spoke from the rear platform of the train," the marker reads, noting some arrived in private railway cars.
"Patriotic fanfare and emotional farewells sent troops off to war. U-M football teams departed and returned to mobs of cheering fans."
One of the images on the marker shows Richard Nixon, then running mate of presidential candidate Dwight Eisenhower, addressing a crowd from a train in 1952.
In 1969, the station sold and was converted into the Gandy Dancer. The former express office served as the depot until today's Amtrak station was built in 1983.
Source: http://www.mlive.com/news/ann-arbor/index.ssf/2015/02/back_to_the_future_could_the_g.html
Do you want a train from Traverse City to Ann Arbor? 
Learn how rail is taking off in the state and what we can do to make a connection to southern Michigan a reality.
When: Monday, Feb. 16, 2015 at 7 p.m.
Where: State Theatre, Traverse City
What: In 2012, Michigan created its first State Rail Plan, a $10 billion strategy for modernizing the state's rail system. Since then, Michigan has been accelerating rail projects at a pace it hasn't seen since the 19th century. And someday, we may see trains to Traverse City.
Join transportation leaders from across the state to learn about new rail projects, including the M-1 Rail project in Detroit, the Washtenaw-Livingston (WALLY) commuter line in Ann Arbor—and plans to explore a passenger train connection to Traverse City.
Stay after the discussion for a free showing of Alfred Hitchcock's "Strangers On a Train."
Email james@mlui.org for more information.
Click here to save this file or to view it as a PDF in full screen.

We welcome in the New Year with:
We hope you enjoy the issue and that you will let us hear your comments and suggestions. If you would like to write a story or suggest an item to be covered, email us at marprail@yahoo.com
For those without a PDF reader, click on the images below to view them full screen.
Page 1
Page 2
Page 3
Page 4
Amtrak is offering discounts on select routes in Michigan beginning January 5, 2015:
Book your travel now through March 30, 2015, for travel January 5 through March 31, 2015, to save. Your trip could take you to shimmering shores of Lake Michigan or Lake Huron, or bring you as far as Grand Rapids or Detroit.
Travel the following routes, including:
The Blue Water – which stops in Kalamazoo, Battle Creek and the maritime town of Port Huron
The Pere Marquette – offers a scenic ride that connects Chicago and Grand Rapids.
The Wolverine – travels east from Chicago all the way to Detroit.
Have a Relaxing or  Adventurous Winter Getaway
Make the most of The Midwest Winter Warm Up Sale and enjoy traveling in comfort with less stress and great amenities. Your winter getaway begins the minute you step onboard. And when you book now through March 30, 2015, for travel January 5 through March 31, 2015, you'll have even more to enjoy — a savings of 20%.
CLICK HERE FOR DETAILS: http://www.amtrak.com/travel-to-michigan-and-save-20-percent-this-winter?WT.mc_t=MIWinter2015_EXT&WT.mc_n=MichiganPage&WT.mc_r=365
MARP Member Meeting
Sat., Jan. 10, 2015
10 a.m. – 12 p.m.
Former GTW Depot, now the REO Town Depot
Lansing Board of Water & Light
1205 S. Washington Ave
Lansing MI 48910
MARP's first meeting of the New Year promises to be a memorable one. Bob Johnston, well-known to us for his interesting articles in TRAINS Magazine will be our very special speaker. We expect to hear his insights on such Midwest  issues as the Hoosier state, the South-of-the-Lake project, and the possibility of Talgo trains in Michigan, as well as thoughts on the future of Amtrak's long distance trains. Bob also promises a special "surprise" for us.
The meeting will take place at the historic Grand Trunk Western Railway Station in Lansing. Built in 1902, this classic Spier & Rohn-designed building hasn't seen service as a passenger station since 1971 and was 4 years into its life as a restaurant when Gerald Ford dropped by for lunch during a whistle stop campaign tour in 1976.
The building has been painstakingly restored in conjunction with the development of the new Lansing Board of Water & Light cogeneration plant with which it shares the 5.3 acre site in the area known as REO Town. The depot is listed on the State Register of Historic Sites and the National Register of Historic Places.
The BWL spent more than $2.8 million restoring the depot to serve as the home for board meetings and employee training. From its terra cotta roof to the dark wood ceiling, period light fixtures, windows, walls and wainscoting, the restoration has been described as "stunning".
Two design firms, Ann Arbor's Quinn Evans and Cornerstone of Grand Rapids, shared the design work on the restoration. Two Lansing-based companies, Granger Construction and Christman Co., did the exterior and interior work, respectively.
The eye-catching terra cotta roof involved a bit of serendipity. The tiles were 110 years old and needed to be replaced. The original manufacturer — Ludowici Roof Tile Co. of New Lexington, Ohio, a 120-year-old company with roots in Renaissance Rome and still in business — had the original plans for the depot and produced 14,600 new tiles to the original specifications.
Following the meeting, please plan to socialize over lunch at Clara's Lansing Station, another of Lansing's historic railway stations, at 637 East Michigan.
Michigan Association of Railroad Passengers
From Crain's Detroit Business:
The orange barrels making for a traffic slalom course on Woodward Avenue north of Grand Circus Park will continue through the winter for M-1 Rail streetcar construction in Detroit, the project said today.
Work will include continued construction on freeway overpasses and underground utility relocation, M-1 COO Paul Childs said.
Woodward, even in construction zones, will be plowed in accordance with city and state policies.
The project will suspend work if temperatures and weather conditions become unsafe for workers.
"Our protocol ensures the dedicated crew members who work in the cold are protected should the weather become too severe," Childs said. "The safety of our crew is an overriding priority; simply, if the cold is extreme, we won't work that day. However, we don't anticipate an impact to our overall schedule, since we accounted for these situations when we developed our timeline for completion in late 2016."
Construction will be halted on Christmas Day and New Year's Eve.
Storm/sewer work will begin soon in the neighborhood between West Grand Boulevard and Bethune Street, M-1 said.
"Working through the winter lays the groundwork that allows for our construction crews to quickly ramp up once the weather breaks," Childs said. "Next year, construction will reach its peak; we have an aggressive schedule planned that will ensure we are able to deliver the project safely and on time in 2016."
Dates, times and locations will be announced in early 2015 for community update meetings to discuss the spring construction schedule, M-1 said.
In 2015, M-1 expects to install track between State and Larned streets, around Campus Martius Park and between Adams Avenue and I-75 as soon as weather permits.
Station platforms will be poured at Larned, north of Campus Martius Park, at Grand Circus Park and north of Montcalm Street, M-1 said.
The Michigan Department of Transportation will begin its Woodward reconstruction from the Fisher Freeway north to Chandler Street. M-1 will concurrently install its track.
Additionally, foundations for the overhead electrical lines that will power M-1's six streetcars will be installed next year, along with new traffic signals, streetcar system conduits, station platforms and other infrastructure upgrades.
The Woodward overpass at I-75 and I-94 should be completed by late fall 2015, M-1 said.
The $6.9 million Penske Technical Center between Custer and Bethune streets will be designed and built next year. The facility will be used for the system's maintenance and operations.
Construction of the $137 million 3.3-mile streetcar loop began in July.
M-1 Rail is a nonprofit using a blend of public and private funding to finance construction and operations.
The line is a mostly curbside fixed-rail streetcar circulator system, which will be commingled with traffic. It will have 20 stations at 12 stops between Grand Boulevard and Congress Street, and run in the median at its north and south ends.
Organizers predict 5,000 to 8,000 riders a day.
Specifics on work schedules and project details can be found at m-1rail.com.
Source: http://www.crainsdetroit.com/article/20141212/NEWS/141219946/m-1-rail-details-winter-work-schedule-crew-will-work-through-cold-to
From Crain's Detroit Business:
The second phase of $8 million in federal New Markets Tax Credit funding for the $137 million M-1 Rail streetcar project in downtown Detroit has been received.
The first round was received earlier this year, according to a news release.
New Markets investors receive over seven years tax credits equal to 39 percent of the total qualified investment — 5 percent each of the first three years, and 6 percent each of the next four.
The M-1 Rail project is the first public transportation initiative to receive funding through New Markets Tax Credits, said a news release.
Investors in the NMTC funding are J.P. Morgan Chase, Invest Detroit, the Great Lakes Capital Fund, Local Initiatives Support Corp., and United Fund Advisors.
The NMTC was created under the Community Renewal Tax Relief Act of 2000.
M-1 Rail streetcar project, which began construction in July, is 3.3 miles (6.6 miles total) along Woodward Avenue between Grand Boulevard and Congress Street. It will have 20 stations at 12 stops in that stretch.
Organizers predict 5,000 to 8,000 riders a day, with a basic one-way fare of $1.50.
Funding the project are private companies, foundations and hospitals, along with local, state and federal government agencies — making for a 24-part public-private arrangement that took seven years to negotiate and create.
Source: http://www.crainsdetroit.com/article/20141224/NEWS/141229920/m-1-rail-receives-second-phase-of-federal-tax-credit-funding
Amtrak is adding 12 additional Wolverine Service trains between Michigan and Chicago to provide expanded December and January holiday travel options. Amtrak will offer an additional eastbound and westbound Wolverine Service train daily between Chicago and Ann Arbor from Dec.26, 2014 through Jan. 4, 2014.
Passengers should book their tickets now for best availability and pricing. Ordinarily, Amtrak and Michigan Department of Transportation provide three daily round-trips between Detroit-area stations and Chicago.
The extra Wolverines (Trains 356 & 359) will operate in addition to regular Wolverines (Trains 350-355) with approval from Norfolk Southern and CN railroads. Please see the attached schedules, which include the Blue Water (Trains 364 & 365), which share the Wolverine route between Battle Creek and Chicago.
The success of extra Amtrak trains during the Thanksgiving period, with more than
35,000 passengers in Michigan, prompted additional Amtrak trains this month and next.
Click here to save this file or to view it as a PDF in full screen.

Inside you'll find:
Hometown Christmas celebration at Niles Amtrak station on Saturday, December 6
Christmas Dinner at the Historic Durand Union Station, December 12
Trans4M Advocacy Day at the Capitol, Wednesday, December 10
Public Comment Due December 19 on Chicago-Detroit/Pontiac Passenger Rail Corridor DRAFT EIS
Legislature Poised to Increase Transportation Funding
Report of MARP Meeting in Port Huron, November 15
We hope you enjoy the issue and that you will let us hear your comments and suggestions. If you would like to write a story or suggest an item to be covered, email us at marprail@yahoo.com
For those without a PDF reader, click on the images below to view them full screen.
Page 1
Page 2
Page 3
Page 4
The city of Dearborn is hosting an open house 4 to 6 p.m., Monday, Dec. 15, 2014 at the John Dingell Transit Center, 21201 Michigan Ave.
The new 16,000-square-foot facility is the first of many steps to boost intermodal transportation and encourage more people to take the train when they travel.
The transit center was funded entirely with $28.2 million from the federal American Recovery and Reinvestment Act of 2009. With almost 80,000 travelers in 2014, the old facility located about a mile east of the new station, was one of the busiest train stations in Metro Detroit.
During the open house, visitors can tour the station, see informative displays and talk with people knowledgeable about the future of train travel. A mural created by Dearborn students will also be featured. Congressman John Dingell (D-MI) and his wife, Debbie are expected to be at the open house.
From Detroit Free Press:
As Wolverine Train No. 351 to Chicago left Dearborn this morning, the Rev. John Koski was there, waving as it pulled away from the platform after picking up 68 passengers at the new John D. Dingell Transit Center shortly after 7 a.m.
Koski, 64, of Dearborn and associate pastor of the city's Springwells Church, was impressed.
"This is going to be a great place," he said, noting its proximity on Michigan Avenue near Evergreen to The Henry Ford and a local bike path. "This is going to be a great asset to Dearborn."
Koski said he was also at the station to "dedicate this to the Lord" ahead of an open house planned for 4-6 p.m. Monday.
The federally funded, $28.2 million, 16,000-square-foot center is designed as an intermodal passenger rail station on the Chicago-Detroit/Pontiac. It's near the Rouge River Gateway Greenway Trail that connects to the University of Michigan-Dearborn and Henry Ford College campuses, and a pedestrian bridge should make it easy for passengers to enter the Henry Ford and Greenfield Village, Dearborn city spokeswoman Mary Laundroche has said.
The station, which features a mosaic of blue tiles stretching out in rays and stars and smaller green arches designed by local students, also has a number of interesting features, including heat lamps in a mostly enclosed waiting area outside. And the platform itself can adjust so the distance to the train is less for those boarding or move to accommodate wider loads passing through, according to Amtrak spokesman Marc Magliari.
A Tim Hortons also is being completed near the station.
It's the third train station to open in Michigan in recent months. In October, the long-delayed $6.4 million Troy Transit Center and the $6.1 million Vernon J. Ehlers Amtrak Station opened in Grand Rapids opened for business.
This morning, the lobby of the new Dearborn station at 21201 Michigan Ave., which is about two miles west of the old station, was filled with riders, many of them who had visited Niagara Falls as part of a tour group.
Gary King, 54, of Ridgway, Ill., called the station gorgeous, while Sherri Ulbrich, 72, who was traveling with her husband Bob Cox, of St. Charles, Mo,, noted with a smile that the temperature could be warmer.
But Debbie Williams, 43, of Riverview marveled at the packed lobby.
"I've never seen it this full," she said, describing the new station as an improvement. "The old station could fit in (this lobby). … It's probably a little overwhelming compared to the last one. I had to make sure I was in the right place."
Williams said she was traveling to Chicago to see a Bob Seger concert with a friend.
Patrick Socia, 58, of Texas Township near Kalamazoo, was headed home. He works for Quicken Loans in Detroit and travels back and forth regularly.
He takes the train more often when gas prices are high.
"You can plug in, do your work. It's comfortable, not as ugly as a bus," he said.
Hyginia Malinowski, 54, who recently moved to Dearborn from Williamsburg, Va., after her husband got a job with Ford, was traveling to Chicago with her friend, Susan Smith, 56, of Basel, Switzerland.
She was a bit anxious about the trip after learning that a man with possible mental health issues had been accused of stabbing four people Friday on a train heading to Port Huron, but she noted that "what are the chances it would happen again?"
This trip would mark her first in Dearborn.
"Everybody tells us it's the best way to go," she said.
Source: http://www.freep.com/story/news/local/michigan/wayne/2014/12/10/amtrak-opens-new-train-station-dearborn/20195409/
From the National Post (Canada):
Via Rail Canada hopes to reduce congestion by building its own network of dedicated tracks, and the passenger rail service wants to enlist the help of private equity to do it.
Currently, 90% of the track that Via uses is owned by Canadian National Railway Co., and this shared infrastructure can result in bottlenecks as freight and passenger trains vie for space.
"Our on-time performance has deteriorated significantly over the last 12 months," Yves Desjardins-Siciliano, president and CEO of Via Rail, said in an interview at Via's headquarters in Montreal.
"Congestion is the No. 1 issue, and it has negative impacts on the Canadian economy as a whole because it makes both freight traffic and passenger traffic less efficient."
CN said it does not publicly disclose how much of its revenue comes from Via.
In the third quarter, Via's trains were on time 77% of the time, down from 83% a year earlier. The worst performer was the tourist-friendly route from Toronto to Vancouver, known as the Canadian, where on-time performance fell to 25% from 41% in the second quarter.
Mr. Desjardins-Siciliano — who was Via's chief corporate and legal officer before he was appointed CEO in May — said the solution is to gradually build up a network of dedicated tracks that Via can use, separate from the freight carriers and commuter trains. Currently, Via owns only 2% of the network on which it operates.
Via's first priority is acquiring track in the busy corridor between Quebec City and Windsor, Ont., which accounts for 90% of the railway's volume. But the challenge for the Crown corporation is finding the money to undertake the costly process of building its own dedicated line.
Last week, the federal government announced $204 million in new funding that will be divided between Via and federally-owned and operated airports.
Mr. Desjardins-Siciliano said he doesn't know exactly how much of that money will go to Via, but the funds will be used to acquire rail lines. And he plans to ask provincial and municipal governments for funding as well if they want Via to provide additional service — something Amtrak has done in the United States.
Via will consider buying tracks that other railways don't need anymore, acquiring existing railway beds that have been abandoned, or building new tracks from scratch, he added.
"You don't build it overnight," he said. "You build it a trunk at a time."
Unlike his predecessors, Mr. Desjardins-Siciliano is also open to exploring funding options beyond taxpayer dollars, including private capital.
The Ontario Teachers' Pension Plan and Borealis Infrastructure — an arm of the Ontario Municipal Employees Retirement System — paid approximately $3.4-billion in 2010 for the rights to operate High Speed One, the rail link between London and the mouth of the Channel Tunnel to France.
"So there is an interest in investing in infrastructure for passenger rail, provided there's a business opportunity," said Mr. Desjardins-Siciliano.
Mark Romoff, president and CEO of the Canadian Council for Public-Private Partnerships, said he believes there would be "a lot of interest" from the private sector in Via's project.
"Depending on how they chose to structure it, it could go ahead as a public-private partnership and yes, there would be a lot of interest on the part of the financial community to engage in a project like this," Mr. Romoff said.
But Mr. Desjardins-Siciliano said he won't make his pitch to private investors until Via improves its financial results.
"You can't go to the private markets when you have bad on-time performance, lower or stagnant passenger volumes and congested rail infrastructure and are losing $300-million a year and expect private investors to be interested," he said. "I believe you have to make the case first."
In the third quarter, Via shrunk its operating loss by 12.1% to $65.8 million, allowing the government to reduce its contribution by 9.4% to $83.1 million. Passenger revenues rose 6.6% to $77 million.
Mr. Desjardins-Siciliano said his goal is to reduce Via's reliance on federal funding by getting its busiest routes — those in the Quebec City-Windsor corridor and tourist-friendly offerings like the Canadian — to break even. The government would then only need to subsidize remote routes and capital investments like locomotives and train tracks.
"You don't get subsidized to go to Cuba and someone shouldn't be subsidized to go see the Rockies or go to the beach in New Brunswick," he said.
You don't build it overnight… You build it a trunk at a time
One way for Via to break even on its busier routes is to increase passenger volumes so that each train generates more revenue at a lower cost per passenger.
The company is making a concerted effort to become more attractive to potential passengers. Since 2007, Ottawa has invested almost $1 billion in Via and the railway has put that toward renovating its carriages, offering better food, improving service and developing promotions aimed at particular groups, such as university students and business travellers.
Mr. Desjardins-Siciliano said Via is focused on attracting people who usually drive but are frustrated by the amount of congestion they encounter.
"There are days when getting in and out of Montreal or Ottawa, for example, will be 50% if not more of the travel time between Montreal and Ottawa," he said. "That's where train travel is a huge advantage."
He added that congestion is much more likely to motivate people to take the train than high gas prices, and he doesn't expect much impact on passenger volumes from the recent drop in oil prices.
Ultimately, though, Via needs to change Canadians' perceptions of the value of train travel if it wants to win them over, Mr. Desjardins-Siciliano said.
"One of the drawbacks or difficulties of promoting and marketing Via Rail is many Canadians have not experienced Via since they were kids, so they may have a romantic view of Via, or they may have a past experience of Via as being old technology," he said.
"We are trying to get people to recognize that the Via of today is a much more modern experience than people may remember."
Source: http://business.financialpost.com/2014/12/04/via-rail-eyeing-private-capital-to-build-its-own-dedicated-rail-lines/
From the Sault Star: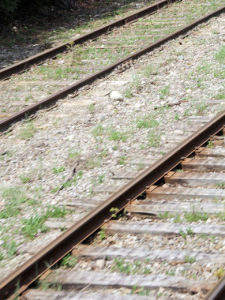 Three rail companies have submitted formal bids to operate the Algoma Central Railway passenger service between Sault Ste. Marie and Hearst.
The same three rail companies have also submitted bids to CN Rail to operate the tour train service.
The ACR Passenger Service Working Group met Monday to hear CN Rail's take on the formal bids and to further assess the bids for the passenger service.
"We will move the markers forward, we're just not sure how much yet," said city CAO Joe Fratesi prior to the meeting.
If CN Rail provides information that it has selected a preferred operator, then the working group will need to determine how it's plans and ideas will merge with that operator.
Following the meeting, Fratesi said that CN and the working group have zeroed in on a provider but still needs to seek some clarification and missing information.
"It's fairly important details that we're looking for," Fratesi said. He anticipates a response by the potential operator in early January.
He could not disclose what information is needed by either CN or the working group.
Once that information is received, and all the parties are satisfied, Fratesi said a plan can be put together for the Transport Minister.
It's believed that all parties are pleased that the same companies submitted bids to run both the passenger service and the tour train operations.
"It would be very awkward if they were not the same of if one company was good for one purpose but not the other," Fratesi said.
He stressed that there will be a role for the federal government to play in the continued operation of the passenger rail service.
"We have been told that they (the federal government) won't play a role to the contribution they are currently involved in, but there will be a role for them," he said. "And we have never faltered in our view that there needs to be federal support there for the long term and we all need to feel comfortable with the arrangement."
Linda Savory-Gordon, co-chair of the Coalition for Algoma Passenger Trains and member of the working group, said she's pleased with the quality of the applicants.
"We're anxious for a decision to be made so we can move forward with a sustainability plan and increase ridership and train events," she said.
Savory-Gordon is a firm believer that special train events will create a strong draw and boost in revenue for the successful operator.
"We saw our Searchmont North Pole Express sell out in 20 minutes and I believe that's a strong indication that these type of events could boost the revenue stream and make the train more sustainable," she said.
Once a third-party operator is selected to operate the passenger service, a sustainability plan will be presented to the federal government, outlining recommendations that include efficiency improvements, economic benefits of a continued rail passenger service and a request for assistance to continue the train operations.
The ACR Passenger Service Working Group represents a large number of stakeholders who rely on the passenger train service for their communities, businesses or tourism, among other things.
It was formed in 2014, shortly after the federal government announced its intention to eliminate a $2.2 million annual investment in the remote passenger rail operation.
The service is currently operating as a result of the government granting the funding a one-year extension, giving the stakeholder's group an opportunity to come up with a working plan.
The funding ends in March.
An economic impact assessment completed by BDO Canada showed that the ACR passenger service generates more than $38 million in annual economic activity in the region.
Source: http://www.saultstar.com/2014/12/08/acr-passenger-stakeholder-group-moving-forward
From The Kalamazoo Gazette:
A Saginaw man accused of stabbing four people on an Amtrak train in Niles Friday was arraigned today in Berrien County District Court.

Michael Darnell Williams, 44, was formally charged with four counts of assault with intent to murder, according to the Berrien County Prosecutor's Office. Each charge carries a maximum penalty of life in prison.
He is being held in the Berrien County Jail on a $1 million bond.
Williams' preliminary examination has been scheduled for Tuesday, Dec. 16. He is expected to be represented by a court-appointed attorney, according to the prosecutor's office.
At about 7 p.m. Friday, the Niles Police Department received a report of a man "acting odd and becoming agitated" on board an Amtrak train heading toward Niles and was requested to send officers to investigate.
Niles Police Chief Jim Millin previously said officers who arrived at the depot noticed a "commotion" on one of the train cars as passengers tried to exit quickly. Officers then pushed their way onto the train and confronted Williams, who was armed with a knife.
Williams was subdued with the use of a Taser and was taken into custody, Millin said.
Millin said officers located four victims on the train car who had been cut and stabbed by the suspect. The victims included a train conductor, who remains hospitalized in stable condition, an Amtrak spokesman said Monday.
Since the incident, several family members have expressed concerns about Williams' mental health, including his sister, Tracy Williams. She told the Saginaw News that Michael Williams is a veteran who she believes was suffering from paranoid hallucinations that made him fear for his life.
Berrien County Assistant Prosecutor Amy Byrd, who is leading the prosecution of Williams, did not immediately respond to an inquiry Wednesday pertaining to whether a psychological evaluation would be conducted on Williams to determine if he was mentally fit to stand trial.
Amtrak spokesman Marc Magliari said earlier Monday that Amtrak is assisting Niles Police Department in the investigation and isn't conducting its own investigation into the incident.
Knives are prohibited on Amtrak trains, and Amtrak police perform random inspections of passenger baggage, the company said in a statement issued to the Kalamazoo Gazette on Monday.
The stabbings occurred on Amtrak train 364, the Blue Water line, which runs between Chicago and Port Huron, and 172 passengers were on board at the time of the incident.
Source: http://www.mlive.com/news/kalamazoo/index.ssf/2014/12/amtrak_train_stabbings_suspect.html#incart_story_package
More stories:
From the Dearborn Press & Guide:
Amtrak passengers have to wait just a few more days before taking advantage of the new station's amenities. It is scheduled to open Wednesday, Dec. 10, 2014.
The first train will roll into the new station, 21201 Michigan Ave. at 6:51 a.m.
Amtrak is moving all of its operations from the current train station behind the Dearborn Police Station to the new 16,000-square-foot Dingell Transit Center.
City leaders say the transit center promotes intermodal transportation, connecting travelers via train, bus, taxi and pedestrian and bike paths to work, education, cultural attractions, shopping and recreation in Dearborn and beyond.
The station is an important component in initiatives to boost commuter rail from Ann Arbor to Detroit and accelerated speed rail from Pontiac to Chicago.
Six Amtrak trains will stop daily at Dingell Transit Center, with increased Amtrak service and the addition of commuter rail expected in the coming years.
Almost 80,000 passengers used the current Amtrak station during the 2014 fiscal year.
In fact, Dearborn is the most popular Amtrak location in the Detroit metropolitan area, according to Marc Magliari, spokesman for Amtrak.
He expects that number to grow.
"Dearborn is excited to be part of the future of rail. We will continue to work with our partners to increase convenient travel that starts in Dearborn and takes riders throughout southeast Michigan, as well as between Dearborn and Chicago," said Mayor Jack O'Reilly.
"We're anticipating bringing more customers to our Dearborn businesses and more visitors to our cultural and entertainment venues," O'Reilly said. "And in the near future, people are going to find it very easy to get on a train in Dearborn and connect with the new M1-Rail in Detroit for an evening out or to go to a game."
Magliari said Amtrak is planning to expand in the future, adding to the six lines already running from Dearborn.
Right now, he said the most popular trips from Michigan are to Chicago and sites in western Michigan.
The transit center was funded entirely with $28.2 million from the federal American Recovery and Reinvestment Act of 2009.
The city of Dearborn owns the station and the seven-acre site, while Amtrak will run the facility.
Residents hoping to get a look inside the new facility are welcome to attend an open house scheduled for Dec. 15.
The open house takes place from 4-6 p.m. at the transit center, which sits near Brady Street and marks the entrance to the west downtown business district.
During the open house, visitors can tour the station, see informative displays and talk with people knowledgeable about the future of train travel. A mural created by Dearborn students will also be featured.
Congressman John Dingell (D-MI) and his wife, Debbie are expected to be at the open house.
In addition, people attending the open house can enter a free drawing to win tickets to The Henry Ford's popular Holiday Nights in Greenfield Village.
The Henry Ford has historic displays inside the center, including an iconic Davenport train engine.
The transit center also features a pedestrian bridge over the tracks that will allow travelers to access a new entrance to The Henry Ford complex, including the Henry Ford Museum, Greenfield Village, the IMAX Theater, and Ford Rouge Factory Tours.
About 1.6 million people a year visit The Henry Ford.
Ford Motor Company expects to showcase a new F-150 on site, as well.
The transit center has received a silver certification from the U.S. Green Building Council's
Leadership in Environmental and Energy Design. The building features a metal roof with solar collectors, energy efficient lighting and geothermal heating and cooling.
Source: http://www.pressandguide.com/articles/2014/12/05/news/doc5481b8177aefd896121105.txt?viewmode=fullstory