Amtrak is adding 12 additional Wolverine Service trains between Michigan and Chicago to provide expanded December and January holiday travel options. Amtrak will offer an additional eastbound and westbound Wolverine Service train daily between Chicago and Ann Arbor from Dec.26, 2014 through Jan. 4, 2014.
Passengers should book their tickets now for best availability and pricing. Ordinarily, Amtrak and Michigan Department of Transportation provide three daily round-trips between Detroit-area stations and Chicago.
The extra Wolverines (Trains 356 & 359) will operate in addition to regular Wolverines (Trains 350-355) with approval from Norfolk Southern and CN railroads. Please see the attached schedules, which include the Blue Water (Trains 364 & 365), which share the Wolverine route between Battle Creek and Chicago.
The success of extra Amtrak trains during the Thanksgiving period, with more than
35,000 passengers in Michigan, prompted additional Amtrak trains this month and next.
Click here to save this file or to view it as a PDF in full screen.

Inside you'll find:
Hometown Christmas celebration at Niles Amtrak station on Saturday, December 6
Christmas Dinner at the Historic Durand Union Station, December 12
Trans4M Advocacy Day at the Capitol, Wednesday, December 10
Public Comment Due December 19 on Chicago-Detroit/Pontiac Passenger Rail Corridor DRAFT EIS
Legislature Poised to Increase Transportation Funding
Report of MARP Meeting in Port Huron, November 15
We hope you enjoy the issue and that you will let us hear your comments and suggestions. If you would like to write a story or suggest an item to be covered, email us at marprail@yahoo.com
For those without a PDF reader, click on the images below to view them full screen.
Page 1
Page 2
Page 3
Page 4
The city of Dearborn is hosting an open house 4 to 6 p.m., Monday, Dec. 15, 2014 at the John Dingell Transit Center, 21201 Michigan Ave.
The new 16,000-square-foot facility is the first of many steps to boost intermodal transportation and encourage more people to take the train when they travel.
The transit center was funded entirely with $28.2 million from the federal American Recovery and Reinvestment Act of 2009. With almost 80,000 travelers in 2014, the old facility located about a mile east of the new station, was one of the busiest train stations in Metro Detroit.
During the open house, visitors can tour the station, see informative displays and talk with people knowledgeable about the future of train travel. A mural created by Dearborn students will also be featured. Congressman John Dingell (D-MI) and his wife, Debbie are expected to be at the open house.
From Detroit Free Press:
As Wolverine Train No. 351 to Chicago left Dearborn this morning, the Rev. John Koski was there, waving as it pulled away from the platform after picking up 68 passengers at the new John D. Dingell Transit Center shortly after 7 a.m.
Koski, 64, of Dearborn and associate pastor of the city's Springwells Church, was impressed.
"This is going to be a great place," he said, noting its proximity on Michigan Avenue near Evergreen to The Henry Ford and a local bike path. "This is going to be a great asset to Dearborn."
Koski said he was also at the station to "dedicate this to the Lord" ahead of an open house planned for 4-6 p.m. Monday.
The federally funded, $28.2 million, 16,000-square-foot center is designed as an intermodal passenger rail station on the Chicago-Detroit/Pontiac. It's near the Rouge River Gateway Greenway Trail that connects to the University of Michigan-Dearborn and Henry Ford College campuses, and a pedestrian bridge should make it easy for passengers to enter the Henry Ford and Greenfield Village, Dearborn city spokeswoman Mary Laundroche has said.
The station, which features a mosaic of blue tiles stretching out in rays and stars and smaller green arches designed by local students, also has a number of interesting features, including heat lamps in a mostly enclosed waiting area outside. And the platform itself can adjust so the distance to the train is less for those boarding or move to accommodate wider loads passing through, according to Amtrak spokesman Marc Magliari.
A Tim Hortons also is being completed near the station.
It's the third train station to open in Michigan in recent months. In October, the long-delayed $6.4 million Troy Transit Center and the $6.1 million Vernon J. Ehlers Amtrak Station opened in Grand Rapids opened for business.
This morning, the lobby of the new Dearborn station at 21201 Michigan Ave., which is about two miles west of the old station, was filled with riders, many of them who had visited Niagara Falls as part of a tour group.
Gary King, 54, of Ridgway, Ill., called the station gorgeous, while Sherri Ulbrich, 72, who was traveling with her husband Bob Cox, of St. Charles, Mo,, noted with a smile that the temperature could be warmer.
But Debbie Williams, 43, of Riverview marveled at the packed lobby.
"I've never seen it this full," she said, describing the new station as an improvement. "The old station could fit in (this lobby). … It's probably a little overwhelming compared to the last one. I had to make sure I was in the right place."
Williams said she was traveling to Chicago to see a Bob Seger concert with a friend.
Patrick Socia, 58, of Texas Township near Kalamazoo, was headed home. He works for Quicken Loans in Detroit and travels back and forth regularly.
He takes the train more often when gas prices are high.
"You can plug in, do your work. It's comfortable, not as ugly as a bus," he said.
Hyginia Malinowski, 54, who recently moved to Dearborn from Williamsburg, Va., after her husband got a job with Ford, was traveling to Chicago with her friend, Susan Smith, 56, of Basel, Switzerland.
She was a bit anxious about the trip after learning that a man with possible mental health issues had been accused of stabbing four people Friday on a train heading to Port Huron, but she noted that "what are the chances it would happen again?"
This trip would mark her first in Dearborn.
"Everybody tells us it's the best way to go," she said.
Source: http://www.freep.com/story/news/local/michigan/wayne/2014/12/10/amtrak-opens-new-train-station-dearborn/20195409/
From the National Post (Canada):
Via Rail Canada hopes to reduce congestion by building its own network of dedicated tracks, and the passenger rail service wants to enlist the help of private equity to do it.
Currently, 90% of the track that Via uses is owned by Canadian National Railway Co., and this shared infrastructure can result in bottlenecks as freight and passenger trains vie for space.
"Our on-time performance has deteriorated significantly over the last 12 months," Yves Desjardins-Siciliano, president and CEO of Via Rail, said in an interview at Via's headquarters in Montreal.
"Congestion is the No. 1 issue, and it has negative impacts on the Canadian economy as a whole because it makes both freight traffic and passenger traffic less efficient."
CN said it does not publicly disclose how much of its revenue comes from Via.
In the third quarter, Via's trains were on time 77% of the time, down from 83% a year earlier. The worst performer was the tourist-friendly route from Toronto to Vancouver, known as the Canadian, where on-time performance fell to 25% from 41% in the second quarter.
Mr. Desjardins-Siciliano — who was Via's chief corporate and legal officer before he was appointed CEO in May — said the solution is to gradually build up a network of dedicated tracks that Via can use, separate from the freight carriers and commuter trains. Currently, Via owns only 2% of the network on which it operates.
Via's first priority is acquiring track in the busy corridor between Quebec City and Windsor, Ont., which accounts for 90% of the railway's volume. But the challenge for the Crown corporation is finding the money to undertake the costly process of building its own dedicated line.
Last week, the federal government announced $204 million in new funding that will be divided between Via and federally-owned and operated airports.
Mr. Desjardins-Siciliano said he doesn't know exactly how much of that money will go to Via, but the funds will be used to acquire rail lines. And he plans to ask provincial and municipal governments for funding as well if they want Via to provide additional service — something Amtrak has done in the United States.
Via will consider buying tracks that other railways don't need anymore, acquiring existing railway beds that have been abandoned, or building new tracks from scratch, he added.
"You don't build it overnight," he said. "You build it a trunk at a time."
Unlike his predecessors, Mr. Desjardins-Siciliano is also open to exploring funding options beyond taxpayer dollars, including private capital.
The Ontario Teachers' Pension Plan and Borealis Infrastructure — an arm of the Ontario Municipal Employees Retirement System — paid approximately $3.4-billion in 2010 for the rights to operate High Speed One, the rail link between London and the mouth of the Channel Tunnel to France.
"So there is an interest in investing in infrastructure for passenger rail, provided there's a business opportunity," said Mr. Desjardins-Siciliano.
Mark Romoff, president and CEO of the Canadian Council for Public-Private Partnerships, said he believes there would be "a lot of interest" from the private sector in Via's project.
"Depending on how they chose to structure it, it could go ahead as a public-private partnership and yes, there would be a lot of interest on the part of the financial community to engage in a project like this," Mr. Romoff said.
But Mr. Desjardins-Siciliano said he won't make his pitch to private investors until Via improves its financial results.
"You can't go to the private markets when you have bad on-time performance, lower or stagnant passenger volumes and congested rail infrastructure and are losing $300-million a year and expect private investors to be interested," he said. "I believe you have to make the case first."
In the third quarter, Via shrunk its operating loss by 12.1% to $65.8 million, allowing the government to reduce its contribution by 9.4% to $83.1 million. Passenger revenues rose 6.6% to $77 million.
Mr. Desjardins-Siciliano said his goal is to reduce Via's reliance on federal funding by getting its busiest routes — those in the Quebec City-Windsor corridor and tourist-friendly offerings like the Canadian — to break even. The government would then only need to subsidize remote routes and capital investments like locomotives and train tracks.
"You don't get subsidized to go to Cuba and someone shouldn't be subsidized to go see the Rockies or go to the beach in New Brunswick," he said.
You don't build it overnight… You build it a trunk at a time
One way for Via to break even on its busier routes is to increase passenger volumes so that each train generates more revenue at a lower cost per passenger.
The company is making a concerted effort to become more attractive to potential passengers. Since 2007, Ottawa has invested almost $1 billion in Via and the railway has put that toward renovating its carriages, offering better food, improving service and developing promotions aimed at particular groups, such as university students and business travellers.
Mr. Desjardins-Siciliano said Via is focused on attracting people who usually drive but are frustrated by the amount of congestion they encounter.
"There are days when getting in and out of Montreal or Ottawa, for example, will be 50% if not more of the travel time between Montreal and Ottawa," he said. "That's where train travel is a huge advantage."
He added that congestion is much more likely to motivate people to take the train than high gas prices, and he doesn't expect much impact on passenger volumes from the recent drop in oil prices.
Ultimately, though, Via needs to change Canadians' perceptions of the value of train travel if it wants to win them over, Mr. Desjardins-Siciliano said.
"One of the drawbacks or difficulties of promoting and marketing Via Rail is many Canadians have not experienced Via since they were kids, so they may have a romantic view of Via, or they may have a past experience of Via as being old technology," he said.
"We are trying to get people to recognize that the Via of today is a much more modern experience than people may remember."
Source: http://business.financialpost.com/2014/12/04/via-rail-eyeing-private-capital-to-build-its-own-dedicated-rail-lines/
From the Sault Star: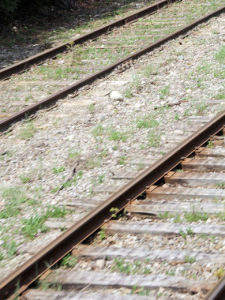 Three rail companies have submitted formal bids to operate the Algoma Central Railway passenger service between Sault Ste. Marie and Hearst.
The same three rail companies have also submitted bids to CN Rail to operate the tour train service.
The ACR Passenger Service Working Group met Monday to hear CN Rail's take on the formal bids and to further assess the bids for the passenger service.
"We will move the markers forward, we're just not sure how much yet," said city CAO Joe Fratesi prior to the meeting.
If CN Rail provides information that it has selected a preferred operator, then the working group will need to determine how it's plans and ideas will merge with that operator.
Following the meeting, Fratesi said that CN and the working group have zeroed in on a provider but still needs to seek some clarification and missing information.
"It's fairly important details that we're looking for," Fratesi said. He anticipates a response by the potential operator in early January.
He could not disclose what information is needed by either CN or the working group.
Once that information is received, and all the parties are satisfied, Fratesi said a plan can be put together for the Transport Minister.
It's believed that all parties are pleased that the same companies submitted bids to run both the passenger service and the tour train operations.
"It would be very awkward if they were not the same of if one company was good for one purpose but not the other," Fratesi said.
He stressed that there will be a role for the federal government to play in the continued operation of the passenger rail service.
"We have been told that they (the federal government) won't play a role to the contribution they are currently involved in, but there will be a role for them," he said. "And we have never faltered in our view that there needs to be federal support there for the long term and we all need to feel comfortable with the arrangement."
Linda Savory-Gordon, co-chair of the Coalition for Algoma Passenger Trains and member of the working group, said she's pleased with the quality of the applicants.
"We're anxious for a decision to be made so we can move forward with a sustainability plan and increase ridership and train events," she said.
Savory-Gordon is a firm believer that special train events will create a strong draw and boost in revenue for the successful operator.
"We saw our Searchmont North Pole Express sell out in 20 minutes and I believe that's a strong indication that these type of events could boost the revenue stream and make the train more sustainable," she said.
Once a third-party operator is selected to operate the passenger service, a sustainability plan will be presented to the federal government, outlining recommendations that include efficiency improvements, economic benefits of a continued rail passenger service and a request for assistance to continue the train operations.
The ACR Passenger Service Working Group represents a large number of stakeholders who rely on the passenger train service for their communities, businesses or tourism, among other things.
It was formed in 2014, shortly after the federal government announced its intention to eliminate a $2.2 million annual investment in the remote passenger rail operation.
The service is currently operating as a result of the government granting the funding a one-year extension, giving the stakeholder's group an opportunity to come up with a working plan.
The funding ends in March.
An economic impact assessment completed by BDO Canada showed that the ACR passenger service generates more than $38 million in annual economic activity in the region.
Source: http://www.saultstar.com/2014/12/08/acr-passenger-stakeholder-group-moving-forward
From The Kalamazoo Gazette:
A Saginaw man accused of stabbing four people on an Amtrak train in Niles Friday was arraigned today in Berrien County District Court.

Michael Darnell Williams, 44, was formally charged with four counts of assault with intent to murder, according to the Berrien County Prosecutor's Office. Each charge carries a maximum penalty of life in prison.
He is being held in the Berrien County Jail on a $1 million bond.
Williams' preliminary examination has been scheduled for Tuesday, Dec. 16. He is expected to be represented by a court-appointed attorney, according to the prosecutor's office.
At about 7 p.m. Friday, the Niles Police Department received a report of a man "acting odd and becoming agitated" on board an Amtrak train heading toward Niles and was requested to send officers to investigate.
Niles Police Chief Jim Millin previously said officers who arrived at the depot noticed a "commotion" on one of the train cars as passengers tried to exit quickly. Officers then pushed their way onto the train and confronted Williams, who was armed with a knife.
Williams was subdued with the use of a Taser and was taken into custody, Millin said.
Millin said officers located four victims on the train car who had been cut and stabbed by the suspect. The victims included a train conductor, who remains hospitalized in stable condition, an Amtrak spokesman said Monday.
Since the incident, several family members have expressed concerns about Williams' mental health, including his sister, Tracy Williams. She told the Saginaw News that Michael Williams is a veteran who she believes was suffering from paranoid hallucinations that made him fear for his life.
Berrien County Assistant Prosecutor Amy Byrd, who is leading the prosecution of Williams, did not immediately respond to an inquiry Wednesday pertaining to whether a psychological evaluation would be conducted on Williams to determine if he was mentally fit to stand trial.
Amtrak spokesman Marc Magliari said earlier Monday that Amtrak is assisting Niles Police Department in the investigation and isn't conducting its own investigation into the incident.
Knives are prohibited on Amtrak trains, and Amtrak police perform random inspections of passenger baggage, the company said in a statement issued to the Kalamazoo Gazette on Monday.
The stabbings occurred on Amtrak train 364, the Blue Water line, which runs between Chicago and Port Huron, and 172 passengers were on board at the time of the incident.
Source: http://www.mlive.com/news/kalamazoo/index.ssf/2014/12/amtrak_train_stabbings_suspect.html#incart_story_package
More stories:
From the Dearborn Press & Guide:
Amtrak passengers have to wait just a few more days before taking advantage of the new station's amenities. It is scheduled to open Wednesday, Dec. 10, 2014.
The first train will roll into the new station, 21201 Michigan Ave. at 6:51 a.m.
Amtrak is moving all of its operations from the current train station behind the Dearborn Police Station to the new 16,000-square-foot Dingell Transit Center.
City leaders say the transit center promotes intermodal transportation, connecting travelers via train, bus, taxi and pedestrian and bike paths to work, education, cultural attractions, shopping and recreation in Dearborn and beyond.
The station is an important component in initiatives to boost commuter rail from Ann Arbor to Detroit and accelerated speed rail from Pontiac to Chicago.
Six Amtrak trains will stop daily at Dingell Transit Center, with increased Amtrak service and the addition of commuter rail expected in the coming years.
Almost 80,000 passengers used the current Amtrak station during the 2014 fiscal year.
In fact, Dearborn is the most popular Amtrak location in the Detroit metropolitan area, according to Marc Magliari, spokesman for Amtrak.
He expects that number to grow.
"Dearborn is excited to be part of the future of rail. We will continue to work with our partners to increase convenient travel that starts in Dearborn and takes riders throughout southeast Michigan, as well as between Dearborn and Chicago," said Mayor Jack O'Reilly.
"We're anticipating bringing more customers to our Dearborn businesses and more visitors to our cultural and entertainment venues," O'Reilly said. "And in the near future, people are going to find it very easy to get on a train in Dearborn and connect with the new M1-Rail in Detroit for an evening out or to go to a game."
Magliari said Amtrak is planning to expand in the future, adding to the six lines already running from Dearborn.
Right now, he said the most popular trips from Michigan are to Chicago and sites in western Michigan.
The transit center was funded entirely with $28.2 million from the federal American Recovery and Reinvestment Act of 2009.
The city of Dearborn owns the station and the seven-acre site, while Amtrak will run the facility.
Residents hoping to get a look inside the new facility are welcome to attend an open house scheduled for Dec. 15.
The open house takes place from 4-6 p.m. at the transit center, which sits near Brady Street and marks the entrance to the west downtown business district.
During the open house, visitors can tour the station, see informative displays and talk with people knowledgeable about the future of train travel. A mural created by Dearborn students will also be featured.
Congressman John Dingell (D-MI) and his wife, Debbie are expected to be at the open house.
In addition, people attending the open house can enter a free drawing to win tickets to The Henry Ford's popular Holiday Nights in Greenfield Village.
The Henry Ford has historic displays inside the center, including an iconic Davenport train engine.
The transit center also features a pedestrian bridge over the tracks that will allow travelers to access a new entrance to The Henry Ford complex, including the Henry Ford Museum, Greenfield Village, the IMAX Theater, and Ford Rouge Factory Tours.
About 1.6 million people a year visit The Henry Ford.
Ford Motor Company expects to showcase a new F-150 on site, as well.
The transit center has received a silver certification from the U.S. Green Building Council's
Leadership in Environmental and Energy Design. The building features a metal roof with solar collectors, energy efficient lighting and geothermal heating and cooling.
Source: http://www.pressandguide.com/articles/2014/12/05/news/doc5481b8177aefd896121105.txt?viewmode=fullstory
From M-live.com, The Kalamazoo Gazette: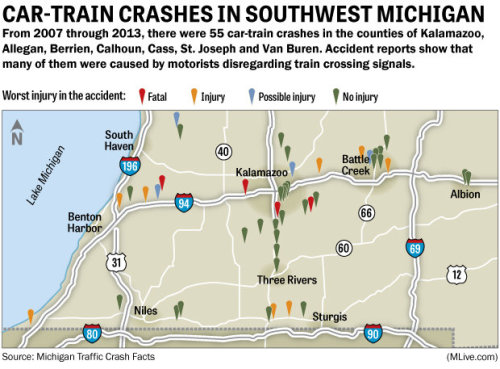 They are almost always avoidable.
But whether because of impatience or negligence, vehicles and trains crashed about once a week in Michigan last year. There were 58 vehicle-train accidents in the state in 2013, including five in Kalamazoo County. That's up 35 percent from the 38 car-train crashes statewide in 2012 and the most since the 61 recorded in 2007, according to data from the Michigan Office of Highway Safety Planning.
And while the majority of the crashes didn't cause injuries, they sometimes turn fatal. On Tuesday, three people were killed when a passenger train struck a minivan on 11th Street near KL Avenue, just west of the city of Kalamazoo. Police say 20-year-old Joshua Cartwright drove around vehicles that were stopped by train crossing signals and was struck broadside by an eastbound Amtrak train.
All three of the van's occupants — Cartwright, 20-year-old Ashley Melson and 19-year-old Justin Mastin — were pronounced dead at the scene. The investigation revealed that railroad crossing lights, gates and bells were functioning at the time of the crash.
"Unfortunately, it's all too common," Marc Magliari, spokesman for Amtrak, said of the cause. "It happens every two to three hours across the country," he said of car-train crashes.
Michigan State Police Lt. Dale Hinz said police don't receive reports of motorists driving around train crossing arms very often.
"It doesn't happen terribly often, thankfully. Because it's a terrible idea," said Hinz, commander of MSP's Paw Paw Post.
According to statistics from the Michigan Office of Highway Safety Planning, from 2007 through 2013 there were 55 car-train crashes in Kalamazoo, Allegan, Berrien, Calhoun, Cass, St. Joseph and Van Buren counties in Southwest Michigan. Of those, 34 resulted in no injuries, 17 involved injuries and four were fatal.
Accident reports show that many of those crashes were caused by motorists disregarding traffic signals, driving around crossing arms or claiming they didn't hear bells and whistles.
"It's almost always the driver's fault," Hinz said. "The train is confined to the tracks. It doesn't get any simpler than that."
Said Magliari: "Trains rarely can stop in time. Whether it's going 50, 90 or 110 miles per hour, it's simply not possible in the law of physics for the train to stop."
In Tuesday's crash, the Amtrak train was going about 80 mph and didn't come to a complete stop until about a mile after striking the van, police said.
Recent fatal crashes in Southwest Michigan are tragic examples of what can happen when drivers aren't careful near train tracks.
On Sept. 15, 2011, Austin Porter, 21, was killed in a collision with a freight train near Schoolcraft. According to Kalamazoo Gazette archives, investigators said Porter was driving west on U Avenue and failed to yield to a northbound Grand Elk Railroad freight train.
Police said they believed Porter attempted to drive around the lowered crossing arms, realized the train was coming, struck one of the crossing arms as he tried to continue over the track and was unable to make it across before the train hit his Chevrolet Impala.
This came two days after 19-year-old Zachariah Zellmer was killed when, according to police, he drove his 1997 Pontiac Sunfire around crossing arms on 52nd Avenue near County Road 687 in Van Buren County's Hartford Township and was struck by an Amtrak train. The train's bells, lights and whistles were all working and the crossing had working lights and control arms, authorities said.
On Sept. 14, 2008, Aubrey Noble, 25, was westbound on McGillen Street in Mattawan when she drove into the path of a westbound Amtrak engine. The train struck Noble's vehicle, breaking it apart, according to the crash report.
As for Tuesday's crash, Hinz said investigators are awaiting toxicology results and continuing to interview witnesses to corroborate their statements. Amtrak provided a video recording of the crash that police are reviewing, he said.
Magliari said Amtrak is committed to reducing the number of car-train crashes, working with police agencies to make sure laws are enforced and providing educational materials to motorists about railroad crossing safety.
From M-1 Rail:
M-1 RAIL announced it has selected a vendor and will begin negotiations for the design and build of the individual streetcars, which will run along the Woodward Avenue route beginning in 2016.  The value of the contract is expected to be approximately $30 million for six separate custom coaches that will feature both regulatory compliance and customer comfort.
"M-1 RAIL will negotiate the final terms and conditions with Inekon Group to build our streetcars," said Paul Childs, chief operating officer of M-1 RAIL.   "Inekon has a strong track record with other streetcar projects in Portland, Seattle, and Washington, D.C., and owns a 40-percent share of U.S.-installed projects.  While Inekon is headquartered in the Czech Republic, our requirements specify that it will be compliant with the U.S. Government's "Buy America" initiative."
Childs said that the Buy America provisions ensure that U.S.-based transportation infrastructure projects are built with American-made products.  "We want to assure that materials, parts, labor, manufacturing processes, and final assembly will meet the Buy America requirements."   Childs said that the M-1 team will announce a final assembly location in the future, but added that several locations in Southeast Michigan are under consideration.  "It's too early to talk about any sourcing or potential manufacturing locations, but we are committed to the principles of Buy America's support of U.S.-based suppliers and the families who work for them."
M-1 RAIL's streetcars also will be compliant with the Americans with Disabilities Act (ADA), allowing for station-level access for pedestrians, and persons who use mobility assist devices such as wheelchairs.  Vertical bicycle racks will be included in the design to accommodate Detroit's burgeoning bicycle community, as well as wireless access for busy passengers, and HVAC systems to facilitate the swings in Michigan's weather.
Each streetcar will be 73 feet long, 8.5 feet wide and 13 feet high, with a vehicle weight of approximately 76,000 pounds.  The cars will be operator-driven, with a double-ended, double-sided configuration.  They will be powered by lithium-ion battery packs, enabling the entire line to run "60 percent off-wire," said Childs.  "Other streetcar projects utilize overhead wiring for everything from vehicle propulsion to the infrastructure of their maintenance and repair sites. M-1 RAIL will minimize its impact on the aesthetics of Detroit's iconic Woodward Avenue, and we also will not have the labyrinth of wires overhead at the Penske Technical Center," he said.  The 'off-wire' technology also enhances safety and enables faster maintenance and repair due to safe, but simpler, procedures for technicians.
Other design-build aspects include:  regenerative braking that adds to the efficiency of the line; ability to travel in the same lane at the same speed as bus and vehicle traffic; 100% low-floor, eliminating multi-level trip hazards on-board; and doors in three locations on each car to efficiently manage access and egress.
Childs said the negotiations with Inekon, coming on the heels of the recently-announced contract for the Penske Technical Center, will complete the design, engineering and construction requirements for the M-1 RAIL project.  "Among our next significant activities will be to develop requirements and solicit proposals for the system operator, which will eventually run the entire line."
Childs said the final design of the streetcars, as well as future contracts with U.S-based or Michigan suppliers will be announced later as the project proceeds.  M-1 RAIL expects to be operational in 2016.
"Among our next significant activities will be to develop requirements and solicit proposals for the system operator, which will eventually run the entire line," Childs said.
Source: http://m-1rail.com/m-1-rail-announces-vendor-streetcar-build/
In anticipation of its busiest travel week of the year, Amtrak is adding more 18 trains to its schedule to operate between Chicago and Michigan destinations during the 2014 Thanksgiving holiday season. Passengers are encouraged to book early.
The attached schedule (also on Amtrak.com) provides information on these extra trains that will operate in addition to the Amtrak Wolverine Service, Blue Water and Pere Marquette trains sponsored by the Michigan Department of Transportation. Michigan passengers also will find new stations in Grand Rapids and Troy.
To accommodate the expected surge of holiday riders nationally, Amtrak will operate every available passenger rail car in its fleet and is scheduling extra trains and adding capacity on several routes. The busiest travel days are the Tuesday and Wednesday before Thanksgiving and the Sunday after the holiday. Other than Thanksgiving Day, morning trains typically have more available seats than those in the afternoon and evening.
CLICK ON SCHEDULE TO ENLARGE
From The Lansing State Journal:
Amtrak says a record number of passengers rode trains on its Blue Water line last year.
The line, which runs from Port Huron to Chicago, includes stops in East Lansing, Battle Creek and Kalamazoo.
The nation's passenger rail service said today the Blue Water carried 191,231 passengers for the fiscal year that ended Sept. 30. That was up slightly from 191,106 a year ago.
The Blue Water also was the only Michigan-based Amtrak service to see more riders. The number of passengers on the Wolverine line that runs from Pontiac to Chicago dropped 6 percent to 477,157. Ridership on the Pere Marquette line that runs from Grand Rapids to Chicago was down 3 percent to 100,961.
Nationally, Amtrak said ridership topped 30.9 million, up less than 1 percent from the previous fiscal year. It said passenger growth was hindered by delays caused by harsh winter conditions, freight trains and aging infrastructure.
Ticket revenue grew 4 percent to $2.2 billion.
Source: http://www.lansingstatejournal.com/story/money/business/2014/10/27/amtrak-blue-water-service-sets-ridership-record/18015393/
From Progressive Railroading:
M-1 Rail has chosen a design-build team for the planned Penske Technical Center near the northern terminus of the city's future streetcar line at Woodward Avenue and West Grand Boulevard in Detroit.
The team — which will include Turner Construction Co., 3.L.K Construction, ABE Associates Inc. and RNL — will construct the center in Detroit's New Center neighborhood. The facility will be named after Roger Penske for his leadership of M-1 Rail and Penske Corp., one of the major donors to M-1 Rail's streetcar line.
"This facility will be one of the first new construction projects in the neighborhood, and is a key part of the entire project," said Paul Childs, chief operating officer of M-1 Rail, in a press release. "Members of the community have had a voice in the eventual design of the building, which will serve as the maintenance and storage and technical center for the streetcars."
M-1 Rail is the nonprofit organization leading the design, construction and future operation of the 3.3-mile streetcar line that will operate along Woodward Avenue between Larned Street and West Grand Boulevard.
Source: http://www.progressiverailroading.com/passenger_rail/news/M1-Rail-selects-team-for-Detroit-streetcar-technical-center
From The Northern Hoot:
Members of the Coalition for Algoma Passenger Trains (CAPT) and all parties that have a concern for continued passenger rail service along the ACR are feeling hopeful and excited. CAPT has dedicated several years to raising awareness about the economic, cultural and environmental benefit of passenger trains in the Algoma District.
In January 2014 the Canadian National Railway Company (CN) announced that they were axing passenger service from Sault Ste. Marie to Hearst. The decision came from Transport Canada who made the decision that the Algoma Central Rail (ACR) no longer met the criteria for the Remote Passenger Rail Program (RPRP).
RPRP "provides funding to ensure that safe, reliable, viable and sustainable passenger rail services are provided to certain areas of the country where these services are the only means of surface transportation for remote communities."
Following Raitt's announcement the City of Sault Ste. Marie struck up a committee, Algoma Passenger Rail, comprised of numerous stakeholders including CAPT. The committee has been frantically scrambling to find a way to continue running passenger rail service along the ACR- and their hard work has proven fruitful.
"We have four very credible third parties that are all interested in taking over the passenger train and the Agawa Canyon Tour train," said Al Errington, co-founder of CAPT.
Errington anticipates that the third parties expressing interest are keen to do much more than maintain the status quo along the ACR. "I really feel very confident that we are looking at the passenger train making a much greater impact on economic and employment opportunities."
Dr. Linda Savory-Gordon, co-founder of CAPT, bubbled over the prospects. "The possibilities are really unlimited. These companies are really interested in passenger trains. They are passionate about doing a good job with passenger service and they want to be creative and innovative."
Errington added, "CN is anxious to get this moving forward as well. It's not in their culture to run passenger trains. They did it because they were required to. I think the requirement was correct however, making a company that doesn't want to provide passenger service doesn't work very well."
The ACR was the only passenger service that largest freight company in North America- CN, operated.
It is anticipated that the third party operator will be identified towards the end of November. Algoma Passenger Rail and CN will collaborate on the decision.
It is important to note that this great progress does not negate the continued need for RPRP investment.
"Regardless of who takes on the role as third party operator we really do need to have investment from Transport Canada," commented Gordon. "We have shown in our study that the 2.2 million from the investment produced 38 million dollars of benefit to the regional economy. If the government continues to invest we could be producing much more with a really great passenger service."
According to the Ministry of Transport two rail services are in receipt of the RPRP investment: Keewatin Railway (passenger rail service between The Pas, MB and Pukatawagan, MB), as well as Tshiuetin Railway (passenger rail service between Sept-Îles and Schefferville, QC).
In an effort to encourage the government to continue the RPRP investment to the ACR, CAPT has launched a post card campaign. You can visit the CAPT website to find out how to acquire these post cards.
The Ministry of Transport justified taking away the RPRP investment from the ACR recently stating, "Algoma Central Railway operates a passenger service in a rural region where other transportation options, including local highways are available. Established, year-round communities along the rail line, which at one point relied on the railway as their only means of access, now have other transportation options."
However what may not have been taken in to consideration – in addition to the economic benefit to the region, is that there are tremendous distances between communities in the North and the real concern for safety on the highway – especially during Northern Ontario's dramatic winter months.
Errington believes that Northerners must continue to emphasize to both levels of government that investment in Algoma's passenger rail service is an economic deal breaker. "The transportation of people and goods are fundamentals of a successful economy. If we don't do that well, and I don't think we have been, then the other countries that we compete with who have a better transportation matrix will succeed far more readily than we will. Keep telling our politicians that we need our rail."
Source: http://www.northernhoot.com/news/economy/passenger-rail-along-acr-looking-up-third-party-interest-abounds/
Click here to save this file or to view it as a PDF in full screen.

We hope you enjoy the issue and that you will let us hear your comments and suggestions. If you would like to write a story or suggest an item to be covered, email us at marprail@yahoo.com
For those without a PDF reader, click on the images below to view them full screen.
Page 1
Page 2
Page 3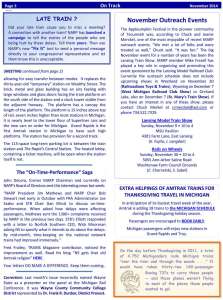 Page 4
From USA Today:
Amtrak's ridership and ticket revenue increased in fiscal 2014, buoyed by continued growth in the Northeast Corridor, the rail service reported Monday.
But the numbers also indicate flagging activity on long-distance lines and regional services that rely partly on support from taxpayers in some states.
Amtrak President and CEO Joseph Boardman warned that ridership on those lines could continue declining unless freight railroad companies that own the tracks and operate the dispatching system do a better job accommodating passenger trains.
Overall ridership exceeded 30.9 million, a modest increase of 0.2% over the previous fiscal year. Amtrak last year reported record ridership of 31.6 million but revised that downward to 30.85 million, reflecting a more accurate passenger count based on ticket sales.
Ridership growth cooled off last year due to a harsh winter season and on-time performance issues associated with freight train delays and infrastructure needing replacement, the company said in a release Monday.
While passenger growth barely rose, ticket revenues grew by 4% — from $2.11 billion in fiscal 2013 to nearly $2.2 billion in fiscal 2014.
"Amtrak is clearly selling a product that is very much in demand," Tony Coscia, the company's board chairman, said in Monday's release.
More than 11.6 million riders climbed aboard Acela and other Amtrak trains traveling the Northeast Corridor linking Washington and Boston in fiscal 2014. That was up 3.3% from last year and set a record, pushing ticket revenue up 8.2%, the company said.
But regional, state-supported lines saw a 0.6% decline in passengers, while ridership on long-distance routes fell about 4.5%. Twelve of the 15 long-distance lines saw decreases, contributing to a 2.9% drop in revenues, Amtrak reported.
Lines that showed the biggest declines in riders were the Empire Builder that operates between Chicago and the Pacific Northwest (down about 16%), the Texas Eagle operating between Chicago and Los Angeles (down almost 9%), and the Silver Meteor operating between New York City and Miami (down nearly 7%).
Some in Congress have long sought to eliminate the money-losing lines, but lawmakers from states served by Amtrak have fiercely protected them. Despite some improvements, many continue to suffer from delays, low ridership and increased operating costs.
Boardman said Amtrak's efforts to improve long-distance service have been hampered by a lack of cooperation from freight lines.
"The freight railroads simply have to do a better job in moving Amtrak trains over their tracks," he said in the release. "Amtrak is prepared to take all necessary steps with the freights to enforce our statutory, regulatory and contractual rights to meet the expectation of our passengers for improved on-time performance."
He said the company is working with the freight railroads to address congestion and is pursuing remedies through the federal Surface Transportation Board.
A spokesman for the Association of American Railroads said freight companies are spending more than $2 billion a month upgrading and growing the rail network.
"The freight rail industry shares Amtrak's concern and the nation's railroads are working hard to improve both passenger and freight reliability," said Ed Greenberg. "It is important to recognize that in addition to working with Amtrak to address record passenger traffic, freight railroads are now moving more goods than since before the recession in order to meet the demands of American consumers and industries."
Release of the ridership and revenue figures comes a little more than a month after the House Transportation and Infrastructure Committee passed a four-year reauthorization of an Amtrak funding bill. The measure, which has yet to reach the House floor, would split Amtrak's operations into two accounts — one for the profitable Northeast Corridor and one for its money-losing national network.
Under the bill, Amtrak would be required to seek requests for proposals from private investors to redevelop its train stations and the rights-of-way along its tracks. And the bill sets a deadline for ending losses on the rail system's food and beverage service.
The Northeast Corridor also would be the only part of the passenger rail system to qualify for high-speed rail funding — to improve the speed of its Acela trains.
"We need to focus on the Northeast Corridor first to prove to the American people we can really run a passenger railroad system that can get higher speeds and utilize the Acela trains," the committee's chairman, Rep. Bill Shuster, R-Pa., said in an interview at the time.
From The Hill:
Amtrak is touting an increase in ridership on its trains in fiscal 2014 as lawmakers are debating a funding measure for the company.
Amtrak said Monday that it carried 30.9 million in the fiscal year that ended in September, which the company said was an increase of 0.2 percent over the same period for 2013.
Amtrak Board of Directors Chairman Tony Coscia said the ridership increase showed Congress should increase funding for passenger rail service in the U.S.
"Amtrak is clearly selling a product that is very much in demand," Coscia said in a statement.
"Achieving strong ridership and revenue despite the challenges with aging infrastructure and freight rail congestion demonstrates Amtrak's commitment to improving its financial and operating performance, and is a credit to Amtrak's management and staff," he continued. "It is now time to leverage Amtrak's successes in increasing ridership and improving performance by making much-needed investments in our nation's passenger rail system."
Amtrak has traditionally received about $1 billion per year for a combination of operations and construction from the federal government since its inception in 1971.
Lawmakers in the House unveiled a measure earlier that would maintain most of the company's operation budget, but cut Amtrak's authorization for construction projects by 40 percent.
Amtrak President Joe Boardman said the ridership figures released on Monday showed that congressional spending on rail construction should be increased, not cut.
"As more and more people choose Amtrak for their travel needs, investments must be made in the tracks, tunnels, bridges and other infrastructure used by intercity passenger trains particularly on the Northeast Corridor and in Chicago," Boardman said in a statement. "Otherwise, we face a future with increased infrastructure-related service disruptions and delays that will hurt local and regional economies and drive passengers away."
Source: http://thehill.com/policy/transportation/221945-amtrak-touts-ridership-growth-as-congress-weighs-budget
From The Grand Rapids Press:
Bearing floor-to-ceiling windows to brighten its interior, officials quipped the city no longer is home to an "Amshack" station.
The new Vernon J. Ehlers Amtrak Station ceremoniously replaced its Wealthy Street predecessor early Monday, October, 27, 2014, connecting Grand Rapids to Chicago. Ehlers, the former West Michigan congressman whose name appears on the hub's façade, could not attend though his statesman-like approach to Congress was highly regarded among those at the station's grand opening.
Retiring U.S. Sen. Carl Levin, D-Mich., remarked Ehlers had a grasp on the community and fought for its people while serving in the House from 1993-2011. It was Ehlers who worked in Washington, D.C., to secure federal funding for the $6.1 million station.
Ehlers brought no "I" nor selfishness to the job, Levin said, only "we."
"'Earmark' is not a dirty word. … We know our communities more than anyone," said Levin, referring to Ehlers securing $3.8 million for the station. "The loss of earmarking is a loss of representation for the people."
Ehlers later would vote against the spending bill that contained appropriation dollars for the station in spring 2009. He said it was irresponsible during a time of crisis — the height of the recession.
Ehlers' daughter, Marla, spoke on behalf of the family. She said Vern Ehlers used to joke that he served on education and science committees because of his profession.
"… And he served on the (House) Transportation committee because he wished to be reelected," Marla Ehlers said.
Other guests at the ceremony include U.S. Rep. Fred Upton, R-St. Joseph, Grand Rapids Mayor George Heartwell, plus Michigan Department of Transportation and Amtrak leaders. The Jewel Tones, the City High chorale, entertained guests.
Officials wager passengers not only will enjoy the convenience of the new location near the Rapid bus station, but that the amenities will bring a boost to ridership on the Pere Marquette line. MDOT reports the route carried 109,501 passengers between Grand Rapids and Chicago in 2012 and 102,932 riders in 2013.
About 75,964 passengers have traveled the route so far in 2014, with the previous winter to blame for the dip in ridership, said Amtrak spokesman Marc Magliari.
The new Amtrak station, at 440 Century Ave. SW, only is steps away from The Rapid's Central Station. That transportation hub serves greater Grand Rapids with at least 20 bus routes and its new bus rapid transit system, Silver Line.
It features at least 115 parking spaces, a covered platform, a larger waiting room and a clock tower paying homage to stations of old, seen from U.S. 131 to the east.
The station's opening was pushed back several times following its groundbreaking in 2011.
The station's inaugural riders left on the first train at 7:40 a.m. Monday, which is expected to return at 9:55 p.m. If successful, a second daily trip could run on the line, something Heartwell predicts is on schedule.
"This is the first of many good things to come," he said.
Source: http://www.mlive.com/news/grand-rapids/index.ssf/2014/10/vern_ehlers_a_true_statesman_s.html#incart_related_stories
From a METRA press release:
Federal, state and local officials celebrated in October 2014 the opening of the $142 million Englewood flyover, a major railroad bridge that has eliminated a significant source of train delays on the south side of Chicago and has reduced emissions and noise from idling trains in the neighborhood.
The flyover bridge replaced a crossing between the Metra Rock Island tracks and a set of Norfolk Southern tracks at 63rd and State St. With the completion of this project, 78 weekday Rock Island Line trains are now carried over the busy freight tracks used by approximately 60 freight and Amtrak trains, eliminating conflicts between trains that result in service delays.
The flyover is a major accomplishment of the Chicago Region Environmental and Transportation Efficiency (CREATE) program, a first-of-its-kind partnership between U.S. Department of Transportation, the State of Illinois, City of Chicago, Metra, Amtrak, and the nation's freight railroads to eliminate railroad bottlenecks in the Chicago area.
"The Englewood flyover is one of the pillars of the CREATE program and helps to strengthen Chicago and Illinois as the transportation hub of North America," Gov. Pat Quinn said. "Projects like these that invest in our infrastructure are economic engines that create jobs, encourage economic growth and improve the quality of life for residents throughout the region."
"Chicago has been the rail hub of our nation for more than a century, yet for too long this area was plagued with freight congestion and bottlenecks that hurt productivity and rippled across the system. I'm proud to have played a role securing the funding needed to unsnarl the bottleneck and make the Englewood flyover a reality," said Sen. Dick Durbin. "Today we're here to celebrate a project completed with more than 90 percent federal funds that will bring improved Metra and Amtrak service, more efficient freight movement, and economic developments for today and the future."
"We have been looking forward to this day for a long time," said Wick Moorman, chairman and CEO of Norfolk Southern. "It's impossible to overstate the positive impact this project will have on Norfolk Southern's service, along with Amtrak's and Metra's. Not only will this project eliminate many hours in freight and passenger train delays daily, but it frees up additional capacity for all of us to continue to grow our business."
"Fourteen daily Amtrak trains to and from Chicago have faced delays at this location that are felt in Michigan, Indiana and all the way to the East Coast," said Tom Carper, Amtrak board member and past chairman. "Delays drive up cost and hold-down ridership, so CREATE projects such as this one are truly of national importance and big wins for Amtrak passengers, Metra commuters and the freight railroads, too."
"The completion of the Englewood flyover means improvement in the quality of life for area residents," said U.S. Rep. Dan Lipinski. "The benefits include fewer delays for Metra and Amtrak users, fewer delays for area drivers, better air quality, a reduction in noise from idling trains, and an overall improvement in safety.  I am committed to seeing the rest of the much-needed CREATE projects through to completion."
"The Englewood flyover will ease congestion through this busy rail area, an essential step in maintaining Cook County's position as the critical intersection for the transportation network that serves America," said Cook County Board President Toni Preckwinkle. "Unclogging the rails is an important step in ensuring a smooth running transportation system, which in turn will lead to economic growth for our entire region."
"Metra could not be any happier to have this bridge completed," said Metra Executive Director/CEO Don Orseno. "Our riders are already enjoying the benefits of passing through this area without experiencing any delays due to conflicts with freight or Amtrak trains. This project would not have come to fruition without the cooperation, funding and support provided by our partners in this project and our federal and state elected officials. It is a prime example of the progress we can make in the region when we all come together."
The flyover was funded with $126 million in American Recovery and Reinvestment Act High-Speed Rail funds, $4.9 million in other federal money, $8.2 million from the State of Illinois and $3 million from the railroad industry, including Metra.
The Englewood flyover is the first project planned under the CREATE program to reduce conflicts between passenger and freight trains in the Englewood area and prepare the corridor to accommodate high speed rail service. Its completion lays the groundwork for two more CREATE projects. The planned 75th Street Corridor Improvement Project will divert trains on Metra's Southwest Service to the Rock Island District at a point south of Englewood. The planned Grand Crossing Project will divert six daily Amtrak trains to Norfolk Southern tracks east of Englewood. With the flyover in service, the 75th Street and Grand Crossing projects can move forward without creating further bottlenecks at the busy Englewood interlocker.