598 Dey Street
Niles, MI 49120

Beautiful Niles Station is used by Amtrak for some service operations in Michigan. (Photo by Nathan Nietering)
The staffed Niles depot serves the twice-daily Blue Water and five of the six daily Wolverine trains. This historic station was built in 1892 in the Romanesque style and was considered the pride of the Michigan Central Railroad when it opened. It remains as one of Michigan's most beautiful train stations today, and has been featured in several films throughout the years. An extensive restoration in the late 1980s moved the ticket windows from their original location to the east end of the waiting room, but uncovered and restored many of the original architectural features. The chandeliers, rounded windows and stained glass combine to make one feel like they are sitting in a Victorian jewel box. New platforms were added in 2003 and together with gardens and landscaping maintained by the local Four Flags Garden Club make this a very pleasant place to wait for a train.
Access to the station is easy from highway M-51 (North 5thStreet). Over fifty parking spaces are provided for passengers, and it is safe to leave vehicles here for extended periods. Information about local restaurants can be obtained from the ticket agent, who can also furnish taxicab numbers if no cabs are on hand when trains arrive. Amtrak provides a rack full of schedules and other information near the ticket office. Aside from the waiting room area, the remainder of the station is occupied by Amtrak offices for their track and signal departments. Amtrak owns 97 miles of high-speed track between Kalamazoo and Porter, Indiana, and bases most of their operations for this stretch out of the Niles Station and maintenance buildings located just across the tracks.
Downtown Niles is located several blocks south of the station down M-51, but is full of interesting stores, dining venues and historic buildings. It is known as the City of Four Flags because the British, French, Americans and even the Spanish each at some point laid claim to the land on which the city sits (the latter only occupying it for a single day). Niles is the entry point for passengers traveling to South Bend, Indiana, which is only ten miles to the south just across the state line. Some taxi services from Niles do cross the state line to the land of Notre Dame football. Niles Dial-A-Ride Transportation (DART) provides local transportation service, but days and hours vary. Check their website at < http://www.ci.niles.mi.us/deptsandservices/NilesDialARide/DialARide.htm> or call ahead for the most up-to-date information 269.684.5150. Some Dial-A-Ride services do connect with Transpo, the South Bend city bus network. Call Dial-A-Ride for more information.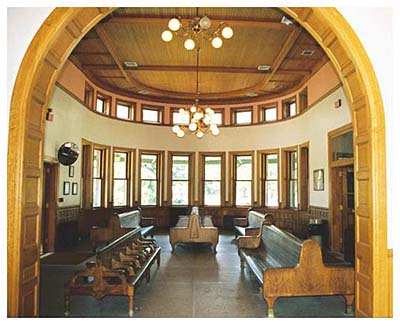 The waiting room inside the Niles station. (Photo by Lou Van Winkle)
Amtrak station page:
http://www.amtrak.com/servlet/ContentServer?c=am2Station&pagename=am%2Fam2Station%2FStation_Page&cid=1229726270780