73 Howard Street
Lapeer, MI 48446

Lapeer Amtrak Station (Photo by Larry Sobczak)
The Lapeer station is not easy to find; however, once there, parking is not a problem. Although unstaffed, the Greater Lapeer Area Transit Agency (GLATA), the owner of the station, has personnel on hand to open the station at train times. It is safe to leave your car here for extended periods.
GLATA also provides Dial-a-Ride service to the City of Lapeer and most surrounding Townships. Call (810) 664-4566 to reserve a ride BEFORE your trip.
GLATA has cleaned up and restored the station very nicely, which is also used for community meetings. There is a restaurant and a convenience store one block north of the station.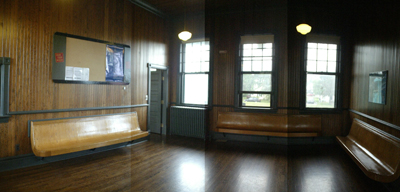 Interior of the Lapeer Amtrak Station (Photo by J.R. Valderas)
Amtrak station page:
http://www.amtrak.com/servlet/ContentServer?c=am2Station&pagename=am%2Fam2Station%2FStation_Page&cid=1229726268585