200 South Railroad Street
Durand, MI 48429


The city of Durand has posted directional signs leading to the station. (Photos by Larry Sobczak)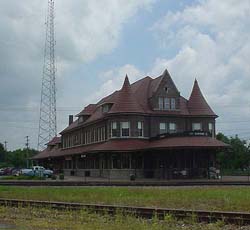 The Durand Union Station has led a storied life that makes the Perils of Pauline look sedate. Fortunately for passengers, the historic depot still stands today. Access to the station is a bit difficult, as track owner Canadian National Railroad insisted upon closing the most direct crossing to the station. With the help of recently added signs, navigating to the station via Russell Street and a residential district is not nearly as confusing as it once was. Once at the station, plenty of free parking is available, and safety is not a question in this small town. There is no public transportation to this unstaffed station.
The station building is now owned by the non-profit Durand Union Station, Inc., and is home of the Michigan Railroad History Museum. Together, they have restored the 1905-built building bit by bit, and today it is home to several interesting displays about railroad history in Michigan. The Amtrak waiting room is maintained at the northern end of the building, and features a meticulously restored wrought-iron and wood ticket counter, though tickets cannot be purchased at this location. The waiting room is open for the morning and evening arrivals of the Blue Water, and has several wooden benches and a rack full of Amtrak travel information.
Durand has long been an important junction point for trains in Michigan, and remains so today. The station building is enormous for a town the size of Durand, but at one time over 100 trains a day passed through, including up to 42 passenger trains. Due to the volume and variety of trains which still pass through today, the station is a gathering point for hard core railfans from across the country. They can easily be identified as those carrying railroad radio scanners and video cameras monitoring and recording the train movements. The recently installed black fence along the tracks is not just for decoration, there is a $50.00 fine for trespassing on railroad property, and this is strictly enforced by both railroad and city police. Railroad safety is a big deal!
When Canadian National abandoned the station in 1974 and began preparations for demolition, the city undertook a monumental effort to acquire the building for preservation. The building was added to the National Register of Historic Places and the task of stabilization and then restoration began. Cost saving alterations which occurred late in the building's life were removed, and a new red tile roof was installed. The result is a lovingly restored train station which is one of the most distinctive in the country. Over one hundred years after the station was built, the waiting room is still open, and you can still buy a ticket to Durand.
Amtrak station page:
http://www.amtrak.com/servlet/ContentServer?c=am2Station&pagename=am%2Fam2Station%2FStation_Page&cid=1229726268984