MDOT Press Release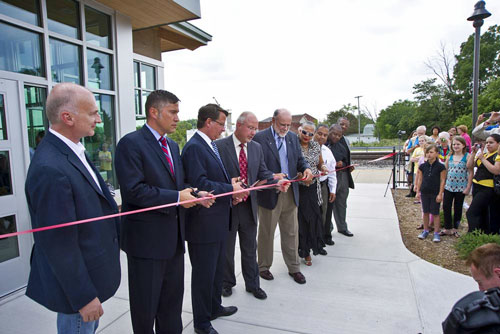 Officials cut the ribbon in front of the new Pontiac Transporation Center on Aug. 8, 2011. Photo courtesy MDOT.
The new Pontiac Transportation Center, serving both passenger rail and intercity bus passengers, opened for business, Monday, Aug. 8, 2011, following a ribbon-cutting ceremony with state and local officials. Located at 51000 Woodward Ave., the new intermodal station serves Greyhound and Amtrak passengers and is a hub for mass transit, including six daily Amtrak Wolverine Service trains to and from Detroit and Chicago. Local transit provider SMART stops on Woodward Avenue just outside the station.
"Your trip starts here," said State Transportation Director Kirk T. Steudle. "This station is an excellent example of why it's important for the State of Michigan to invest in safe, modern, accessible transit buildings. This is an investment in the city of Pontiac and an investment in public transportation."
"Investments like this help the State of Michigan provide efficient and effective public transportation, and provide the connections between modes that travelers need to make it a relevant travel option," said Amtrak Board Chairman Tom Carper, who also attended last year's groundbreaking.
"Transit systems offer safe, affordable, accessible transportation options that benefit commuters, stimulate new business development within the community, and create jobs through the building and maintenance of critical infrastructure," said U.S. Rep. Gary Peters. "We're making a commitment to the economic development of Pontiac, both today and in the future with the opening of the Pontiac Transit Center."
"I want to congratulate and thank MDOT and the people of Pontiac for their hard work in making the Transportation Center a reality. Safe, affordable and accessible public transportation is vital to the economic health and well-being of our cities," said Rep. Tim Melton. "Not only will this instantly create good jobs for our residents, but this facility will also open numerous employment and economic opportunities for the citizens of Pontiac to access workplaces that, at one time, may simply have been too far out of reach. I know that Pontiac is headed in the right direction and this is yet another indication of that progress."
In fiscal year 2010, nearly 16,000 people got on or off the train in Pontiac, a 10 percent increase in travel over the previous year. Since June of fiscal year 2011, more than 12,000 passengers have taken Amtrak, putting the station on pace to exceed the previous year's trips.
The Pontiac station also is home to Greyhound, with two buses daily and up to eight buses on the weekends. A Greyhound ticket agent will be available 10-12 hours a day on weekdays to assist passengers.
The new 4,500-square-foot station has a passenger lobby, bathrooms, seating and canopies at the bus loading area and the train platform. There is passenger parking and security lighting. Inside, facilities are provided for an Amtrak crew headquarters, which acts as a terminal for crews starting or ending their shifts.
Two of the Amtrak routes in Michigan have been plagued by service delays since June due to speed restrictions imposed by the host freight railroad. Steudle announced that a $4.2 million maintenance agreement with Norfolk Southern Railway would begin soon and improvements completed by mid-September. The work to be done by Norfolk Southern includes replacing ties, smoothing the track, and improving grade crossings on a 135-mile section between Ypsilanti and Kalamazoo. Train speeds of 60 mph will be restored on this segment, in preparation for even higher speeds in years to follow.
Contact: Janet Foran, MDOT Office of Communications, foranj@michigan.gov , 517-335-7176