From Amtrak press release: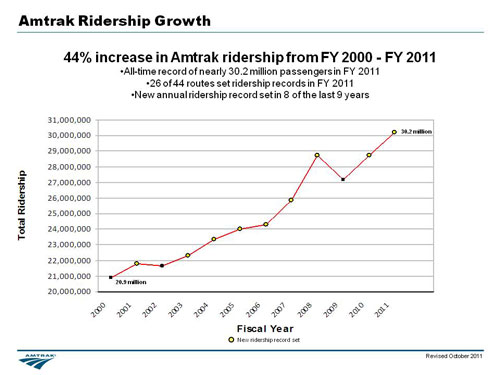 WASHINGTON – Amtrak carried nearly 30.2 million passengers in Fiscal Year 2011 ending September 30, marking the highest ridership total since the National Railroad Passenger Corporation started operations in 1971 and the eighth ridership record during the last nine years. Ridership versus the prior year is up by more than five percent – and ticket revenue is up by more than eight percent — despite significant weather related disruptions in the Northeast, Central and Western U.S.
Today in St. Louis, Amtrak is recognizing a suburban St. Louis woman as the representative 30 millionth passenger. Rochelle Lathan rode the
Texas Eagle from Alton, Ill., to Springfield on September 28, the day the 30 million passenger mark was reached. She is a mother of five, a student at Florissant Valley Community College and an Amtrak Guest Rewards member who travels frequently to Springfield and Chicago on the Lincoln Service and Texas Eagle trains.
"Amtrak truly is America's Railroad®," said Amtrak Board of Directors Chairman Tom Carper at the St. Louis event. "We were created by Congress to fulfill a vital national transportation need and to connect the nation in ways no other mode of transportation can. We have always delivered for the American people and we will continue to do so."
"Thirty million passengers is not just a statistic. That number is made up of real people who live real lives and use Amtrak for personal, business and recreational travel," said Emmett Fremaux, the head of the Amtrak Marketing and Product Development Department, who presented Ms. Lathan with an oversized Amtrak ticket and two 30-day rail passes.
"I ride Amtrak monthly, going back and forth to Springfield and Chicago for business and pleasure," she said during the event at the St. Louis Gateway Transportation Center. "The ride is so relaxing and smooth. Sometimes I work and sometimes I just relax and look at the scenery."
"We thank all our passengers for choosing Amtrak and our state partners for working with us to develop the kind of service that attracts ever increasing numbers of riders," said Amtrak President & CEO Joseph H. Boardman. "Amtrak is fulfilling its national mission and is part of the solution to meet America's growing transportation and energy needs."
Amtrak friends on Facebook have been entered to win two round-trip Amtrak tickets to any of the more than 500 destinations in 46 states and three Canadian provinces that Amtrak serves. The "Sweeps for our Peeps" promotion continues through this Saturday, October 15.
Carper, Boardman and Fremaux also thanked the railroad's nearly 20,000 employees for their work to set another record for ridership and revenue. With the exception of 2009 (12 months ending September 30, 2009), Amtrak has set records for every fiscal year since 2002.
"This is an accomplishment of many hardworking and dedicated people doing what it takes to run a railroad," said Fremaux. "It is a long list and includes Amtrak employees such as locomotive engineers, conductors and other onboard train crew, station staff, mechanics, track
workers, K-9 security teams, and numerous other behind-the-scenes employees who work at Amtrak and at our local, state and federal partners."
St. Louis Mayor Francis Slay, representatives of the Missouri and Illinois state departments of transportation and St. Louis-based Citizens for Modern Transit also attended the event. Most of the Amtrak service to and from St. Louis' Gateway Station is operated by Amtrak under contracts with both state transportation departments. Both states have received federal grants for upgrades and other service improvements on the corridors to and from Kansas City and Chicago.
Factors contributing to the continuing success of Amtrak include high gasoline prices, continued growth in business travel on the high-speed
Acela Express trains with free Wi-Fi service – with more AmtrakConnectsm deployments coming soon on other services across the country — the increased appeal and popularity of rail travel and effective marketing campaigns.
These gains came despite service disruptions due to hurricanes, tropical storms and record snows in the busy Northeast Corridor, record flooding in the Central U.S. and heavy construction that temporarily reduced train frequencies on the Chicago-St. Louis route.
The previous Amtrak record for ridership and ticket revenue was set last fiscal year (FY 2010).
Amtrak FY 2011 Ridership Facts
26 of 44 Amtrak services set all-time records in FY 2011

Seven Amtrak routes carried more than one million passengers in FY 2011, up from five in FY 2010.

FY 2011 was the best year ever for

Northeast Regional

service between Boston and Washington and the second-best year for

Acela Express

All three main Amtrak business lines saw ridership growth in FY 2011; Northeast Corridor and state-supported/short distance routes set new records and long-distance trains had best ridership in 16 years

Since FY 2000, Amtrak ridership is up nearly 44 percent