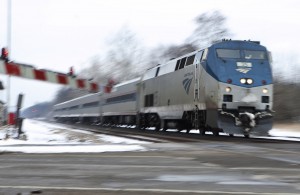 From the Kalamazoo Gazette:
A special Amtrak train arrived in Kalamazoo on Wednesday morning, hitting speeds of 110 mphon its way from Chicago.
The train was a celebration of the first expansion of high-speed rail outside the Amtrak-owned corridor in the Northeastern United States.
The train departed Chicago at 7 a.m., made a stop in New Buffalo, and arrived in Kalamazoo with Amtrak, state and federal officials on board at around 10:10 a.m. The trains have increased their speeds from 95 mph to 110 mph on 80 miles of track between Kalamazoo and Porter, Ind.
The increased speeds in western Michigan set the stage for the expansion of 110 mph service from Kalamazoo east to near Dearborn on the track segment being purchased by the Michigan Department of Transportation from Norfolk Southern Railway.
Kirk T. Steudle, MDOT director, said he expects the purchase of the railway to be finalized by June and construction on upgrades to the line to begin this summer. He said trains on the 130-mile stretch from Porter to Dearborn could be running at 110 mph by 2014 or 2015.
"Kalamazoo is uniquely situated," he said. "I think when this whole build-out happens, Kalamazoo is sitting in a spot that you can sell to your residents, 'Look, you're less than two hours from Chicago and Detroit'."
The long-term plan is for the high-speed rail to connect through Michigan to Toronto and Montreal.
"If you look at it from a Kalamazoo perspective, you're in the middle of it all," Steudle said. "This is tremendous for Kalamazoo."
Joseph Szabo, the Federal Railroad Administration administrator, said the move to high-speed rail is an exciting step forward for Michigan, and Kalamazoo in particular.
Kalamazoo is comparable to cities like Normal, Ill. and Brunswick, Maine, which have seen significant growth and an increase in private investment in their downtowns as a result of high-speed rail projects, Szabo said.
"These are the things that happen around station centers, around downtowns. It has explosive economic development potential for the downtown area of Kalamazoo," he said. "The service ends up being a magnet for economic development."
Szabo said there are no plans for trains in Michigan to travel any faster than 110 mph, but they could potentially travel up to 125 mph under Federal Railroad Administration regulations.
Amtrak began raising speeds on the Kalamazoo corridor by lifting it to 79 mph in 2001, to 90 mph in 2002 and to 95 mph in 2005. Sustained operations at 110 mph will shave 10 minutes of the trip from Kalamazoo to Chicago.
The Amtrak Wolverine Service, with three daily round-trips between Pontiac and Chicago via Detroit and Ann Arbor, and the Amtrak Blue Water, with a daily trip between Port Huron and Chicago via East Lansing, use this corridor.
The increased speed will cut two hours off travel time between Chicago and Detroit when the project is completed, something Szabo said will make riding the rails much more enticing.
"You can't drive there anywhere close to that," he said. "That's an hour and a half quicker than you can drive Chicago to Detroit, and at 3 hours and 45 minutes that becomes competitive with flying by time you go through all the gyrations that you need to do to get to an airport, get through the airport, through the security and get on board."
Amtrak estimates the Midwest Regional Rail System will have 13.6 million passengers in 2025. Szabo said the next generation of travelers is the key to increasing the number of riders.
"You can continue to use your technology on the train, which you can't do driving and you can't do flying," he said. "Young people are looking for travel alternatives. They're, frankly, leading the way for our nation."
MDOT released a video of the train on its youtube channel.
Source: http://www.mlive.com/news/kalamazoo/index.ssf/2012/02/amtrak_celebrates_speed_increa.html