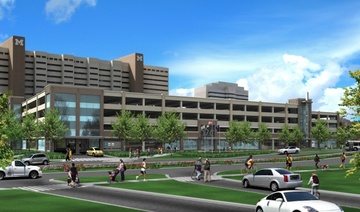 The city of Ann Arbor and the University of Michigan announced today they're halting plans for the first phase of Fuller Road Station as presently designed.
U-M is dropping its plans for a large parking structure on the site and will look elsewhere to build new parking facilities, officials confirmed.
Mayor John Hieftje said the decision to separate U-M's short-term plans to build new parking facilities for its hospital employees from the city's long-term plans for a train and bus station on Fuller Road has nothing to do with any controversy surrounding the project.
Rather, Hieftje said, the city received new communications from the Federal Rail Administration and funding assumptions for the project have changed.
"After months of fruitful discussions, we received new information from the Federal Rail Administration regarding the eligibility of monies for the local match," Hieftje said. "This information altered project timing such that we could no longer finalize a proposal under the current memorandum of understanding."
According to FRA, any investments made on the site prior to federal funding being allocated for the project don't count as matching dollars, Hieftje said.
"This means we're going to have to work with community partners to come up with a match," Hieftje said. "This is in no way backing away from the project."
Hieftje said city officials will continue to push forward with the long-term vision for Fuller Road Station in partnership with the Michigan Department of Transportation, Federal Rail Administration, Amtrak, Ann Arbor Transportation Authority and U-M.
"There just won't be a large parking structure on the site," Hieftje said. "U of M is going to look elsewhere for their parking structure."
Both the city and U-M say they remain committed to supporting multi-modal transportation, but they've decided to wait until federal funding sources for track sidings and station construction are more imminent before redesigning and restructuring any potential joint agreement.
"We are optimistic the city's drive to win additional federal and state dollars for Fuller Road Station will be successful," Jim Kosteva, U-M's director of community relations, said in a statement. "When the time comes, we stand ready to reengage."
Controversy has surrounded the Fuller Road Station project since it was announced in 2009 that U-M and the city would parter on the first phase, which included building a five-level, 977-space parking structure at a cost of more than $40 million.
The university was going to pay 78 percent of the costs of the parking structure, and thus have rights to 78 percent of the parking spots. The city would have paid about $10 million.
If not for a tentative deal in 2009 to make that happen, U-M would have pushed forward with a plan for two new parking structures on Wall Street along with a new bus terminal.
The university's original goal was to build new parking facilities in the area before the new Mott Children's Hospital opened late last year, so there's still pressure for more parking.
While long-term planning for Fuller Road Station will continue, officials said the university plans to move forward separately with building a parking structure in a yet-to-be-determined location near the medical campus to address growing employment and patient numbers.
"I think it's pretty well known with the medical center enlargement that they need more parking, but they're not set on a location," Hieftje said.
Hieftje said he thinks the concept for Fuller Road Station is easier to understand now that the U-M parking structure is off the table. He said a new train station bringing thousands of visitors into the city — with bus services connecting them to downtown and other areas — will lessen the demand for more parking facilities and reduce traffic congestion and air pollution.
"I view this whole announcement as being very positive," Hieftje said. "It's just a slight change of course for the university, but our goals remain the same."
Some city residents have expressed concerns over the past few years that more parking facilities aren't needed, and that once a parking structure was built on the site, there would be no guarantee that federal funding for a new train station would follow.
It's now looking increasingly likely the project would be done in a single phase, including a train station. Hieftje said there would be some parking, but not a significant amount.
"It'll be the kind of parking you would need at a train station," he said. "It wouldn't be a large parking structure for the university."
Hieftje remains confident the federal government's investment of $2.8 million in seed money for planning Fuller Road Station is indicative of more federal funding to come.
In the meantime, the feds have pumped hundreds of millions of dollars into rail improvements along the Detroit-to-Chicago corridor, which passes through Ann Arbor. The same improvements that will make high-speed rail possible (increasing speeds from 60 mph to 110 mph) will help make commuter rail between Detroit and Ann Arbor possible.
Kosteva said rail service and connections with bus transit on Fuller Road are vital components in the university's goal of providing sustainable transportation options.
"We look forward to cooperating with the city in its ongoing efforts to bring interstate and intercity rail service to the Fuller Road site," he said.
With the state of Michigan's purchase of the Norfolk-Southern tracks, the construction of a multi-modal transit center at Fuller Road becomes deeply important to the future of Ann Arbor and critical to the success of both commuter and higher-speed rail, Hieftje said.
The first phase of Fuller Road Station was approved by the city's Planning Commission in September 2010, but it never came to council for approval due to delays having to do with legal negotiations between U-M and the city on a long-terms construction, operations and maintenance agreement for the parking structure. Included in the Phase I plans approved by the Planning Commission were five built-in bus bays and 103 bicycle parking spaces.
Even with the U-M parking structure off the table, it's likely the Fuller Road Station project will continue to face opposition from some residents who argue a transit center is an improper use of city park land. The city's charter requires sale of city park land to be approved by voters, and the proposed location of Fuller Road Station technically is part of Fuller Park.
City officials don't intend to put the project up to a vote of the people, arguing it's not technically a sale and the actual location has been a surface parking lot for years.
The Sierra Club and others still argue the city would be circumventing the law by building facilities that would almost ensure the land won't return to park space in the next century.
The City Council took action in July 2010 to change the permissible uses for property zoned "public land" to include "transportation facilities," which allows a train station at Fuller Park.
The city has spent hundreds of thousands of dollars on preliminary work for the project, some of which will be reimbursed by federal grants. The city also has undertaken a $1.34 million project to relocate utility lines at the site of the Fuller Road Station project.
City officials were hoping dollars invested in the first phase of the project would count as matching funds for future federal grants for a train station, but they found out from the Federal Rail Administration that's not going to be the case.
Hieftje said the project timeline is uncertain now.
"We need to get a little further into the environmental study and the design of the project before we'll be able to put a timeline on it," he said.
Kosteva said U-M's decision not to build a parking structure as part of Fuller Road Station in no way represents a backing out, failure to reach terms or retreat in the face of controversy.
"It is a joint recognition that the station and parking as presently designed could not be financed and constructed under the general terms of the memorandum of understanding," he said, adding the agreement between the city and the university not only identified financial expectations, but also included the desire to have a facility in place by June 2012.
"When federal funds or city commitment for funding a station development are more imminent, the university will be prepared to reengage in a discussion that would include an assessment of how a intermodal facility relates to university needs and interests at that time," he said.
As far as alternative parking locations being considered, Kosteva said the university is exploring a variety of locations in the vicinity of the medical center, including the Wall Street site previously approved by the regents for construction.
The growth in U-M's medical-related employment, including 500 new jobs, and expansion of patient services dictates the need to move ahead as quickly as possible, he said.
Source: http://www.annarbor.com/news/fuller-road-station-first-phase-plans-halted/