From AnnArbor.com: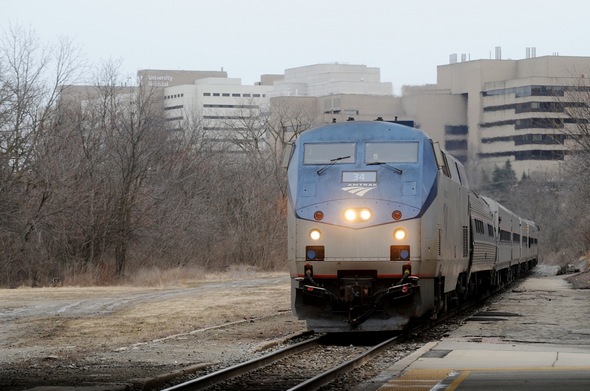 The University of Michigan's decision to halt plans for a parking structure as part of Fuller Road Station leaves Ann Arborofficials contemplating the proposed transit center's future.
Some, including Council Member Mike Anglin and the Huron Valley Group of the Sierra Club, argue the city should shift its attention away from Fuller Road to the existing Amtrak train station on Depot Street and run more buses in and out of that site.
"Considering the train comes there only a few times a day, it's an easy place where buses can come and meet them and take the passengers where they need to go," Anglin said. "I think we have a site right now, and therefore why jump and make another site that's unnecessary?"
Mayor John Hieftje and other city officials argue a brand-new transit center, including accommodations for buses and trains, in front of the U-M medical complex along Fuller Road still makes sense. Hieftje said it's the perfect location considering 24,000 people a day already visit the U-M medical complex and Depot Street is not a major destination point.
"It can serve as a real gateway to the city of Ann Arbor," he said of the Fuller Road site. "The Depot Street station won't work for many reasons. Amtrak is going to outgrow it before long and it'll never work for commuter rail. You can't get buses in there to transport people."
Hieftje said the City Council will have a more intensive conversation about Fuller Road in the near future as it discusses accepting a $2.8 million federal grant for preliminary work on the project.
Anglin, D-5th Ward, stirred up the issue at Tuesday's council meeting when he suggested the city should drop its plans for building a transit center in Fuller Park.
"The high-speed rail, which has already been funded from Kalamazoo over toward Chicago, will ultimately come our way," Anglin acknowledged. "And as rails are improved, the fact that we have a train station, I think we ought to use that land for it."
Anglin said Amtrak's trains pass through Ann Arbor only a few times a day, and the Depot Street area is not as congested as some might suggest.
"It's much easier for buses to just be present when the trains come," he said. "There are a number of people on the trains, and buses going to different destinations makes a lot more sense to me. We can't keep spending as if every idea we have is fundable."
Pointing out a new train station would cost millions of dollars, Anglin said the city has greater needs in the police and fire departments, as well as in roads, trees and parks.
The local chapter of the Sierra Club has fought to stop the city from building on city parkland along Fuller Road. The group agrees with Anglin that a better location to achieve the city's vision for a multi-modal transit center is at the site of the existing Amtrak station.
"Now that the university parking garage portion of the plan has been dropped, we urge the city to take this opportunity to reconsider the potential for upgrading the current Amtrak station and environs," reads a statement released by the group. "This location is still relatively close to the hospital, is closer to downtown, is adjacent to the intersection of the north/south rail line, and is more suited to additional transit-related development."
But city officials contend they've looked into that option and — citing logistical challenges and traffic issues — Fuller Road is the better site.
Marc Magliari, a Chicago-based spokesman for Amtrak, said station location decisions are driven largely by the communities themselves, with Amtrak and the Michigan Department of Transportation working them and the railroad that owns the tracks.
"What is clear in the case of Ann Arbor is our passenger volumes have exceeded the size of the current station and its parking, particularly the difficulty passengers face when using the parking lot on the opposite side of the tracks from the station," Magliari said.
Council Member Sabra Briere, D-1st Ward, said at Tuesday's meeting she hopes Anglin will join her on a walk through the area around the current Amtrak site.
"Because there are some interesting issues related to infrastructure and the types of infrastructure improvements that would have to happen before we could have buses and cars going in large quantity into that site," she said.
The city is hoping Fuller Road Station can serve as a future gateway for tens of thousands of regular visitors to the city and accommodate the future growth in rail ridership as high-speed rail from Detroit to Chicago and commuter rail from Detroit to Ann Arbor become realities.
Briere said if increased passenger rail service through Ann Arbor happens, the city is going to need to address the logistics of where the station is today. She said the city has the choice of thinking about it now or pretending it's not a problem.
"There are so many people coming into North Main Street and turning onto Depot that it can back people up three lights," she said. "Depot floods, sometimes over a foot. If we have buses lined up there to pick up passengers from the rail station, it's going to negatively affect the residential nature of that neighborhood and it's going to slow down people even further."
Briere said she's supportive of a train station at Fuller Road, but she's happy to wait until there is an increased level of train usage and the tracks are improved, which could take two years.
"I have no idea when we'll get increased train traffic, but I do look at the logistics and I don't think Depot can bear a lot of increased passenger use," she said.
Council Member Tony Derezinski, who is contemplating a run for mayor in two years if Hieftje steps down, said he remains committed to the vision for a transit center on Fuller Road.
"I think it's definitely full steam ahead on the project," he said. "The most attractive part is it's being a railroad station and a center of intermodal transportation. It's going to be the main entrance to the community when mass transit really reaches its potential here."
Derezinski said the city must push ahead with Fuller Road Station and "take steps now to see the wonderful results down the line."
Council Member Jane Lumm, an Independent who represents the 2nd Ward, is asking the city's administration for a full accounting of all Fuller Road Station expenses to date. It's estimated the city has spent hundreds of thousands of dollars on preliminary work for the project and it has undertaken a $1.34 million project to relocate utility lines at the site.
"The money has not been wasted at all," Eli Cooper, the city's transportation program manager, told AnnArbor.com in an email, adding his sense is the city will pick up from where it is now — less U-M's interest in a parking garage — and move Fuller Road Station forward.
Lumm thinks it would be helpful to "hit the pause button" and have a robust community conversation about the project. She said citizens are asking questions about the status of the next phases, and posing many thoughtful alternatives for consideration.
Anglin said the city should be involved in discussions about the future of rail in Ann Arbor, but not building a train station using city dollars. Instead, he said the city should cooperate with Amtrak and the Federal Railroad Administration to talk about the potential on Depot Street.
Now that DTE is cleaning up the old MichCon site off Broadway Street near the current Amtrak station, Anglin said, that's all the more reason to look at the area's potential.
"If we use the MichCon site, there would be no effect on park land. That would just be an eliminated discussion," he said. "No new construction costs would be related to it since the train is already there on that site. Future train expansion costs would only be incurred when a commuter service line would come in and funding was available."
Hieftje said one of the problems with the current Amtrak site and surrounding location is that it's in the floodway, which isn't a good place to make such a major investment.
He said he's been working for a long time through a group called The Wolfpack and talking to DTE about the riverfront property Anglin referenced.
"If everything works out as planned, that will become a great new riverfront park," he said. "As you know, our most desirable parks are right there next to the river and that would become a new park in the city as soon as the cleanup is fully accomplished."
Source: http://www.annarbor.com/news/ann-arbor-transit-center-debate-build-new-train-station-on-fuller-road-or-upgrade-current-amtrak-sta/#.T0cADQXXIpw.email