From The Lansing State Journal:
Traveling through East Lansing by train or bus is about to get easier.
The city's train station, which now serves Amtrak passenger rail and Indian Trails and Greyhound bus travelers, is in line for a $10.5 million overhaul that advocates say will improve train, bus and commuter traffic.
The project is getting a boost from a $6.3 million federal grant from the U.S. Department of Transportation's Federal Transit Administration. It is part of a nationwide program aimed at improving bus facilities. Funds were awarded to the Capital Area Transportation Authority in conjunction with the city of East Lansing and Michigan State University.
The local award is among $47 million dedicated to Michigan projects and $787 million nationwide, federal transportation officials said Monday. The department received applications for projects totaling $4 billion.
When completed, the nearly 9-acre East Lansing site will add bus bays, upgrade waiting areas and improve parking for taxis, rental cars and bike sharing programs. It also will incorporate a stop for Megabus, which recently added an East Lansing stop along a route that includes stops in Detroit, Chicago and Grand Rapids, and for Michigan Flyer, which currently picks up and drops off passengers along Albert Avenue downtown.
Design and engineering of the building could take between three and six months, said Debbie Alexander, CATA's assistant executive director. Construction is projected to take about a year, although an official groundbreaking date hasn't been set.
She estimated the project could be finished by the end of 2013.
Grant money will fund a portion of the project, the difference of which consists of $500,000 matching grants from the Michigan Department of Transportation and Amtrak, the only national passenger rail service. MSU owns the property and leases a portion to CATA to manage the train station and will contribute a long-term lease worth $3.2 million to the project.
It was not immediately clear what is included in MSU's amount.
Michigan State University and the Capital Area Rail Council, managed by the Capital Area Transportation Authority, in 2002 signed a lease valued at $1 per year for the Amtrak train station building in East Lansing. The lease is renewable for one-year terms.
Amtrak also will make $1 million in separate accessibility improvements that will coincide with the larger construction project, Alexander said. The rail company operates its Blue Water Line through East Lansing en route from Port Huron to Chicago. Amtrak has daily train service from East Lansing to Chicago and Port Huron and also contracts with bus companies to take some passengers to Battle Creek so they can connect to other trains headed to Chicago.
"This will be a catalyst for economic growth and development in this area of the city," East Lansing Mayor Pro Tem Nathan Triplett said, adding that he believes increased rail traffic will lead to a revamped Trowbridge Road corridor years from now.
The upgraded station will include all of the land between both sets of railroad tracks along Harrison Road . Most of the existing buildings at the site will be demolished, said Fred Poston, MSU's vice president for finance and operations.
Site renderings show a redesigned traffic flow through the station, including a loop for passenger drop-off and pick-up, 140 parking spaces, separate bus storage and bicycle parking. City planning officials said there are about 85 vehicle parking spaces now.
CATA's buses will continue to stop along Harrison Road because not all passengers riding the local system are headed to the train station, said Sandy Draggoo, its executive director.
The train station property has two entrances now — one, a traffic light at Service Road and the other, with no traffic light, just south of Trowbridge Road. The reconfigured station would divert all entering and exiting traffic to the Service Road signal, said Lori Mullins, East Lansing's community and economic development administrator.
It's expected there will be more traffic, particularly if the plan works and transit use increases, but it will be offset somewhat by the demolition of university-owned buildings that previously shared driveway space, Mullins said.
Also possible are future improvements to Harrison and Trowbridge roads, including widening lanes near railroad tracks to reduce bottlenecks at the intersection or to help buses and other large vehicles turn around on Trowbridge, she said.
Plans will be drawn up to accommodate travelers during the renovation, Triplett said, adding that "there will inevitably be some short-term inconvenience."
MSU's board still needs to approve the plans. Poston said the project could appear on its September agenda.
This is the sixth time the region sought funding for this project. CATA was the lead applicant in four of those grant cycles, Alexander said.
Michigan's senators, Democrats Carl Levin and Debbie Stabenow, supported it .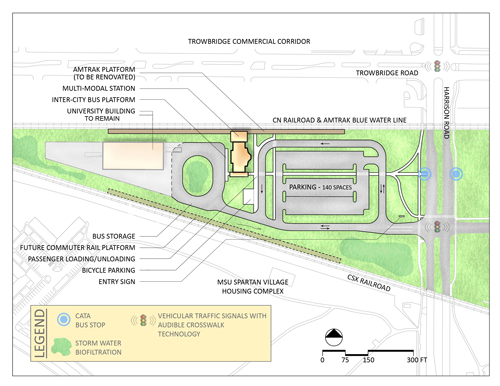 Source: http://www.lansingstatejournal.com/article/20120723/BUSINESS/307230035/East-Lansing-Amtrak-station-gets-6-million-federal-grant?odyssey=mod%7cnewswell%7ctext%7cFRONTPAGE%7cp