Beginning September 10, 2012, the Blue Water and Wolverine Service will operate according to new schedules to accommodate Amtrak trains operating at higher speeds of 110 mph along an 80-mile stretch of Amtrak-owned track in Michigan and Indiana.
The schedules below replace those shown in Amtrak printed timetables. CLICK ON IMAGE TO ENLARGE.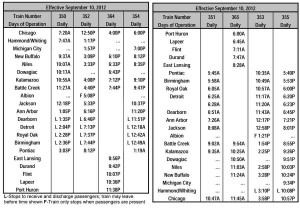 Please note: Tickets issued prior to the schedule change date may not reflect the adjusted departure times. Amtrak said that it makes every effort to notify passengers about schedule changes, passengers are encouraged to confirm their departure times prior to travel.  The most up-to-date schedule and train status information is available on Amtrak.com, the free Amtrak iPhone app and at 1-800-USA-RAIL (1-800-872-7245).