From Progressive Railroading: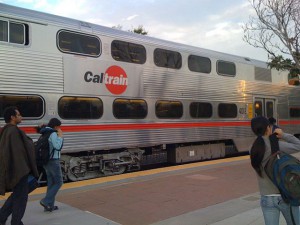 On Sept. 26, 2012, the California Department of Transportation (Caltrans) issued a "notice of intent to award" to Sumitomo Corp. of America for the design, production and delivery of 130 bi-level passenger-rail cars for use in intercity rail corridors in California and the Midwest.
Caltrans issued the notice, which signifies that a potential vendor has been identified on behalf of California, Illinois, Michigan and Missouri. Sumitomo submitted a $352.3 million bid.
"By pooling our resources, all four states involved in this partnership can purchase the equipment at lower costs because it will be acquired in high volume under one contract," said Caltrans Director Malcolm Dougherty in a prepared statement.
Caltrans and the Illinois Department of Transportation first will conduct a federally required Buy America pre-award audit to verify Sumitomo assembly locations and manufacturing facilities for rail-car components. The audit will be sent to the Federal Railroad Administration (FRA) before the contact is awarded. Sumitomo also will be required to submit insurance policies and performance bonds.
A fully executed agreement is expected to be in place by mid-November. The first rail cars are slated for delivery in fall 2015, with the final car expected to arrive in early 2018. Funding will come from FRA grants.
"With Amtrak ridership at record levels in Illinois and the official purchasing process of rail cars under way, this massive project will continue to boost America's manufacturing and assembling industry and provide improved travel options for the entire Midwest," said Illinois Transportation Secretary Ann Schneider.
California will receive 42 cars, which will be used on the Capitol Corridor, San Joaquin and Pacific Surfliner routes. The Midwest states will receive 88 cars, which will be used on the Blue Water, Wolverine, Pere Marquette, Missouri River Runner and Illinois Zephyr/Carl Sandburg routes; future services between Chicago and Dubuque, Iowa, and Chicago and the Quad Cities; and a potential extension to Iowa City, Iowa. "Michigan is experiencing unprecedented ridership growth, and when the new equipment arrives, this will improve the travel experience and grow passenger-rail service even more," said Timothy Hoeffner, director of the Office of Rail at the Michigan Department of Transportation.
Source: http://www.progressiverailroading.com/passenger_rail/news/California-Midwest-DOTs-issue-notice-on-passenger-train-contract–32740#