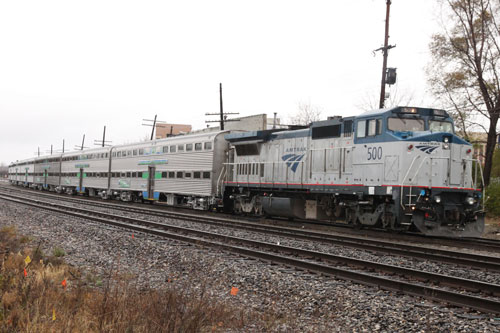 If you thought you saw bi-level commuter rail cars along the railroads between Pontiac and Jackson Nov. 10-14, 2012, you weren't seeing things.
The Michigan Department of Transportation (MDOT) in conjunction with the Southeast Michigan Council of Governments were testing the cars in anticipation of future service. MARP photographer Steve Sobel caught the test train on Monday, Nov. 12 in Pontiac.
MDOT owns the refurbished cars and had taken them out for testing required by the Federal Railroad Administration prior to being placed into service.
Two commuter rail routes have been discussed the past few years including Ann Arbor to Detroit and Ann Arbor to Livingston County.
Don't hold your breath for service to begin anytime soon. Both agencies said they have not set a date for service to begin.