From Ann Arbor.com: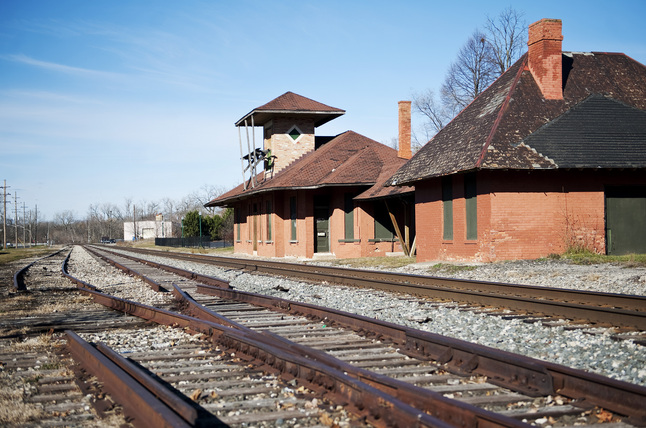 A vacant train depot in Ypsilanti near Depot Town is a target of the Downtown Development Authority, which is considering creating a policy to address bank-owned and habitually vacant properties.
City Planner Teresa Gillotti said the building is secure and a recent tour of it showed there are no issues with the building.
At one point, the depot was being looked at as a possible spot for the Ann Arbor-Detroit commuter rail line to come through, but officials decided it was too close to the tracks to install a platform.
Instead, the west side of the freighthouse will likely be used as the train stop. Six newly refurbished, bi-level commuter rail cars made their first test run earlier this month through Depot Town.
"(They) are planning on having a platform build adjacent to freighthouse," Gillotti said. "The depot is most likely too close to the tracks for Amtrak standings."
City officials agree that the commuter rail line stopping through Ypsilanti would have major effects on the city.
"That's my No. 1 priority," said City Manager Ralph Lange. "… Urban transportation is a huge asset for economic development for a community like Ypsilanti."
City officials are hopeful that a commuter rail through Ypsilanti could spur development of the train station, even though the platform wouldn't be connected to it.
"I think it would take someone with an idea that would fit in with Depot Town and the train stop there," Schreiber said. "Someone had talked about a restaurant at some point or a train museum but those sort of things cost money."
The policy to help business owners of properties like the train depot has yet to be developed or approved, Colbeck noted, but the DDA is interested in figuring a way to help encourage owners to redevelop their properties.
"What we're saying is we have properties that have been sitting vacant for an extended period of time," Colbeck said. "Some are banks and some are individual owners. We would be excited to see some positive use."
Certain properties such as the former Savoy, previously called Club Divine, and the neighboring former Pub 13 piano bar, have received offers, but were turned down by the bank, Michigan Commerce Bank, that owns them, Colbeck said.
Colbeck said the policy, in this sort of instance, would find a way to incentivize banks and owners to move forward with offers. However, Colbeck said the policy wouldn't necessarily obligate the DDA to any sort of financial commitment with the owners.
Read more: http://www.annarbor.com/news/ypsilanti/vacant-train-depot-in-ypsilanti/