From the Port Huron Times-Herald: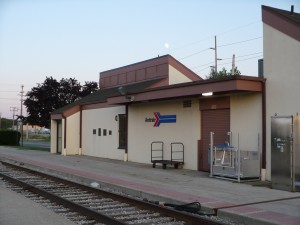 Talks to move Port Huron's Amtrak station closer to the Thomas Edison Inn have ended.
Amtrak has decided it will replace the current building at its existing location, 2223 16th St., said Marc Magliari, Amtrak media relations manager.
"It's not practical to serve Port Huron from the waterfront," Magliari said.
Time drives cost, and with the speed of the track at 5 to 10 mph, moving the train station to the waterfront "would add an unacceptably high number of minutes to the schedule," Magliari said. He also said the proposed site near the Blue Water Bridge didn't offer enough parking.
Officials considered moving the station an option as reconstruction planning began. The 16th Street station needs upgrades because the platform doesn't comply with the Americans with Disabilities Act, Magliari said.
Replacing just the platform isn't possible because it is too close to the station.
Amtrak is working with the city to add more parking to its existing location.
The current station was built in 1979. The Blue Water route stretches from Port Huron to Chicago. While Amtrak ridership statewide was down slightly in 2012, transactions at the Port Huron station rose during the year, from 24,015 in 2011 to 26,696 in 2012.
The construction date has not been set, but Magliari said officials hope the project will be completed within two to three years.
Port Huron City Manager Bruce Brown said city officials understand why the station isn't being moved.
He said they will be happy when a new station is complete.
Source: http://www.thetimesherald.com/apps/pbcs.dll/article?AID=2013301070018&nclick_check=1