From a US DOT Press Release: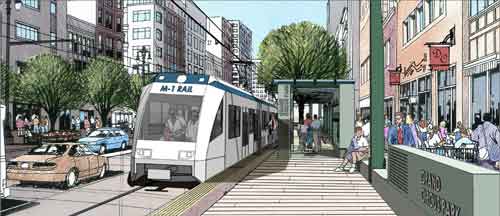 U.S. Transportation Secretary Ray LaHood  announced Jan. 18 that the M-1 Rail project can move forward immediately using the $25 million TIGER grant previously awarded for transit in Detroit.
These funds support construction of a planned 3.3-mile streetcar line to help revitalize Detroit's historic Woodward Avenue corridor.
M-1 Rail, a coalition of private-sector philanthropic and business leaders, has committed more than $100 million toward construction and operation of the $137 million project. The remainder will be funded by state and local sources.
The Secretary also announced an additional $6.5 million in Federal Transit Administration (FTA) planning funds available from prior fiscal years to help Michigan develop a bus rapid transit (BRT) network to expand transit options connecting downtown Detroit with its suburbs and key destinations in the region.
"I applaud Michigan's leaders for coming together to support a regional vision for public transportation that will improve access to jobs, education, medical care, and other destinations for residents in the Detroit metro area," Secretary LaHood said.
"The Obama Administration is committed to the creation of a modern transportation system that will create jobs Detroit needs right now, while spurring new economic development to help this region grow stronger in the years to come," he said.
The Secretary was joined by Governor Rick Snyder, Senator Carl Levin, Senator Debbie Stabenow, Congressman John Dingell, Congressman John Conyers, Congressman Gary Peters, Congressman Sander Levin, Detroit Mayor Dave Bing, Officials from the M1 Rail Corporation and Federal Transit Administrator Peter Rogoff.
The streetcar funding announcement comes just weeks after Governor Snyder signed into law critical legislation creating a Regional Transportation Authority (RTA) to develop and more efficiently operate public transportation projects in metropolitan Detroit and across the state.
"The M-1 Rail project will truly be a catalyst for bringing new jobs, employers, retailers, and attractions into downtown, Midtown, and the New Center area along Woodward Avenue," said Administrator Rogoff. "And with the new regional transportation authority now in place, Greater Detroit can stand up a transit network that meets residents' needs while expanding economic opportunities."
The Woodward Avenue streetcar line will be constructed and initially operated by the nonprofit M-1 Rail Corporation – a consortium of local private businesses, foundations, and public and private institutions committed to improving mobility and supporting economic development along lower Woodward Avenue. Investors include the Kresge Foundation, the Penske Corporation, Quicken Loans and a dozen other benefactors.
The streetcar line is expected to include 11 stations, with connections to Campus Martius, Comerica Park (home of the Detroit Tigers), the Detroit Medical Center area, and Wayne State University. The City of Detroit, the Michigan Department of Transportation and the Southeastern Michigan Council of Governments will also be involved in moving the project through development and construction.
FTA's planning funds will help to develop a BRT network to connect downtown Detroit with Macomb County along the region's busiest transit corridor; expand east-west transit service between Macomb and Oakland counties, and extend transit service between downtown, Detroit Metropolitan Wayne County Airport and Washtenaw County.
Source: http://www.dot.gov/briefing-room/us-transportation-secretary-ray-lahood-announces-25-million-woodward-ave-streetcar