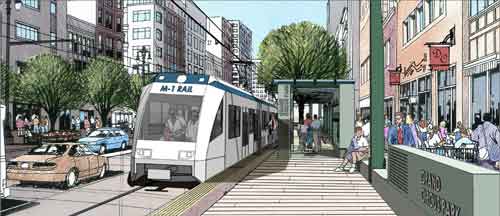 With the 3.4-mile Woodward Avenue light rail project expected to break ground this summer, conversation has begun to shift toward how to efficiently extend transit along the corridor beyond Detroit's city limits.
A handful of community meetings scheduled this month will discuss plans to extend an alternative mode of transportation for the 27-mile route from Detroit to Pontiac, with bus rapid transit (BRT) as the leading option.
The main goal of the project is to "provide high level, fast transit service that would compete with the automobile" from Pontiac to Detroit's riverfront and vice versa, said Carmine Palombo, director of transportation planning for the Southeast Michigan Council of Governments.
SEMCOG is coordinating with the M-1 Rail group and the Woodward Avenue Action Association, the group behind the Woodward Avenue Complete Streets project, a plan that involves planning for safe, attractive and comfortable access to roadways for motorists, bicyclists and pedestrians along the same route.
SEMCOG and a steering committee representing M-1 stakeholders planned five meetings as part of the Woodward Avenue Rapid Transit Alternative Analysis, which for the past eight months has examined a multitude of transit options along the corridor. Palombo said that over time, SEMCOG and the committee had eliminated every option besides BRT.
The five meetings will take place in study area cities:
• April 17, 6:30-8 p.m. (Detroit from McNichols to Eight Mile Road, Ferndale and Pleasant Ridge) – St. James Catholic Church, 241 W. Pearson St., Ferndale
• April 23, 5:30-7:30 p.m. (Detroit and Highland Park) – Detroit Public Library, Main Branch, 5201 Woodward Ave., Detroit
• April 25, 5:30-7:30 p.m., (Pleasant Ridge, Huntington Woods, Berkley and Royal Oak) – Berkley Community Center, 2400 Robina Ave., Berkley
• April 27, 11 a.m.-1 p.m. (Detroit and Highland Park) – Detroit Public Library, Main Branch, 5201 Woodward Ave., Detroit
• April 30, 6-8 p.m. (Birmingham, Bloomfield Hills, Bloomfield Township and Pontiac) – Manresa Jesuit Retreat House, 1390 Quarton Road, Bloomfield Hills
At the meetings, scheduled for April 17-30, the public will learn why BRT has become the preferred option. Displays will be on hand to show how BRT functions in cities across the world including in Portland, Ore.; Seattle; Cleveland; Sao Paulo, Brazil; and Brisbane, Australia.
SEMCOG is managing the $2 million that the U.S. Department of Transportation awarded last summer to fund the Woodward Avenue Rapid Transit AA, according to Palombo.
The purpose of the meetings is to focus on BRT, get residents' input on what they want to see in the system and how the system will function with bike and pedestrian travel, Palombo said.
After a preferred option is found, an environmental clearance would follow, which Palombo hopes will be completed by early 2014.
The eventual cost of the project is too early to determine, Palombo said.
He noted a variety of factors that will determine the ultimate cost, including: alignment, frequency of service, buses that are selected, and the size of the improvements made to the already existing bus network.
"You can't just recommend what's going to happen on Woodward without recommending how everything else is going to connect to it," Palombo said, adding that routes from other regional transit services feeding into Woodward would most likely have to be increased.
SEMCOG also is providing temporary staff for administrative work to the Regional Transit Authority (RTA), which is set to meet for the first time April 10.
"Initial work of the RTA is primarily administrative, [to] get themselves established, get themselves formed, do administrative tasks that allow them to receive federal and state funding," Palombo said.
The RTA was approved by the Legislature in November after 23 previous attempts, and then was signed into law by Gov. Rick Snyder the following month.
The Woodward Avenue Rapid Transit AA bus rapid transit project will be the initial artery in a regionwide BRT system, first announced in late 2011.
"We are working with the RTA, bringing them up to speed with this project because at some point they will assume responsibility for moving it forward," Palombo said. "This is not outside of that, it will be a part of that entire system."
The originally proposed project included 23 stops that would operate much like a rail line, using specialized, train-like buses with dedicated lanes. The plan called for buses running along Gratiot, Woodward and Michigan avenues as well as M-59, and would connect to Ann Arbor and Detroit Metropolitan Airport in Romulus.
At the time, it was estimated the 110-mile rapid-transit regional bus system would cost $500 million.
U.S. Department of Transportation Secretary Ray LaHood promised M-1 Rail a $25 million federal grant last summer if the group satisfied his concerns about how it would be funded and operated in the long term, and if the state approved a RTA for metro Detroit.
LaHood delivered on that promise in January during an announcement at Wayne State University and said the U.S. Department of Transportation would commit $25 million to M-1.
LaHood also awarded a $6.5 million grant to the RTA's bus rapid transit project for planning funds from the federal transit authority.
From Crain's Detroit Business
http://www.crainsdetroit.com/article/20130404/NEWS/130409928/m-1-rail-project-scope-widens-to-extending-transit-beyond-detroits#