From AnnArbor.com:
Nick Tobier and his 3-year-old son Oscar weren't planning on getting on a train Friday, but after passing by the railcar parked in downtown Ann Arbor, they had to check it out.
"It's fantastic, we love it," Tobier said, while Oscar offered a one-word review of the refurbished railcar for the proposed Ann Arbor-to-Detroit commuter rail service: "Good."
"We're really big supporters of public transit and anything that links Ann Arbor to Detroit," said Tobier, an Ann Arbor resident who teaches at the University of Michigan. "I work with schools in Detroit, so I'm in Detroit anywhere from three to five days a week, and I would be very happy not to drive.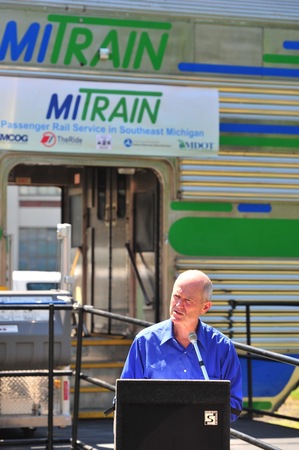 Ann Arbor Mayor John Hieftje offers remarks at a special unveiling event on Friday while standing in front of the refurbished railcar.
Ryan J. Stanton | AnnArbor.com
"And we as a family are in Detroit for many things on the weekends, so we'd take it all the time — a Tigers game or Eastern Market. Plus the social aspect of the train is nice."
Friday's unveiling of the railcar took place in advance of the Mayor's Green Fair in downtown Ann Arbor, and it marked the first-ever public display of the commuter railcar.
It's one of a number of railcars being refurbished for two proposed commuter rail services — the east-west Ann Arbor-to-Detroit line and the north-south WALLY line linking Ann Arbor and Howell.
Representatives from the city of Ann Arbor, Michigan Department of Transportation, Southeast Michigan Council of Governments and others were on hand for the railcar's unveiling on Friday.
Read more: http://www.annarbor.com/news/ann-arbor-mayor-commuter-rail-to-detroit-can-be-a-reality-in-3-years-with-rta-support/