From AnnArbor.com: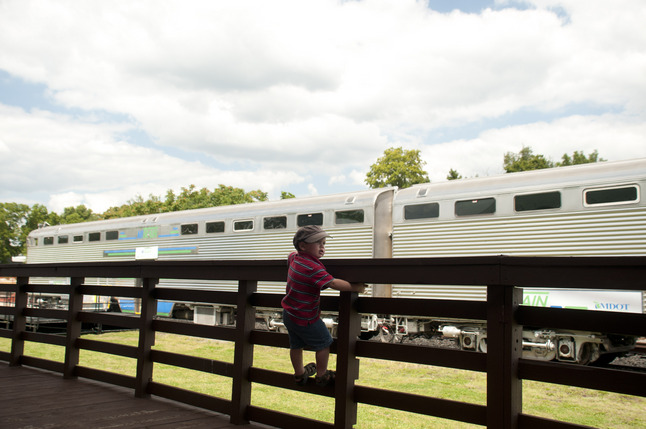 When Susan Greenberg graduated from Lincoln Consolidated Schools, she took a trip via rail to Washington, D.C., to celebrate.
Greenberg boarded that train in Ypsilanti's Depot Town.
Now, almost 60 years later, Greenberg once again got the chance to board a passenger train in Depot Town.
The demonstration passenger rail car she boarded is one of 23 that will be a part of the Ann Arbor-to-Detroit commuter rail that will make regular stops in Depot Town when service begins in what officials expect will be about three years.
Greenberg said she is excited to see rail return and thinks it's a service Ypsilanti and the region needs.
"Most people are finding it harder to pay for and run an automobile," she said. "Wages aren't keeping up where everyone can afford it and it helps to have rail where many people are traveling together."
A press conference Friday that showcased the recently purchased cars helped kick off the Ypsilanti Heritage Festival weekend.
Representatives form the city of Ypsilanti, Southeastern Michigan Council of Governments (SEMCOG) Washtenaw County, the Ypsilanti Visitor's and Convention Bureau, Eastern Michigan University and U.S. Rep. John Dingell all spoke at the event.
Ypsilanti Mayor Paul Schreiber reminded more than 100 attendees that as they walk around the Heritage Festival and think about Ypsilanti's past and it's tie to rail, they should also consider the role rail will play in the city's future.
Specifically, he noted how Depot Town has been on an upswing since it was full of derelict buildings in the 1970s.
"Depot Town has made big strides since the 1970s and this is the next big stride," Schreiber said.
Dingell also recalled that rail was once a central component of Ypsilanti.
U.S. Rep John Dingell speaks at the MiTrain Press Conference that showed off the newly purchased commuter rail cars.
"A lot of people forget that this used to be a railroad town. And it's going to be a railroad town again," he said. "I want you to know it's going to be a success."
But, like several other speakers, he told the audience many challenges to making the Ann Arbor-To-Detroit rail line a success still lie ahead.
Don't pat yourself on the back yet. There's still a lot more work to be done," he said.
The purchase of the cars showcased at Friday's event was a milestone, however. The Michigan Department of Transportation recently bought 23 cars from the Chicago Metra and refurbished them for around $300,000 each.
SEMCOG and MDOT are now working on a multi-million-dollar effort to upgrade the tracks between Ann Arbor and Detroit to reduce travel time and improve the ability of passenger and freight trains to share the tracks.
That effort will take several years, and SEMOCG Executive Director Paul Tait said the organization is simultaneously working to secure more funding for the estimated $10 million in annual operating costs.
Tait underscored the positives that the Ann Arbor-To-Detroit corridor has working for it. It holds three of the state's top 10 employers; it has 135,000 college students, four of the state's most populous cities, several health systems and a variety of sporting and entertainment venues.
'We have to be patient, but rightfully optimistic about the potential," Tait said.
Ypsilanti Visitors and Convention Bureau Director Debbie Locke-Daniels, like most in Ypsilanti, is eager to see the potential of a train stop in Ypsilanti realized.
"It will bring thousands of new visitors," she said. "We already know what we have here in Depot Town, and we want many, many more people to discover it."
Source:  http://annarbor.com/news/ypsilanti/commuter-rail-showcase-john-dingell-help-kick-off-ypsilanti-heritage-festival/