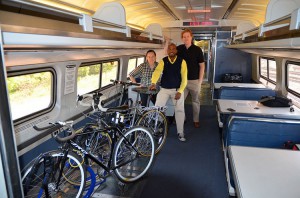 Starting Sept. 6, bicycles will be accepted aboard the Amtrak Blue Water (Trains 364 & 365), a service sponsored by the Michigan Department of Transportation (MDOT) that operates daily between Port Huron and Chicago via East Lansing and Kalamazoo.
Uniquely in the Midwest, railcars on the Blue Water have been modified to create an area to securely carry up to four bikes per train on a popular route that serves two large state universities (Michigan State and Western Michigan) and several bicycle-friendly communities. There is a $10 charge for transporting a bike, in addition to the railfare, and cyclists are encouraged to lock their bikes onto the brackets mounted in the café cars when they walk their bicycles on the trains.
"We've worked with the cycling community to modify these railcars so bikes can be secured without disassembly," said Derrick James, Amtrak Director of Government Affairs-Central and an avid cyclist who is one of the Amtrak liaisons to the cycling community. "We look forward to measuring the success of this service with an eye to expansion to additional routes across our national network."
"Bicycle travel and tourism is important in the state of Michigan," said Tim Hoeffner, director of the MDOT Office of Rail. "Amtrak inclusion of bike service on Blue Water trains is beneficial for Michigan travelers."
Amtrak services in the Chicago Hub also welcome walk-on bikes on routes in Illinois and Missouri in unmodified railcars. For more information, visit Amtrak.com.