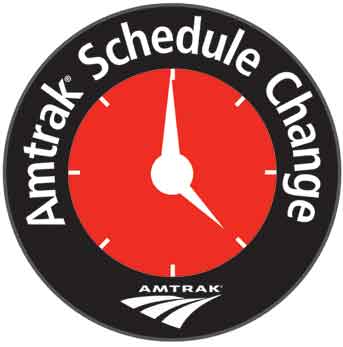 The last of three Michigan track improvement phases for the 2013 construction season begins between Jackson and Kalamazoo on Oct. 14. While the project will cause some delays and modified weekday schedules, the result will be upgraded tracks and more reliable service as part of the Accelerated Rail Program being carried out by Amtrak for the Michigan Department of Transportation (MDOT).
Click here for the Passenger Service Notice that will be distributed on trains and at stations to explain the Monday-Thursday schedule changes and provide more information about possible delays. The track improvement work began last month west of Dearborn and is supervised by an MDOT/Amtrak team.
Amtrak Wolverine Service Trains 350 & 353 will terminate and originate in Kalamazoo, rather than Pontiac, through Nov.21. Alternate transportation for these trains will be provided in both directions as chartered buses between Pontiac and Kalamazoo.
Unlike the previous two phases of track improvements, this phase will also involve a temporary schedule change for westbound Amtrak Blue Water Train 365. The route between Battle Creek and Kalamazoo is shared by Wolverine and Blue Water trains.
This phase of the project will largely take place Mondays through Thursdays, with the tracks open for all trains on regular schedules on Fridays, Saturdays and Sundays.
When all 2013 phases of the project are complete next month, more than 30 miles of new track and 130,000 new crossties will be installed by crews working ten-hour days.
"This is the largest phase of the 2013 work," said Al Johnson, MDOT Rail Operations Manager. "It provides great benefits from more reliable track conditions and eliminates the
need for similar track disruptions next year between Dearborn and Kalamazoo."
MDOT is leading a three-state effort to improve the 300-mile corridor from Pontiac and Detroit across Michigan, through northwest Indiana and to Chicago. The result of these and future infrastructure improvements will allow Amtrak trains in mid-Michigan to operate at speeds up to 110 miles per hour, as they do now for 80 miles in southwestern Michigan and part of Indiana.
Michigan has the longest stretch of higher-speeds in the Midwest, with the Wolverine and
Blue Water trains carrying Amtrak passengers at the highest speeds available outside the Northeast U.S.
A goal of the project is to reduce the end-to-end travel time between Detroit/Pontiac and Chicago by approximately two hours from the current 6 hours and 30 minutes. For more information, visit GreatLakesRail.org.
Amtrak passengers can opt in when they make their round-trip or one-way reservations to be automatically notified when their trains are behind schedule due to construction work or for any other reason.
From an Amtrak press release: http://www.amtrak.com/ccurl/591/237/Amtrak-Michigan-2013-Improvement-Phase-3-ATK-13-119.pdf