From Trains Magazine: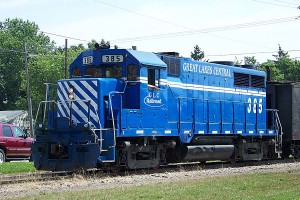 Watco  Transportation Services has reached an agreement to make a "preferred equity  investment" in Federated Capital Holdings, owner of the 400-mile Great Lakes  Central Railroad. The deal has the possibility of reuniting the old Ann Arbor  Railroad main line, which has not operated as a single railroad in more than 30  years. It also includes Federated Railcars, owner of a fleet of refurbished  passenger cars.
"This partnership between two entrepreneurial companies  will help insure the long-term success of local rail service in Michigan and  also provides a mechanism for the continual growth and improvement of our  transportation assets to help grow Michigan's manufacturing and agricultural  interests," Federated Capital President Louis Ferris says. "We also believe that  this partnership provides significant benefits to the Michigan Department of  Transportation's passenger efforts."
The Great Lakes Central stretches  from Ann Arbor north to Cadillac on the former Ann Arbor main line with branches  to Thompsonville, Traverse City, and Petoskey. The primary commodities hauled  include grain, sand, and plastic. The railroad interchanges with Canadian  National and Huron Eastern in Durand, CSX Transportation at Anne Pere and  Howell, the Watco-owned Ann Arbor Railroad at Ann Arbor, and the Mid-Michigan  Railroad at Alma.
Federated Railcars, through the railroad's shops in  Owosso, rehabs and upgrades its passenger car fleet to be used for the Michigan  Department of Transportation's proposed "Wally" Ann Arbor commuter  service.
"The Watco team is extremely proud and honored to enter into a  long-term strategic partnership with the excellent team at Federated Capital  Holdings," Watco CEO Rick Webb says. "We look forward to the opportunity to work  with Federated Capital Holdingsto create extraordinary value for rail shippers  in Michigan."
Watco acquired the "new" Ann Arbor Railroad in late 2012.  In 1977, the state of Michigan contracted with the newly formed Michigan  Interstate Railway to operate the bankrupt "old" Ann Arbor. Michigan Interstate  ceased operation north of Ann Arbor in 1982, forcing the state to split the  lease of the line with the Tuscola & Saginaw Bay, which later became Great  Lakes Central. Michigan Interstate filed for bankruptcy in 1983, and from that  corporation the modern, independent Ann Arbor Railroad was formed in 1987.