From Soo Today: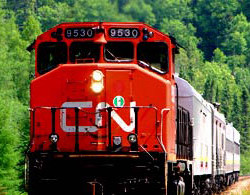 A nationally-recognized accounting firm will help assess the economic impact of CN's Algoma Central Rail passenger service between Sault Ste. Marie and Hearst.
With the transportation link set to cease operating on April 29, the Working Group that is attempting to save the line has retained the services of BDO Canada LLP, one of the country's largest accounting and advisory firms.
"We don't fully understand the extent of the economic benefit and precise impact of the ACR passenger line, and this preliminary economic impact assessment from BDO will help us in formulating our business case," said Joe Fratesi, Chair of the ACR Passenger Service Working Group. "It's critical that the Federal Government and all parties understand the impact that cancelling of the line will have on Northern Ontario. The ACR is a key transportation link for our region."
In early-2014, the Government of Canada announced that it would be cutting its $2.2-million investment in the Sault-to-Hearst passenger line.
Without this investment, CN Rail, the owner and operator of the ACR, has indicated that it will be cancelling the run on April 29.
The line not only provides a crucial passenger service to remote communities, First Nations and municipalities in Northern Ontario, it also provides remote access to a broad range of stakeholders, including tourism resorts, lodges, small businesses, camp and property owners, as well as those who hunt, fish, trap and generally enjoy the rugged landscape made famous by Canada's renowned Group of Seven artists.
In light of the cancellation and the severe impact it will have on people, businesses and communities serviced by the line, the ACR Passenger Service Working Group was established.
The goal: preserve this crucial transportation infrastructure by keeping the run operating in the short-term while a longer-term solution is found.
The upcoming economic impact assessment from BDO Canada LLP will help make the case to the Federal Government that the line is worth investing in.
The costs of this accounting service, along with other endeavours that will be undertaken by the Working Committee, are being shared by the stakeholders.
The ACR Passenger Service Working Group, which represents a larger group of concerned stakeholders, consists of individuals from the:
City of Sault Ste. Marie;
Sault Ste. Marie Economic Development Corporation;
Municipality of Wawa;
Town of Hearst;
Area First Nations;
Township of Dubreuilville;
Tourism Sault Ste. Marie (representing local tourism operators);
Algoma Kinniwabi Travel Association (representing regional tourism operators);
Coalition for Algoma Passenger Trains (CAPT); and
Land and cottage owners serviced by the ACR passenger line.