From the Midland Daily News: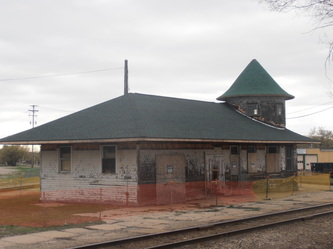 Usually trains move while train depots remain stationary.
That's not going to be the case in Clare on April 15 when the 119-year old Clare Railroad Depot is scheduled to move to its new home on Fourth Street across from the Clare Castle — about 900 feet to the east of its current location.
The building is of Queen Anne style with two separate wings and is the only one of its kind remaining in Michigan and one of a few left in the nation. The depot was the focal point for arrivals and departures until the advent of the automobile.
Since 2005, the Clare Railroad Depot Committee has sought to move the building because of access, liability and safety issues associated with its current location on active tracks.
Work on the move is scheduled to begin in mid-March. Prep work at the new location includes digging a full basement and pouring a concrete floor. The depot must also be readied for the move. This work includes removal of the interior structure to the studs; disconnecting utilities; cutting the building free of its present concrete foundation (that was poured after the building was constructed); raising the building and putting a floor system under it; and putting large steel cross beams every few feet under the new floor to support the building as it is moved.
The move is just the first step in what will be a multi-year project that will require at least an additional $500,000 before the building is rehabilitated into a community resource that will include offices, a meeting room, a museum, the welcome center for the Pere Marquette Rail Trail and a home for the Clare Area Chamber of Commerce, Clare County Convention & Visitors Bureau and Clare County Arts Council.
"We invite everyone to come to Clare in April to see a railroad depot in motion. After all, an opportunity like this comes around only once every 119 years!" a spokesperson said.
While the move is scheduled for April 15, complications could delay the project. Updates will be posted on the committee's Facebook page and also its website at http://www.claredepot.com/
Source: http://www.ourmidland.com/news/clare-planning-to-move-historic-depot-in-april/article_221552f2-4bca-5345-a78e-974befa9c6a2.html