From Railway Age:
For its Fiscal Year 2015, which begins Oct. 1, 2014, Amtrak is requesting $1.62 billion in federal capital and operating support, an increase of approximately 16% from FY 2014 federal appropriations. But more important, said Amtrak President and CEO Joe Boardman, fundamental changes are needed in how the U.S. government financially supports intercity passenger rail.
A portion of Amtrak's annual operating profit on the Northeast Corridor, estimated at $300 million and based upon a ratio of operating revenues to operating expenses (so-called "above the rail" costs), is used to cover some costs of its state-supported and long-distance trains. This has to change, said Boardman, if the NEC is to continue as "vital to the mobility, connectivity, and economy of the entire Northeast region. Continuation of current funding levels leave Northeast Corridor infrastructure vulnerable to a bigger, costlier and far more damaging failure than anything yet seen."
"Infrastructure deterioration and changes in business patterns have reached a point where something has to change," said Boardman. "If America wants a modern intercity passenger rail system, the problems of policy and funding must be addressed. The nation cannot afford to let a railroad (the NEC) that carries half of Amtrak's trains and 80% of the nation's rail commuters fall apart; the economic consequences would be devastating. A new federal policy and funding arrangement should create a significant and reliable multi-year capital investment program to reverse the decay of NEC infrastructure and support other intercity passenger rail projects. A strong federal commitment will allow Amtrak to plan and implement major multi-year projects such as replacing century-old NEC bridges and tunnels, and make critical capacity improvements such as the Gateway Program between New Jersey and New York."
"To provide additional funding for NEC improvements, Congress should fully fund the operating and capital needs of the long-distance routes so that NEC revenues can be reinvested in the NEC," Boardman said. "By dedicating NEC revenue to meet NEC needs, it could be leveraged to pay for debt service on loans to address the most urgent NEC infrastructure issues. It also could be used to finance other funding solutions such as public-private partnerships, grants of assistance, and state and commuter rail agreements."
Boardman said Amtrak's long-distance trains have been a core federal responsibility since 1971, and Congress should fulfill its obligation by funding their full cost. "Long-distance trains form the backbone of the Amtrak national system, connect small towns to major cities, support local economic development, deliver passengers to state-supported corridor trains, and conduct interstate trade and commerce," he said. "They are vital to the communities and people they serve, and are increasingly important as airlines and bus companies abandon significant regions of America. It is clear that Americans wants a national system of intercity passenger rail, and will continue to use it in greater numbers if we can provide it. Our work over the past decade proves this, but to maintain and improve that system will require both an increase in the overall capital levels and a real federal commitment to deliver the needed financing."
In Amtrak's FY 2015 budget request to Congress, Boardman pointed to "the work Amtrak has done to maintain our aging rail system and sustain and even improve service in the face of unprecedented natural disasters and a challenging environment. Service disruptions caused by weather and other issues cost us more than 440,000 riders and $42 million in ticket revenue. In spite of that, we set an annual ridership record of 31.6 million passengers and a ticket revenue record of $2.1 billion. That we did this in spite of serious obstacles says a lot about the demand—but the losses we did see are just the first of the challenges we can expect to face if we do not act now to stop the decay of the Amtrak system. While I am very proud of the way the men and women of Amtrak have sustained that system, the time has come for us to do something to reverse this trend so passenger rail can continue to contribute to our national economy."
"Amtrak has successfully sustained our national system for four decades, thanks to growing ticket revenue, strong freight railroad support, and the federal grants designed to ensure national connectivity," Boardman said. "Congress stated in Section 228 of PRIIA that the operation of a national system was 'a vital and necessary part of our national transportation system and economy,' and that is a sentiment with which I strongly agree."
Table 1 (opposite) shows Amtrak's total FY 2015 request, as well as the divisions of operating and capital need. "Taken as a whole, our FY 2015 request is approximately 16% higher (excluding FRA oversight funding) than our FY 2014 appropriations," Boardman noted. "We have taken a very careful approach so that we can keep operating costs down, and operating revenues up, resulting in a cost recovery that has continued to rise, reaching 89% in FY 2013, and a projected 91% by FY 2015.
"If Amtrak could obtain access to a multi-year federal funding commitment, it could build and follow through on a capital program that would address our fleet and infrastructure needs. Amtrak has never had a true capital commitment, one that allowed us to sign multiyear contracts, knowing that the money would be there to carry out the work. As a result, we have put off major capital programs to renew aging bridges and tunnels, in some cases for decades. The projects we have been able to undertake have been completed in a manner that is less efficient than it would have been if we could say with certainty that our projects were funded in advance. Our ability to buy in bulk for out years, which saves money, is hindered by our inability to commit money for purchases in coming fiscal years.
"The uncertainty associated with an annual appropriation sometimes means we are left with excess inventory that must be stored or held until a use can be found for it. It is difficult to get industry [suppliers] to respond to orders or proposals if we can't guarantee large purchases, and it is hard to know when our workforce will be needed, a challenge that is made even harder by the limited work windows that are available on the Northeast Corridor. The process of 'ramping up' the organization so that we can effectively invest at a level that will make a difference will take a period of years, as we will have to develop capabilities that are currently scaled to our existing program—both management capabilities, such as project and contractor oversight, and workforce capacity—to accommodate significantly higher levels of funding.
"While we can expand and contract these capabilities to accommodate fluctuating levels of investment, there are significant long term cost savings that will come if we can plan our activities in advance and manage our workforce and inventory in a manner that ensures we obtain the most efficient return for our investment. This would be another efficiency benefit that will flow naturally from access to a committed source of capital support. Such a funding stream would also be important for our long distance services, which enjoy strong support from the states and communities they serve. In addition to the aging fleet, which we have begun to replace, there is a need for investments in the freight network to provide improvements that are needed for passenger service."
To conduct its operations in FY 2015, Amtrak said the NEC will require no federal operating support, but it will require approximately $445 million in federal capital investment, in addition to other funding provided by commuter authorities in accordance with Section 212 of PRIIA. This investment will be augmented by approximately $290 million in revenue generated by NEC services.
"While this level of investment is far below the amount needed to stabilize and improve the NEC, as called for in the draft Five-Year Northeast Corridor Capital Plan now under development with the Northeast Corridor Commission, it reflects what we believe is a realistic request for funding giving our continued reliance on the annual appropriations process for capital funding," said Boardman. "The majority of the investment will be spent on infrastructure renewal, which includes stations, rail and safety mandates, and rolling stock. The remaining $34 million will be invested in Amtrak's most important ongoing investment project, the Gateway Program, designed to build additional track, tunnel and terminal capacity at Amtrak's most congested point, New York Penn Station and the tunnels connecting it with New Jersey."
Amtrak's state-supported services have become a major source of ridership growth, with ridership almost doubling between 1998 and 2013. "Over the course of the past year, we have worked closely with our state partners to implement the cost-sharing mandates established by Section 209 of PRIIA," Boardman said. "Section 209 requires the states to assume a larger and consistent share of the costs associated with each service, and their willingness to do so has allowed Amtrak to preserve every single state-supported service. While the 209 process has secured state support for the majority of operating expenses, Amtrak will still require approximately $83 million of federal operating support for these trains in FY 2015. While these services as a whole will continue to require some level of state and federal operating support, it should be noted that by the end of FY 2013, preliminary analysis indicates that nine of these routes had reached or exceeded the 90% cost recovery level for the year. In most of these instances, the availability of multiple frequencies, the promise of reliable service, and the additional choices conferred by intercity rail and transit service connectivity have driven this growth—which strongly suggests that the success of our NEC services could be replicated in other corridors, if sufficient levels of capital funding and freight railroad access could be obtained to develop them."
While Amtrak's long distance service costs have been offset in recent years by revenues from NEC services, Amtrak is proposing for FY 2015 that the federal government provide for the totality of their operating need, $618 million, as part of its FY 2015 operating need. "Like the Northeast Corridor, these trains will require significant capital investment, with a total identified FY 2015 need of $295 million," said Boardman. "About $50 million of this cost will be required for ADA compliance at our stations. The purchase of new rolling stock, including the ongoing replacement of our Heritage cars, will require $130 million. Approximately $115 million will be required for overhauls to our fleet, much of which dates to the early 1980s."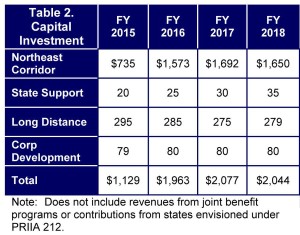 How all this is to be accomplished "is both a policy matter and a financial one," Boardman said. "The states and our other partners have important roles to play, but investment on the scale required to achieve program goals will have to come from the federal government. It is equally clear that the existing investment model, with its unpredictable timing and funding levels, is incapable of providing financing in a manner that supports the development of major multiyear projects. If America wants a modern intercity passenger rail system, this problem must be addressed – as much to sustain the existing level of service as to develop the capacity Amtrak will need in the years to come. A new and sustainable financing framework is needed for the benefit of the entire nation, as well as the multiple state and regional economies which we do or could serve. Table 2 (lower illustration) will put our FY 2015 need in the context of our needs for the following years, which will, if financed, bring us up to a level that will allow us to make meaningful improvements in our system reliability. The need for investment is pressing, and the gradual process of decapitalization will, if left unchecked, lead to higher costs and worse service, for Amtrak, commuters, and Northeastern freight carriers."
Source: http://www.railwayage.com/index.php/passenger/intercity/amtrak-fy-2015-budget-something-has-to-change%e2%80%9d.html?channel=41&utm_source=WhatCounts+Publicaster+Edition&utm_medium=email&utm_campaign=RGN+3.19.14&utm_content=Amtrak+FY+2015+budget%3A+%E2%80%9CSomething+has+to+change%E2%80%9D&fb_action_ids=690230376182&fb_action_types=og.likes&fb_source=other_multiline&action_object_map=%5B1417402748511255%5D&action_type_map=%5B%22og.likes%22%5D&action_ref_map=%5B%5D