From The Grand Rapids Press: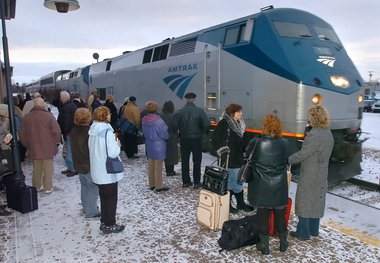 For 30 years, West Michigan residents have been able to travel between Grand Rapids and Chicago through Amtrak's Pere Marquette rail service.
Now there's a statewide effort underway to look into whether a train running between Holland and Detroit is feasible, and the idea is generating support from a local metropolitan planning body.
The Macatawa Area Coordinating Council's Policy Committee this week endorsed the proposal from the Michigan Environmental Council and the Michigan Association of Rail Passengers to have a feasibility study done to see whether a passenger rail corridor could be developed using existing rail lines between the two cities.
John Langdon, a spokesman for the initiative, says if successful, it would probably be at least 10 years before train service could begin.
"This is an opportunity to get started," Langdon said. "It's a long-term issue. The feasibility study will only tell us whether it makes sense to move ahead to the next level."
The so-called "Coast to Coast" line would go through Grand Rapids, Lansing and metro Detroit, and could connect major colleges as well as health care organizations such as those along Grand Rapids' Medical Mile. The line would travel at a speed of 79 mph, compared to the current maximum speed of 65 mph on the Pere Marquette, Langdon said.
Most of the route would run on tracks currently owned by CSX Transportation, Langdon said.
MACC Executive Director Steve Bulthuis says adding a second passenger rail line would be a positive for the Holland area. But he says there's a lot that has to happen before it's known whether such a service would be viable.
"If you don't justify the need for it, you never make it to the next steps in the process," Bulthuis said. "There's a lot of work to be done. This is a first step in a long process."
The Grand Valley Metropolitan Council has not seen the proposal yet, but it's likely to come before the planning body in the near future, said Mike Zonyk, the agency's transportation planner.