From Crain's Detroit Business: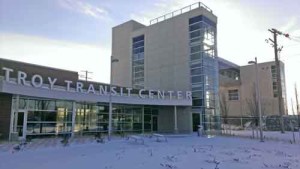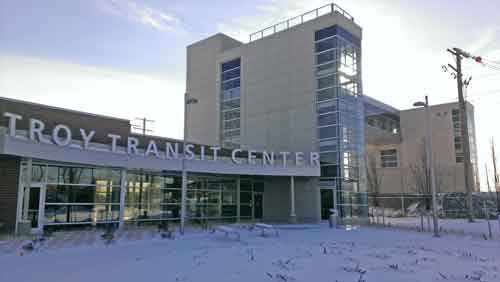 The Troy City Council voted 7-0 April 7, 2014,  to authorize an offer of $1.05 million to Grand/Sakwa Properties LLC, to reacquire the 2.7-acre Troy Transit Center property after the courts found it had reverted to private ownership.
The vote authorizes the city to make that offer, based on funding from the Federal Transit Administration, an agency of the U.S. Department of Transportation. The Suburban Mobility Authority for Regional Transportation has a grant amendment request before the FTA for funds that would aid in the purchase.
Troy originally made an offer to Grand/Sakwa for $550,000 in November, which sparked a condemnation lawsuit in December when Grand/Sakwa didn't respond. Oakland County Circuit Judge Leo Bowman dismissed the case on Feb. 21 because the appraisal was based on land valuations in 2010, when the site was still undeveloped.
The new offer reflects more current land values. If Grand/Sakwa takes it, Troy reclaims land that the Michigan Court of Appeals found had reverted to Grand/Sakwa in June 2010, and presumably the center that was completed last fall can finally open.
If the developer refuses, within a few weeks, the city could take Grand/Sakwa back to court.
Source: http://www.crainsdetroit.com/article/20140408/NEWS/140409852/troy-council-votes-to-offer-1-05-million-to-developer-for-troy