From The Clare County Review: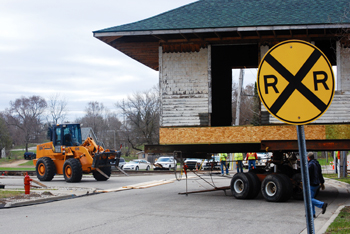 The 119-year-old Clare Railroad Depot was picked up off the old site and moved to a new home on April 25, 2014. During the 11 hour process, the building was moved approximately 900 feet east to its new home on Fourth Street across from the Clare Castle.
The Clare Union Depot has an interesting history in the area. It was constructed in 1887; destroyed by a fire in 1894; and rebuilt in 1895 by the Pere Marquette and Ann Arbor Railroads. It was used for passenger service on the Ann Arbor line until 1850 and by the Pere Marquette Line (then a part of the C&O Line) for a few more years and finally as a maintenance and administrative office by the T&SB, which is now The Great Lakes Central Railroad Company.
Efforts to save the depot began in 2005.
MMCAA partnered with the City in developing the Clare Castle, a senior housing development and senior center and that partnership continues in the planning for the development of the railroad-depot plans.
The City has also partnered with the Clare Downtown Development Authority, the Clare City Planning Commission, the Clare Chamber of Commerce, the Clare County Visitors' Bureau, the Clare County Arts Council, the Clare City Parks and Recreation Department, the Pere-Marquette District Library, the Michigan Department of Transportation and the Clare Area Rail-Trail Committee.
Since 2005, the Clare Railroad Depot Committee has sought to move the building because of access, liability and safety issues associated with its current location on active tracks." The estimated total cost for phase I of the project is $138,251.
The move is just the first step in what is still a multi-year project that will require at least an additional 500k in funding before the building is completely rehabilitated to become a community resource."
Future uses planned for the historic building include a public trail-head and information center for the Pere-Marquette Rail Trail (US Bike Route 20); the City's Chamber of Commerce Office and Clare County Visitor's Bureau Office; a home for the Clare County Arts Council; and a community railroad museum.
As the primary studios and offices of the Clare County Arts Council, the site will serve as an art education and learning center, as well as an art market, thereby serving the cultural needs of local artists, residents, and visitors. The museum will preserve and display local railroad and logging history and heritage of the region."
Check out a short video of moving day events.
Check out our album of pictures on the from the depot move on The Clare County Review  Facebook page
Source: http://www.clarecountyreview.com/news/featured-stories/depot-moves-to-new-home/