From The Ann Arbor News: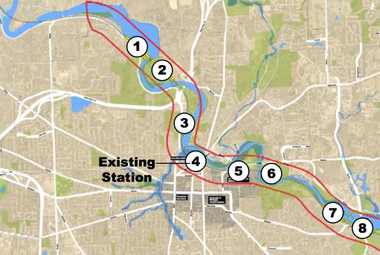 The city of Ann Arbor has held a series of meetings in June to continue a public dialogue about a new Amtrak station in the city.
During the meetings, the city and its consultants presented analysis of eight potential sites being considered for a new train station, and will ask attendees to help narrow down the list and identify preferred sites for further evaluation.
City officials are looking into options for a new station with improved accessibility and accommodations to handle expected increases in passengers as high-speed rail between Detroit and Chicago takes off in the next two to three years and as a long-promised commuter rail service between Detroit and Ann Arbor potentially follows.
One of the sites under consideration is along Fuller Road in front of the University of Michigan Hospital, where the city previously developed a conceptual plan for a train station and a large parking garage for the university.
That plan was scrapped two years ago after funding assumptions changed and U-M moved forward with building a parking garage on Wall Street.
As part of the new site selection process, the city is considering everything from sticking with the existing Amtrak station on Depot Street to redeveloping the Depot Street site or building a new station elsewhere.
The first of the eight rail segments shown on the map is along the south side of Barton Pond. Going east, other sites include where the tracks cut along the north edge of the Barton Nature Area, along Bandemer Park and Argo Pond, the existing Depot Street site, along Fuller Road in front of the U-M Hospital, another stretch of track next to Mitchell Field east of the hospital, and two spots in and adjacent to Gallup Park.
The planning study being done right now is expected to culminate with production of a conceptual design for a new or enhanced train station/intermodal facility in Ann Arbor, as outlined in the city's 2009 Transportation Plan Update. In the end, city officials said, voters or their representatives will decide whether a new train station or improvements to the existing one on Depot Street is in the city's best interest.
The project team is expected to work on drafting a conceptual plan in August and September, with more work following from October into December to finalize the concept. Another round of public input sessions will be held at that time.
Additional project information, including notes and presentations from previous meetings, can be found at www.a2gov.org/annarborstation.
Source: http://www.mlive.com/news/ann-arbor/index.ssf/2014/06/city_working_to_narrow_down_li.html