From the Detroit Free Press: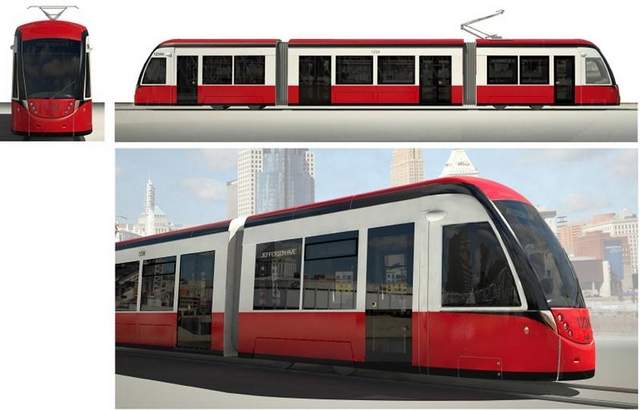 A committee of Wayne County Commissioners approved $3 million in funding for the M-1 Rail project June 3, as construction of the $160-million project should begin within the next 60 days.
The funding, approved by the committee of the whole on a 10-5 vote and set to go before the full commission this week, will be split into $1.5 million coming during the current fiscal year, and $1.5 million during the 2015 fiscal year, which begins Oct. 1. County officials say the money has been earmarked for improvements to Woodward Avenue, where the rail system will run.
"We want it to be the foundation of a regional system," said Matt Cullen, M-1 Rail's CEO and president of Rock Ventures. "It's going to be transformational."
Project officials gave a little more insight on the specifics of the project today. The line will run on Woodward from downtown to New Center and will have six cars that will hold up to 100 people per car. During peak times, riders should be waiting only about seven to nine minutes for a car, said Sommer Woods, the director of external relations for M-1 Rail.
Officials expect ridership of about 6,000 daily; riders will be able to connect to DDOT and SMART buses, as well as the People Mover and the Amtrak station, which brings people to the city from throughout the region.
Some commissioners had trouble funding the county's portion of the cost, saying conversations with constituents about road conditions show there are other more pressing transportation problems those dollars could help alleviate.
"They're constantly being told there's no money to fix our roads," said Commissioner Shannon Price, R-Canton. "At the same time, you're asking us for $3 million to fix a state road."
Commissioner Martha Scott, D-Detroit, agreed, and said her district is rife with potholes that have not gotten any attention from county workers.
"I can't support (funding M-1 Rail) … unless you guys get my roads fixed, too," she said.
Commissioner Diane Webb, D-Dearborn Heights, said she's received comments from her constituents about deplorable road conditions, but also sees the benefit of funding the M-1 Rail project.
"I think we have a responsibility to the greater good," she said, adding that one year she would like to see the county address fixingthe worst roads in the townships, including Redford Township, which she represents. "This is going to be a great project for the region," she said of the rail project.
Source: http://www.freep.com/article/20140603/NEWS02/306030173/Wayne-County-commissioners-M-1-Rail