From M-Live: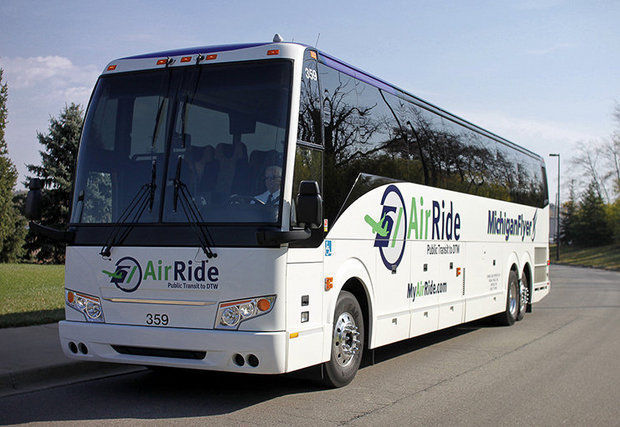 Michigan Flyer users are riled up after Detroit Metro Airport announced plans to relocate the popular bus service's stop at McNamara Terminal from curbside to one 500 feet away where passengers must brave the elements.
Michigan Flyer officials say they worry the new stop could hurt their 98 percent on-time record because they can't load or unload passengers if they can't find a parking slot at the new stop, located at the Ground Transportation Center. The current stop is located just outside a waiting room for International Arrivals.
The move takes place Monday and affects all Michigan Flyer customers taking flights to or from McNamara Terminal, which serves Delta and Air France passengers.
TRANS4M, an advocacy group for public transportation in Michigan, is also taking a stand against the switch, saying it will hinder seniors and those with disabilities.
Michigan Flyer officials say in an email, "We're urging DTW to reconsider the move, or at least make it easier on passengers."
Wayne County Airport Authority officials say the move will increase safety and ease congestion, according to TRANS4M. Michigan Flyer argues it has an "impeccable safety record" at the current location.
MLive is seeking a response from the authority about the new location.
Frequent users of the bus say they haven't witnessed congestion at the current stop.
"When using the service I have not experienced or seen congestion," wrote Liz Boyd, political consultant and former spokeswoman for Gov. Jennifer Granholm. "Also, it's also my understanding the other buses – including the employee bus service – that use the drop-off location 168 times a day — are not being relocated."
Michigan Flyer in an email lobbied its users to write the Detroit airport to complain about the switch:
Your opinion matters. If you're so inclined, you can share it in one email to several key people involved in this decision: Thomas Naughton, CEO of the Wayne County Airport Authority; Michael Ford, CEO of the Ann Arbor Area Transportation Authority; Gordon Mackay, CEO of Michigan Flyer; Michigan Governor Rick Snyder; Senator Debbie Stabenow and the Michigan Department of Transportation.Just put "DTW relocation of Michigan Flyer-AirRide" in the subject line of your email, express your thoughts, then copy and paste all of the following addresses into the "To" area and hit Send: thomas.naughton@wcaa.us; airride@theride.org; info@michiganflyer.com ; rick.snyder@michigan.gov; senator@stabenow.senate.gov; mdot-oca@Michigan.gov