From The Grand Rapids Press: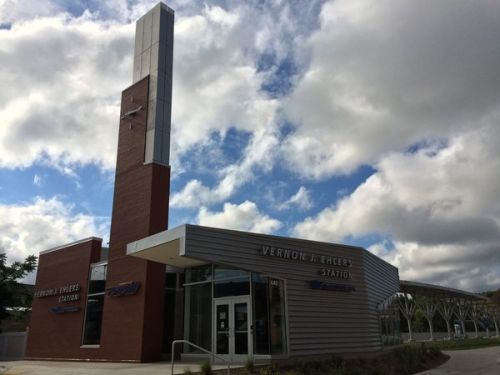 It's light at the end of the tunnel: the vacant, yet new, Amtrak station finally is set to connect to the rest of the region in the coming month.
City crews are slated to shut down Century Avenue SW at 8 a.m. Monday, Sept. 29, 2014, while CSX Corp. reconstructs its railroad crossing. It's one of the last steps necessary to finally set a guaranteed grand opening of the adjacent Vernon J. Ehlers Amtrak Station, said Peter Varga, CEO of The Rapid.
The station has been mired by delays; it originally was scheduled to open in 2013. Setbacks pushed the opening to either spring or summer 2014. The end of September was considered, too, though work on the crossing likely won't be completed until 5 p.m. Friday, Oct. 10.
Fall 2014 is the safest time frame at this point as the rail itself will have to be examined before opening, officials say.
"The track work has to be inspected by CSX, that's a separate agreement, as we own the railroad spur," Varga said.
Work began to relocate an underground sewer line below Buchanan Avenue SW earlier this summer as it would not be strong enough to hold the weight of the spur. Officials relied on the conclusion of that project, although an analysis was conducted in 2012, before moving ahead with CSX's portion.
Rapid officials tout the convenient location of the new station as Central Station, which serves all of the six-city bus system's busiest routes and the new Silver Line bus rapid transit system, is just down the street.
The $5.2 million station, named after the former West Michigan congressman, will replace the old hub on Wealthy Street serving Amtrak's Pere Marquette route. It travels two and from Grand Rapids and Chicago, with three stops each day.
More: Grand Rapids' new Amtrak station proves costlier than expected
An additional, daily trip between the two cities could launch upon the station's completion.
Source: http://www.mlive.com/news/grand-rapids/index.ssf/2014/09/crews_set_to_reconstruct_rail.html