From Trains Magazine: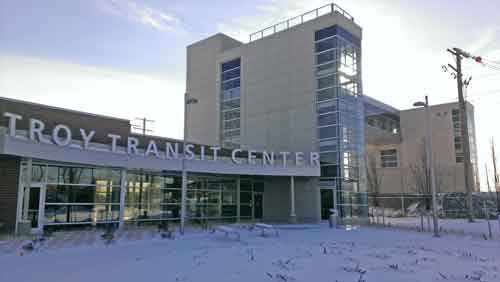 The grand opening for the Troy Multi-Modal Transit Center is scheduled for Oct. 14, 2014. Construction work on the transit center was completed in last fall, but a property dispute held up its opening. In late September, a settlement by Troy to acquire the land and lease the site to Amtrak was reached.
This week the Troy city council approved a 20-year lease agreement with Amtrak that will cover all costs to operate the center. Amtrak's Wolverine Service trains will use the new facility.
In 2000, a nearby property owner gave the city of Troy title land on which to build a new station, with the provision that funding for a transit center was secured within 10 years. In 2011, the cities of Birmingham and Troy were awarded a federal grant to assist in replacing the station with a new, multimodal transit center across the tracks in Troy.
However, the mayor of Troy rejected the funding on ideological grounds, thus terminating the project. The project was resurrected by a subsequent Troy city administration, and broke ground on Nov. 27, 2012, and was completed in October 2013. The legal dispute over title to the land under kept the center from opening.
The $6.6 million construction cost for the project was provided by grants from the Federal Railroad Administration.