From USA Today: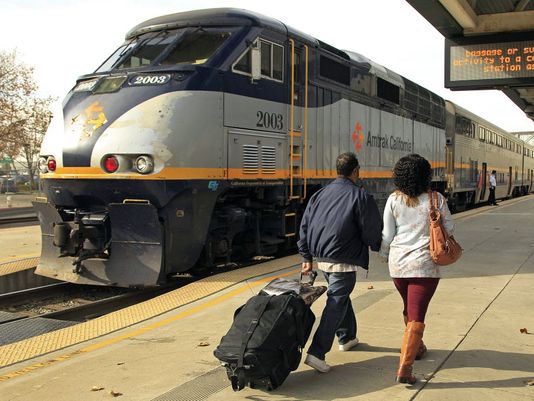 Amtrak's ridership and ticket revenue increased in fiscal 2014, buoyed by continued growth in the Northeast Corridor, the rail service reported Monday.
But the numbers also indicate flagging activity on long-distance lines and regional services that rely partly on support from taxpayers in some states.
Amtrak President and CEO Joseph Boardman warned that ridership on those lines could continue declining unless freight railroad companies that own the tracks and operate the dispatching system do a better job accommodating passenger trains.
Overall ridership exceeded 30.9 million, a modest increase of 0.2% over the previous fiscal year. Amtrak last year reported record ridership of 31.6 million but revised that downward to 30.85 million, reflecting a more accurate passenger count based on ticket sales.
Ridership growth cooled off last year due to a harsh winter season and on-time performance issues associated with freight train delays and infrastructure needing replacement, the company said in a release Monday.
While passenger growth barely rose, ticket revenues grew by 4% — from $2.11 billion in fiscal 2013 to nearly $2.2 billion in fiscal 2014.
"Amtrak is clearly selling a product that is very much in demand," Tony Coscia, the company's board chairman, said in Monday's release.
More than 11.6 million riders climbed aboard Acela and other Amtrak trains traveling the Northeast Corridor linking Washington and Boston in fiscal 2014. That was up 3.3% from last year and set a record, pushing ticket revenue up 8.2%, the company said.
But regional, state-supported lines saw a 0.6% decline in passengers, while ridership on long-distance routes fell about 4.5%. Twelve of the 15 long-distance lines saw decreases, contributing to a 2.9% drop in revenues, Amtrak reported.
Lines that showed the biggest declines in riders were the Empire Builder that operates between Chicago and the Pacific Northwest (down about 16%), the Texas Eagle operating between Chicago and Los Angeles (down almost 9%), and the Silver Meteor operating between New York City and Miami (down nearly 7%).
Some in Congress have long sought to eliminate the money-losing lines, but lawmakers from states served by Amtrak have fiercely protected them. Despite some improvements, many continue to suffer from delays, low ridership and increased operating costs.
Boardman said Amtrak's efforts to improve long-distance service have been hampered by a lack of cooperation from freight lines.
"The freight railroads simply have to do a better job in moving Amtrak trains over their tracks," he said in the release. "Amtrak is prepared to take all necessary steps with the freights to enforce our statutory, regulatory and contractual rights to meet the expectation of our passengers for improved on-time performance."
He said the company is working with the freight railroads to address congestion and is pursuing remedies through the federal Surface Transportation Board.
A spokesman for the Association of American Railroads said freight companies are spending more than $2 billion a month upgrading and growing the rail network.
"The freight rail industry shares Amtrak's concern and the nation's railroads are working hard to improve both passenger and freight reliability," said Ed Greenberg. "It is important to recognize that in addition to working with Amtrak to address record passenger traffic, freight railroads are now moving more goods than since before the recession in order to meet the demands of American consumers and industries."
Release of the ridership and revenue figures comes a little more than a month after the House Transportation and Infrastructure Committee passed a four-year reauthorization of an Amtrak funding bill. The measure, which has yet to reach the House floor, would split Amtrak's operations into two accounts — one for the profitable Northeast Corridor and one for its money-losing national network.
Under the bill, Amtrak would be required to seek requests for proposals from private investors to redevelop its train stations and the rights-of-way along its tracks. And the bill sets a deadline for ending losses on the rail system's food and beverage service.
The Northeast Corridor also would be the only part of the passenger rail system to qualify for high-speed rail funding — to improve the speed of its Acela trains.
"We need to focus on the Northeast Corridor first to prove to the American people we can really run a passenger railroad system that can get higher speeds and utilize the Acela trains," the committee's chairman, Rep. Bill Shuster, R-Pa., said in an interview at the time.