From M-live.com, The Kalamazoo Gazette: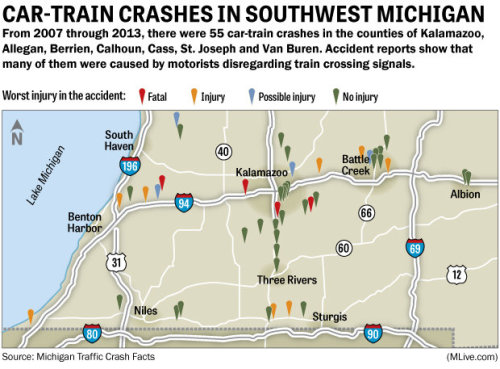 They are almost always avoidable.
But whether because of impatience or negligence, vehicles and trains crashed about once a week in Michigan last year. There were 58 vehicle-train accidents in the state in 2013, including five in Kalamazoo County. That's up 35 percent from the 38 car-train crashes statewide in 2012 and the most since the 61 recorded in 2007, according to data from the Michigan Office of Highway Safety Planning.
And while the majority of the crashes didn't cause injuries, they sometimes turn fatal. On Tuesday, three people were killed when a passenger train struck a minivan on 11th Street near KL Avenue, just west of the city of Kalamazoo. Police say 20-year-old Joshua Cartwright drove around vehicles that were stopped by train crossing signals and was struck broadside by an eastbound Amtrak train.
All three of the van's occupants — Cartwright, 20-year-old Ashley Melson and 19-year-old Justin Mastin — were pronounced dead at the scene. The investigation revealed that railroad crossing lights, gates and bells were functioning at the time of the crash.
"Unfortunately, it's all too common," Marc Magliari, spokesman for Amtrak, said of the cause. "It happens every two to three hours across the country," he said of car-train crashes.
Michigan State Police Lt. Dale Hinz said police don't receive reports of motorists driving around train crossing arms very often.
"It doesn't happen terribly often, thankfully. Because it's a terrible idea," said Hinz, commander of MSP's Paw Paw Post.
According to statistics from the Michigan Office of Highway Safety Planning, from 2007 through 2013 there were 55 car-train crashes in Kalamazoo, Allegan, Berrien, Calhoun, Cass, St. Joseph and Van Buren counties in Southwest Michigan. Of those, 34 resulted in no injuries, 17 involved injuries and four were fatal.
Accident reports show that many of those crashes were caused by motorists disregarding traffic signals, driving around crossing arms or claiming they didn't hear bells and whistles.
"It's almost always the driver's fault," Hinz said. "The train is confined to the tracks. It doesn't get any simpler than that."
Said Magliari: "Trains rarely can stop in time. Whether it's going 50, 90 or 110 miles per hour, it's simply not possible in the law of physics for the train to stop."
In Tuesday's crash, the Amtrak train was going about 80 mph and didn't come to a complete stop until about a mile after striking the van, police said.
Recent fatal crashes in Southwest Michigan are tragic examples of what can happen when drivers aren't careful near train tracks.
On Sept. 15, 2011, Austin Porter, 21, was killed in a collision with a freight train near Schoolcraft. According to Kalamazoo Gazette archives, investigators said Porter was driving west on U Avenue and failed to yield to a northbound Grand Elk Railroad freight train.
Police said they believed Porter attempted to drive around the lowered crossing arms, realized the train was coming, struck one of the crossing arms as he tried to continue over the track and was unable to make it across before the train hit his Chevrolet Impala.
This came two days after 19-year-old Zachariah Zellmer was killed when, according to police, he drove his 1997 Pontiac Sunfire around crossing arms on 52nd Avenue near County Road 687 in Van Buren County's Hartford Township and was struck by an Amtrak train. The train's bells, lights and whistles were all working and the crossing had working lights and control arms, authorities said.
On Sept. 14, 2008, Aubrey Noble, 25, was westbound on McGillen Street in Mattawan when she drove into the path of a westbound Amtrak engine. The train struck Noble's vehicle, breaking it apart, according to the crash report.
As for Tuesday's crash, Hinz said investigators are awaiting toxicology results and continuing to interview witnesses to corroborate their statements. Amtrak provided a video recording of the crash that police are reviewing, he said.
Magliari said Amtrak is committed to reducing the number of car-train crashes, working with police agencies to make sure laws are enforced and providing educational materials to motorists about railroad crossing safety.