From the Detroit Free Press: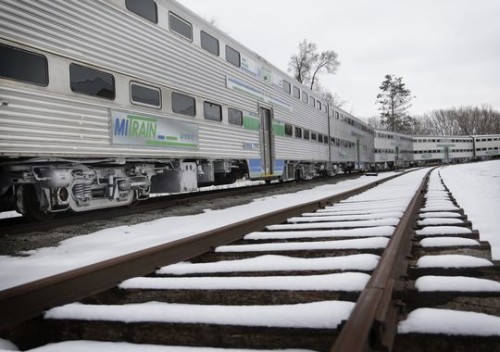 The State of Michigan is paying $1.1 million a year to lease 23 passenger rail cars it can't use — and likely won't use for at least another two years — as the taxpayer tab for the troubled project approaches $12 million and counting.
The 1950s and '60s-era double-decker cars are sitting in a rail yard in Owosso, where they are expected to remain for the indefinite future.
The Michigan Department of Transportation started leasing the cars in 2010 for two commuter rail passenger services proposed between Detroit and Ann Arbor, and Howell and Ann Arbor.
But nearly five years later, none of the cars has logged a single commuter passenger mile. There still is no funding and no operator for either proposed commuter service, required environmental studies are not complete, and in the case of the Detroit-Ann Arbor service, even the tracks won't be ready for another two years.
So far, the state has paid the owner of the rail cars, Great Lakes Central Railroad, about $7.6 million to overhaul the cars and another $2.7 million in lease charges. But the per-car lease costs more than doubled in 2013 and 2014 as refurbishments were completed and the cars were certified as rail-worthy. Under the terms of the state's contract with the railroad, MDOT then had to start paying "in-service" rates that total about $3,000 a day, even though the cars are just sitting in a railway maintenance yard in Shiawassee County about 30 miles northeast of Lansing.
MDOT has paid another $1.1 million to its consultant on the rail car project, Pennsylvania-based Quandel.
The roughly $11.4 million spent as of Dec. 31 was mostly paid from Michigan's $300-million Comprehensive Transportation Fund, which is largely raised from fuel taxes and vehicle registration fees and is mainly used to pay for transit and rail.
Under state law, at least 10% of appropriations from the fund must be allocated for intercity passenger services, which includes rail projects. Michael Frezell, a spokesman for MDOT, said the project money came from that allocation and could not have been spent on roads, though it could have been spent on other eligible projects such as a bus service between two Michigan cities or another rail-related project.
The project costs continue to grow, but are still small change compared with the $1.2 billion Gov. Rick Snyder wants to raise for additional road repairs through a May 5 ballot proposal that would raise the sales tax to 7%. Still, lawmakers expressed strong concerns about the expenditures after learning about them from the Free Press.
"They're betting on something that might not even come to fruition," said Rep. Marilyn Lane, D-Fraser, who is minority vice-chair of the House Transportation and Infrastructure Committee.
"I'm mad," Lane said. "If we have these dollars to peel off, we should be fixing the roads. For MDOT to jump so far out front on this is concerning."
Tim Hoeffner, director of MDOT's Office of Rail, conceded the project is "costing us more money than we wished it would."
"I'm not going to try and spin this," Hoeffner said. "Would we have liked to have gotten the service up and running sooner? Absolutely. Would we have liked to have timed the lease and the overhaul of the equipment to better fit with the start of the services? Absolutely."
But Hoeffner said he doesn't think MDOT made a mistake. There's often a long lead time involved in securing equipment, so the department was right to tackle that issue before other needed items were in place, he said. He blamed a poor economy for the commuter rail services not getting up and running more quickly and said the project has been a boost to Michigan workers and businesses, with a large chunk of the renovation money spent in-state.
"Monday morning quarterbacking, hindsighting this, yes, we could have done a lot of things differently," Hoeffner said. "Based on the available information, and based on the estimated risks, we made sound decisions," and "time will tell … whether or not we have failed miserably or been great visionaries."
Sen. Goeff Hansen, R-Hart, chairman of the Senate Appropriations Subcommittee on Transportation, said he doesn't want to say much until he has more information on the contract. The deal was signed during the administration of former Gov. Jennifer Granholm, a Democrat, but amended four times during the administration of Snyder, a Republican — each time to increase the contract's maximum cost.
"Any lease that we're not using for something does concern me," Hansen said. "I need to find out at the end of the day, what are their plans, what is the time frame, when are the cars going to be used."
Under its deal with Great Lakes Central, MDOT could have leased and overhauled just 15 of the cars. Hoeffner agreed that in hindsight it would have made sense to go with a smaller number than 23, since he estimates only five cars, including a spare, would be allocated to a Howell-Ann Arbor commuter service — the one he said he feels has the best chance of going into operation first — and nine cars would be allocated to the Ann Arbor-Detroit service.
For now, MDOT has been putting the cars on display in places such as Ann Arbor and Dearborn to drum up interest in the commuter services. The state agency is also looking for temporary and short-term uses for some of the cars — which were part of Chicago's Metra fleet before their sale to Great Lakes Central — to help offset the hefty lease costs, Hoeffner said.
Possibilities include Amtrak using some of the cars on its Grand Rapids-Chicago service, Hoeffner said. That would require cars with handicapped-accessible restrooms. Initially, Hoeffner opted to refurbish the cars without restrooms but has since reconsidered. MDOT recently spent $300,000 to equip two of the cars with handicap restrooms and may pay to put similar restrooms in other cars, he said.
In the meantime, Michigan Auditor General Doug Ringler has also been looking into the expenditures and a report to the Legislature is expected soon.
Carmine Palombo, deputy executive director of the Southeast Michigan Council of Governments, has been working with local officials on developing the commuter rail services. He said there's enthusiasm for the projects all along the proposed lines, but the best bet for the Detroit-Ann Arbor service might be if the new Regional Transit Authority of Southeast Michigan decides to include the proposed service in a four-county transit-related ballot proposal planned for November 2016.
Rail upgrades are under way for the next two construction seasons on the rail line the Ann Arbor to Detroit service would use, and both Hoeffner and Palombo said they don't want to start that service during construction work that could cause delays.
"The real key on both of these services is that without a commitment from the local communities to provide funding to help cover the operating deficits of the service, they're not going to get moving," Palombo said.
Michael Cicchella, a former supervisor of Northfield Township in Washtenaw County, said he worked hard on promoting the commuter service in 2007 and 2008 before stepping aside in frustration. He cited resistance in Livingston County government for the project not proceeding when he thought it should have.
It's too bad, Cicchella said, because commuter rail service between Howell and Ann Arbor could save lives by taking thousands of commuters a day off heavily congested U.S.-23.
Hoeffner said it can cost $2 million to $3 million per car to purchase new cars, and $400,000 to $500,000 per car to purchase new equipment. On that basis, the cost of the project — which now approaches $500,000 per car when renovation costs are included — is not out of line, he said.
Still, "without having firm dates as to when these services are going to start and what all of that is, I believe that it is prudent to question what we've done," Hoeffner said.
Source: http://www.freep.com/story/news/politics/2015/01/31/mdot-costly-idle-rail-passenger-cars/22655363/