MARP Member Meeting
Saturday, April 25, 2015
10 a.m. – 12 p.m.
Ypsilanti Depot Freighthouse
Depot Drive, Ypsilanti MI 48198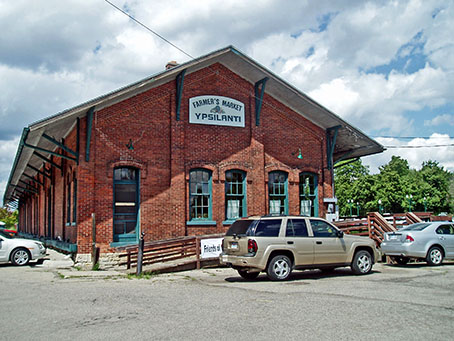 We hope you will plan to attend the April MARP meeting being held in Michigan Central's 1878 Freighthouse, now the focal point of Ypsilanti's historic Depot Town. If it has been awhile since your last visit, you will be impressed with the work of the Friends group that recently completed a successful crowdfunding effort to continue their vision of creating a vibrant community meeting place.
Our featured speaker, Liz Treutel, is eager to help guide us through the implications for Michigan's transportation system – including passenger trains —  of Proposal 1 on the May 5 ballot. As a policy associate at the Michigan Environmental Council, Liz is providing invaluable and enthusiastic leadership to the Michigan By Rail project which has undertaken a study to gage the feasibility of returning passenger train service to the Coast-to-Coast route  connecting Detroit-Lansing-Grand Rapids-Holland.
A native of Wisconsin, Liz has adopted Michigan as her new home among the Great Lakes. Armed with degrees in architectural studies and urban planning, as well as work experience with SMART, she is passionate about increasing accessibility and opportunity through transportation policy and linking transportation to sustainable land use, economic development and placemaking.
If you would like to connect with a carpool to the meeting, please  email marprail@yahoo.com.
MICHIGAN ASSOCIATION OF RAILROAD PASSENGERS
Please note this correction to the March issue of ON TRACK:
The 10th Annual Michigan Earth Day Fest in Rochester takes place on April 24-26, not May 24-26.
YPSILANTI VISITOR INFORMATION