From The London Free Press: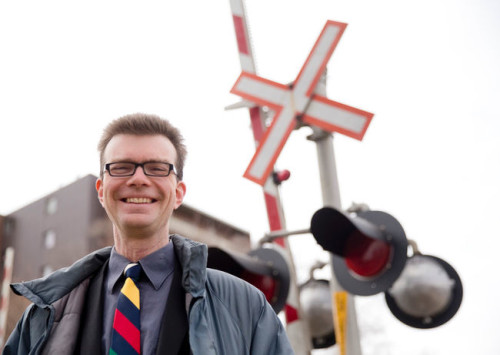 In too many places in Southwestern Ontario, the travellers' refrain is the same: You can't get there from here. Or get here from there.
All but abandoned by bus and passenger train service, rural Southwestern Ontario is rolling out a $400-million car-free travel plan to stitch together its various large and small communities into a cohesive whole, using bus and train services.
"Almost as much money is being spent to patch over the cracks as there would be to fix this thing properly," said Terry Johnson, a Chatham-Kent businessperson who also is president of the Southwestern Ontario Transportation Alliance. "There's a lot of duct tape being applied."
Proponents say the investment required by a bus-and-rail proposal called Network Southwest can generate an economic benefit of more than $1 billion.
And, they say, it can convert the exodus from small Ontario into a mere commute.
The plan is outlined in a 72-page report (online at swota.ca) that says connecting communities is both practical and affordable, the whole thing buildable for about the same price-tag as constructing one kilometre of subway line.
Since 2009, inter-city bus and passenger rail travel in the region has shrunk two-thirds, said the report's author, Greg Gormick.
Cars, "the junk food of transportation" with high environmental and economic costs, have become the only way of travelling between and among communities.
The group proposes to close the "mobility gap" by creating a web of bus networks feeding high-performance rail lines.
Johnson, an economics grad from Oxford University, said the success of high-speed rail, a $2.5 billion plan promised by the province, is dependent upon creating effective links throughout this region.
Scott St. John, a London violinist who is organizing a forum in London to discuss the report's recommendations, said tourism and business are suffering from lack of such a network.
"The train would be the backbone or the spine of the network but we would try to establish better connections with bus and (in-city) transit to make more effective transportation links," he said.
Johnson noted that some people have said they're moving businesses out of Southwestern Ontario or setting up companies where there's better access and amenities for commuting employees.
"(Having) the ability to take your kid to Toronto on a Saturday and getting back the same night — that matters to young professionals."
It matters in cities and it matters to small communities. He cited Wingham as an example of where trains no longer stop and buses no longer run: "A community . . . pushed off a demographic cliff."
He said the push now is to build public support and persuade Ontario and Ottawa to co-operate.
— — —
NETWORK PLAN

The plan
Proposes passenger bus and rail links among large and small communities in Southwestern Ontario.
Would operate bus routes from Kingsville to Fort Erie to Owen Sound and along existing rail lines stretching from Sarnia and Windsor to Niagara Falls.
Five-year cost to build network would be $400 million.
That would cover buying modern, Ontario-built trains, making safety and capacity improvements to rail lines and establishing bus routes to reconnect dozens of communities that have lost bus service since 2009.
Economic benefit would be at least $1.2 billion.
Several regions in the U.S., including in Michigan and California, operate successfully on similar business models.
The cost
The plan's $400 million cost is the equivalent of:
1 km of Toronto subway tunnel
12 km of six-lane toll highway
1.4% of Ontario's $29-billion transportation pledge
Source: On Track Strategies, prepared for Southwestern Ontario Transportation Alliance
— — —
Source: http://www.lfpress.com/2015/04/07/back-to-the-future?utm_source=addThis&utm_medium=addthis_button_email&utm_campaign=Back+to+the+future+|+The+London+Free+Press#.VSXDqKZ1aNw.email