From the Sarnia Observer: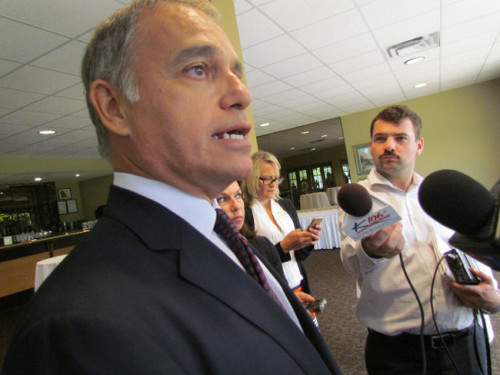 The audience at a Sarnia Golf and Curling Club luncheon hosted by the Sarnia Lambton Chamber of Commerce applauded Wednesday when the head of Via Rail announced plans to add more trains between Sarnia and London.
"You've made my day," Sarnia rail advocate Jim Houston told Via CEO Yves Desjardins-Siciliano after the announcement of the changes expected to begin by 2016.
"I want to see the schedules before I make a real firm comment," Huston said later, but added, "If we're going to have four trains a day, for sure, that's a blessing."
Local rail advocates, along with Sarnia-Lambton officials, have been lobbying for years to see passenger rail service improved, even as Via cut it back to one train a day to and from Toronto.
Desjardins-Siciliano said Via plans to increase the service in Sarnia to four trains daily, starting in 2016, but he adding it's not a done deal since it's subject to the availability of track, something Via will have to work out with freight rail companies.
"We're meeting with our freight partners to discuss those plans," Desjardins-Siciliano said.
He said the first run will be from Sarnia to Toronto, with adjustments intended to "shave a bit of time" off the current trip.
The additional trains will be a "commuter run" during the day between Sarnia and London using two-car self-propelled trains.
Via announced earlier it plans to make London a passenger service hub in southwestern Ontario.
During his presentation, Desjardins-Siciliano challenged the community to get behind the changes, spread word about Via's service and help increase the number of train riders in Sarnia-Lambton.
"The reality is that over the last 30 years, ridership has been declining in and out of Sarnia," he said.
That led to a reduction in service in 2012 as Via worked to stay within its budget, he said.
Via Rail still has a more than $300-million deficit that has to be covered by Canada's taxpayers, Desjardins-Siciliano said.
"We have to be very careful how we spend Canadian taxpayers' money."
What has changed more recently is that the federal government has provided Via with funding to improve its equipment, plus there has been growing demand for rail service in the country in recent years, he said.
"The market seems to be looking for rail service, like it wasn't for the last 20 years."
While ridership has continued to drop in Sarnia, Desjardins-Siciliano said, "some of that is self-inflicted" because of actions by Via.
In challenging the community to support the proposed boost in service, he said, "The community has to recognize its role in changing these statistics."
Desjardins-Siciliano said it is "too early" to say if Sarnia will see its passenger train station staffed again, something lost in past cutbacks.
"Manning a station today requires significant traffic, because technology takes away a lot of the needs of manned stations," he said.
"You don't need a paper ticket. You can just have the ticket on your phone."
Desjardins-Siciliano said he visited the Sarnia Via station Wednesday and promised the audience he would an official there in the coming weeks to look into the need for repairs to the building.
Source: http://www.theobserver.ca/2015/06/17/more-passenger-train-service-may-be-arriving-in-sarnia